In North Carolina, news headlines describe the tense state of emotions for some Hispanic & Latin-American people and families throughout the state. Immigrant rights groups have spoken out and spoken up in defense of immigrants statewide as immigration officials make aggressive moves that make some immigrants hesitant to go out. Though some elected officials such as the chairman of the Democratic Party of North Carolina, Wayne Goodwin, some sheriffs, and state level legislators have spoken out, many politicians including all presidential candidates and the governor of North Carolina have been silent on this terrifying and vindictive uptake in ICE activity. Eerily among the groups and people who are silent are many prominent immigration activists and Hispanic and Latin-American publications that pride themselves on fighting for our community's civil rights.
Some Context & Background On The ICE Raids:
A newly elected sheriff named Garry McFadden made a promise to the people of Mecklenburg County during the election that if he won the election he would ensure that the county stopped being a county that was part of the 287g program. He kept his promise.
According to ICE's official website, the 287g program is:
one of ICE's top partnership initiatives, allows a state or local law enforcement entity to enter into a partnership with ICE under a joint Memorandum of Agreement (MOA), in order to receive delegated authority for immigration enforcement within their jurisdictions.

Ice.gov/287g
287g is the program that allows ICE to turn local and state level officials into pseudo-ICE agents and help them select people who the officers believe are criminal immigrants to abduct and attempt to deport. When Sheriff McFadden made the decision to withdraw Mecklenburg County from this program it was because he and his electorate were tired of ICE coming into jails and abducting people. This decision makes sense because ICE has abducted people who are citizens and those two are far from alone. Jails can get paid to detain immigrants through an IGSA and this is one way that local jurisdictions can be lured into becoming a 287g county by encouraging them to violate the 4th Amendment and the 10th Amendment, which can be costly for them because ICE detainers are very weak reasons to keep immigrants detained who would otherwise be released and if the counties are called out on this it can be very costly for them because lawsuits will be filed against them.
In response to Sheriff McFadden keeping his word to the people of Mecklenburg County, an ICE field office director named Sean Gallagher threatened the people of Mecklenburg County, North Carolina. He issued a statement to the Charlotte Observer in December warning the people of Charlotte and beyond to watch out for increased ICE presence since now local police officers had less incentive to profile people and try to get them deported so ICE agents would just do it themselves.
What took place in Charlotte, Sanford, and elsewhere throughout North Carolina was partially motivated by decisions like that of Sheriff McFadden and just days ago Sheriff Bobby Kimbrough Jr. of Forsyth County and other counties like Wake and Durham also having elected sheriffs who choose to prioritize building fair and positive relationships with their immigrant communities and populations instead of prioritizing the dollars and shallow friendship of ICE leadership.
So What Took Place In Cities & Towns Throughout North Carolina?
ICE raids & arrests at high levels were the response by the agency to retaliate against local leaders unafraid to stand up to them. In Sanford, there was what has been described as a raid at a manufacturing facility, throughout Charlotte ICE agents detained Hispanic & Latin-American people without papers, and in places like Raleigh-Durham.
In response to criticism about the arrests and the raid an ICE official, the same man from before, Sean Gallagher, called this the "risk of not cooperating with ICE" and claimed that because some counties are run by people who are no longer so willing to risk lawsuits because of ICE that ICE is "forced" to "go out onto the street to conduct more enforcement". Another ICE official called this "the new normal". Mr. Gallagher and other ICE agents are doing this at least partially vindictively.
How I've Reacted:
In response to these actions, I've worked with friends and partners throughout North Carolina to help put pressure on public & elected officials who should stand up and express support for North Carolina's immigrant community. One way my work has manifested is this statement by the North Carolina Democratic Party Hispanic American's Caucus otherwise known as the NCDPHAC.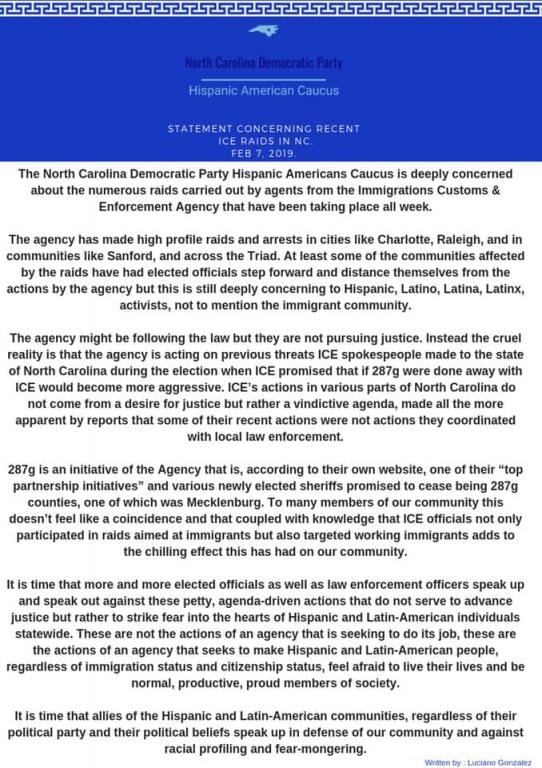 I've helped write multiple statements for my good friends at the NCDPHAC which is the same caucus I once served on as the 1st Chair. We also released this letter addressed to Governor Cooper.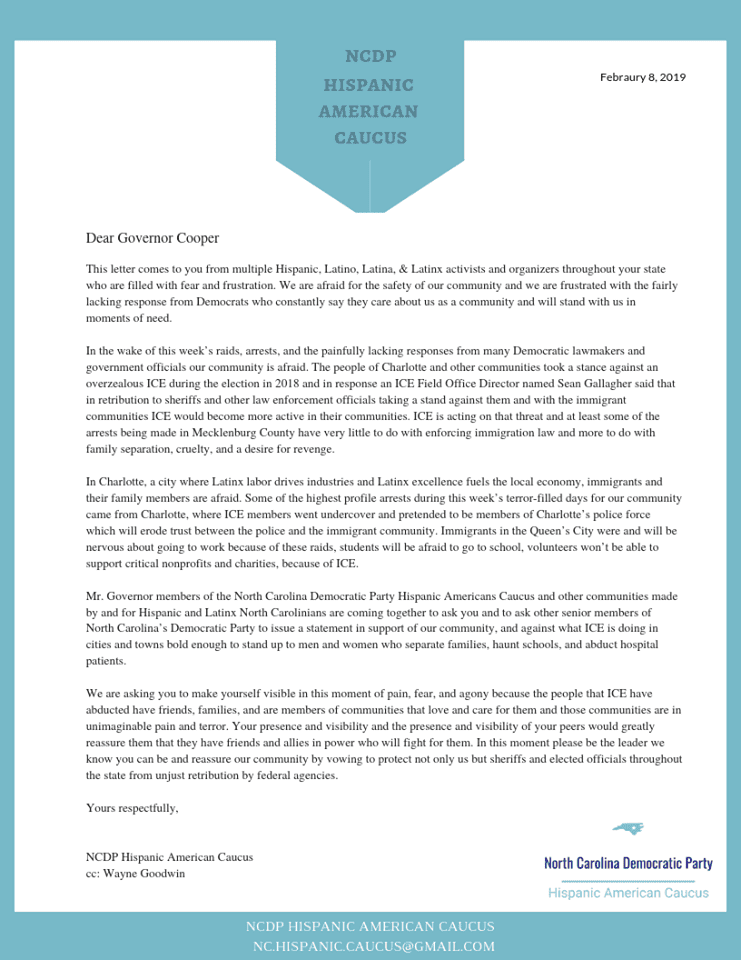 Partners And Allies Who've Spoken Out:
A range of partners has spoken out against ICE's vendetta-driven actions. Some of these people are high ranking Democratic officials like North Carolina Democratic Party Chairman Wayne Goodwin who worked with NCDPHAC chair Elke Milan to issue a joint statement.
North Carolina's Latino community is a vibrant part of our state and North Carolina Democrats will continue to stand with them against these cruel, unwarranted attacks and threats from the Trump administration. #ncpol pic.twitter.com/CD1eAEf9On

— NC Democratic Party (@NCDemParty) February 8, 2019
Others are local level elected officials on the ground like Sheriff McFadden himself and Charlotte city council member Braxton Winston whose attempts to converse with ICE agents resulted in one agent threatening to arrest him.
@BraxtonWinston came to immigration center requesting to set a meeting with ICE, then a conversation got heated and an officer threatened to arrest him. Another officer came out later and apologized for his colleague, clarifying Winston was not going to be arrested. @WBTV_News pic.twitter.com/qUThrNzu5N

— Anne Marie Hagerty WBTV (@AnneMarieWBTV) February 8, 2019
The actions of today do not help keep our city safer & erode the fragile trust between too many groups of citizens and our gvt. These actions inequitably target people that live in the margins of our communities. This is especially true for black and brown people. https://t.co/YKHxvkalMV

— Braxton Winston (@BraxtonWinston) February 6, 2019
Some are legislators who spoke out (and in some cases without pressure from Democratic organizations and caucuses within the Party either!) like Alma Adams who is a congresswoman who represents North Carolina's 12th district.
See my official statement on the ICE raids that took place in Charlotte today. pic.twitter.com/j67lumq3Qi

— Alma S. Adams (@RepAdams) February 6, 2019
What's Next & What Can You Do?
Leaders and organizers within the Democratic Party and within the state's immigrant community are going to continue to work to organizer stronger responses and more substantial actions by elected officials and public workers who can do things that carry weight. This includes (especially for inhabitants of North Carolina) asking the Governor to issue a statement and putting pressure on public officials who dangerously decide to partner with ICE like Alamance Sheriff and infamous racial profiler Terry Johnson who ICE themselves once had to sever ties with. You can do this by emailing the Governor's office or calling him during the week and letting him know what you think.
You can also support valuable civil rights organizations and immigrant rights groups like El Pueblo, & Alerta Migratoria. Lastly, if you have the means you can donate to a fund started by El Centro Hispano intended to help pay for the legal fees of the detained immigrants in these most recent arrests and raids throughout North Carolina.