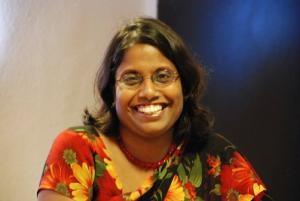 An avid reader and an erudite writer, Sabina Tagore Immanuel is known for not only having information and knowledge, but also for insight and wisdom on issues of life.
A follower and disciple of Christ by persuasion, she promotes a firm Bible-based philosophy, propagates gospel ethics and is a practitioner of the way of Christ and the Apostle. A scholar by intent and purpose, she uniquely combines her faith with insight to give practical counsel to life problems and issues.
A content writer, counselor and teacher by profession, she has worked and served in university, school and church. Her rich experience and her propensity to weigh pros and cons of life helps her arrive at out-of-the-box solutions.
An author and blogger, she has published a book on prayer and several articles in magazines and websites.
She is married to A.Immanuel, a lawyer and career advisor. Together they have three grown-up children and a son-in-law. Her children also exhibit their faith, her writing skills and his oratory prowess.
You can find out more at:
Spotify: MULLINGSPICE | Podcast on Spotify
Anchor: MULLINGSPICE
Audible: TEACH US TO PRAY