Our Mission
The mission of the Spiritual Naturalist Society is to spread awareness of Spiritual Naturalism as a philosophy, encourage the further development of Spiritual Naturalist thought and practice, and educate others on the traditional wisdom and contemplative practices that inspire Spiritual Naturalism. In addition, the Society exists to help bring Spiritual Naturalists together for mutual learning, growth, encouragement, and fellowship.
How Does the Society Fulfill its Mission?
The Society spreads awareness of Spiritual Naturalism by publishing educational materials and articles freely on its website, by advertising its own existence and press releases to bring more visitors to that site, by supporting local chapters that host in-person discussion groups and other events, by seeking to publish its educational articles in other publications and websites outside its own, by engaging with other organizations with compatible missions, and through exclusive educational materials offered to members. It encourages further development of Spiritual Naturalist thought and practices by bringing together authors to contribute new materials, by bringing together members in forums for the purposes of discourse and dialog, and by initiating special collaborative projects. Lastly, the Society aids in fellowship of like-minded Spiritual Naturalists from all traditions and backgrounds through other sections of its forums, comment areas, social media, events, and through encouragement and support of locally-initiated groups.
Who are our Members?
Members of the society come from a variety of traditions. This is because spiritual naturalism is a new paradigm that cuts across familiar labels. Spiritual naturalists can be found among Buddhist, Jewish, Taoist, Humanist, Pagan, Unitarian, atheist, agnostic, and many other communities. Within all of these traditions there is a rising sense of appreciation for the natural universe, a respect for rationality as the basis for humble knowledge, a desire for a spiritual wisdom that is consistent with the modern scientific understanding of the cosmos, and a return to compassion as the the core value upon which spirituality should rest. Individuals within many religions and other groups are working to heal of the schism between the natural and the sacred. Much like an interdisciplinary community, naturalists from all of these backgrounds are welcome members of the Spiritual Naturalist Society, without the need to leave their own traditions.
Are We A Religion?
People have many different definitions of 'religion' and think of the word in different ways. For some, Spiritual Naturalism is a religion because of its inclusion of ritual and contemplative practices that have been associated with other religions before. In fact, some prefer the termReligious Naturalism and they are equally welcomed members. For others, Spiritual Naturalism is not a religion, but a philosophy, because it has no supernatural or faith-based aspects. The official position of the Spiritual Naturalist Society is that it is up to each individual to decide for themselves whether to call (or not call) their views or themselves 'religious', 'spiritual', 'philosophic', or otherwise.
Statement on Politics
The Spiritual Naturalist Society is an apolitical organization. While political participation can be a noble part of a healthy life, and a means to help make the world a better place, the focus of Spiritual Naturalism is on a personal life practice – working first on the person in the mirror. Ultimately, it is contemplative practice, inner development, and cultivation of a compassionate heart and rational mind that serve as a replenishing source of wisdom and strength for individuals to make positive change in the world. As an organization supporting a spiritual practice, we seek to be a refuge from the rhetoric, sectarianism, and partisanship common to politics. To those ends, the Spiritual Naturalist Society does not engage in political activity, protests and demonstrations, take political positions, or support parties or candidates. Further, we welcome people of all parties and economic views.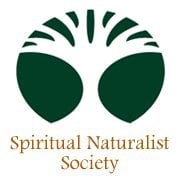 The SNS Logo
The logo of the Spiritual Naturalist Society is a tree, referring to many metaphors at once. In one sense, it represents the slow but steady cultivation and growth of our character and good life through continuous practice. In another sense, it represents the wisdom taught under the Bodhi tree by the Buddha, as well as knowledge, as represented by the Tree of Knowledge referred to in the Christian Bible. The branches of the tree can also represent the evolutionary paths along which all life develops. In yet another sense, the tree represents nature – or the natural universe as revealed by rational exploration. All of these meanings touch on different aspects of Spiritual Naturalism and are therefore suitable to our Society and its mission.