I stumbled across this beautiful essay on The Archipelago about a queer attendee's experience at the Gay Christian Network conference in Portland, OR.
The defining tension of GCN is Side A versus Side B: respectively, folks who think God blesses committed LGBT relationships, and those who promote celibacy for those with "same-sex attractions." (If these are my only options, I'd like a different mixtape.)
The writer, Suzanne Fischer, talks about exploring the "Side B" folks through a workshop with the folks from A Queer Calling, who are in committed, celibate relationships (did you hear that? That was the sound of my mind blowing). I had no idea that this population existed–then I stumbled across it again in this article in the Yakima Herald, which happens to include fellow Patheos blogger Eve Tushnet.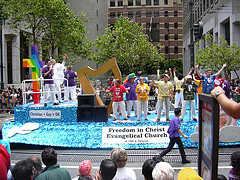 Fischer also talks about how hopeful and how strange it is to be surrounded by 1500 other queer Christian people. Though Fischer doesn't find community, necessarily, she realizes that her identity is not centered on being a gay Christian.
Recommended reading for anyone who wants a more nuanced view of this movement.