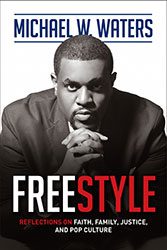 Question of the day: how does a 63-year-old white guy in Detroit who doesn't care for hip-hop (although when hip-hop and "disco" appeared about the same time, I was glad hip-hop won out) review a book by an inner-city pastor from Dallas describing himself as a voice to the hip-hop generation? Answer: we major on commonalities. We're both pastors and writers. His father and my surrogate father were both black pastors. We both live in metropolitan areas bristling with problems that have choked urban areas for years as well as new ones rooted in global trends we never thought about. We both have dedicated books to our wives paying honest tribute to the sources of both all our good ideas and repeated rescues from public embarrassment.
In his new book Freestyle, Michael W. Waters gives readers a wide spread of common ground to step into his racial/cultural world. He fires off short, concentrated bursts speaking out in four major areas: faith, family, justice and pop culture. Waters also blogs at Huffington Post. His pithy, concentrated writing shaped by blogging combined with shades of his preaching style give the reader easy handles to engage his world. He serves each short reading up hot and grieves deeply for the pain in the stories he shares. Waters shows something not evident with all pastors or writers for that matter: he likes the people whose stories he knows.
Waters is not a man who rants about his present from an ignorance of his own history. He's led history tours allowing people to see the sites from slavery, the Jim Crow era and the struggle for civil rights of the mid-twentieth century. He references these very poignantly to show that these places breathe history that still lives. One would think these stories might be in the "Justice" section but they're scattered all through the book. Our history and culture stand as two components of the DNA of our souls; they're part of us and intertwined with our faith whether we're black, white, paisley or plaid. We ignore exploring, unraveling and unpacking them at our peril. His account of meeting the older sister of one of the four girls killed in the church bombing in Birmingham in 1963 is a good example. Barely escaping death herself, Junie Williams grappled with her own anguish, survivor guilt and many other things. She now speaks to college students and anyone who will listen not just about her experiences but her sense of being part of an important legacy that must not be lost.
Waters also grieves the absence of men — of fathers — in inner city homes. And he has a lot of big guns backing him up. The Fatherhood Initiative cites the U.S. Census which claims that over 24 million children live without fathers in their daily lives. Father absence plays a key role in poverty issues, children and maternal health, incarceration, crime, teen pregnancy, child abuse, drug and alcohol abuse, education and childhood obesity. He shares this as a man who knew the blessing of a father present in his home, as someone keenly aware of the challenges and struggles of being a father to his own children, and one who steps in to do damage control in lives of people in south Dallas. He often speaks as a warrior, his speech often percussive, like a boxer throwing jabs.
As a descendant of pastors, Waters is also concerned for the church in general, and the black church in particular. Young black adults of his age group (23-40) are leaving the black church in protest, disappointment, and even anger over the church of their past experience. Waters recognizes this; he is part of the answer to this quandary. He recognizes the strength of the Gospel and can relate across generations. He is good cross-culturally, able to create doors (letting outside people in) instead of windows (allowing people to observe as spectators without participating in human solutions). This book is an example. He trumpets boldly the mandate of the hip-hop generation to be what it ought and to correct the mistakes of the previous generation. Every generation has that task so it's not new to hip-hoppers. My generation (the Sixties) was going to change the world but many of us grew up to become everything we protested against. So I applaud his boldness with two gentle cautions. The generation before the hip-hoppers wasn't just a bunch of losers who did nothing right. Mistakes aren't just ignorant self-interest. Sometimes mistakes are something we make while attempting something significant. Only people who attempt nothing never make mistakes. Second, in correcting the previous generation's mistakes, Michaels' generation will make mistakes of their own and may live to hear from more than a few of their children and grandchildren, "Your church sucks!!"
I would like to see Waters stretch out a little more; I'm sure he's not done writing and that's good. People in publishing invariably ask each other, "Where are all the new good writers?" Well, one is inside the covers of Freestyle. Once he matures as a writer who mines some of the deeper aspects of the history he's seen in his travels, who strengthens his heritage in the black pulpit and continues to live and breathe alongside the good people of south Dallas, the greater voice and richer substance will come. And when it does, maybe my tastes, which include Duke Ellington, Billie Holliday and John Coltrane, will have stretched enough for a little hip-hop, and the Rev. Waters and I can talk about it. Maybe here.
David Swartz pastors Bethel Baptist Church in Roseville, Michigan. He thinks that jazz is sacred music, that books are better company than most people, and that university towns rock. He blogs at geezeronthequad.com.
For more on Freestyle – and to read an excerpt – visit the Patheos Book Club here.