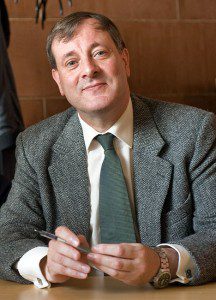 Prolific author and scholar Alister McGrath talks about his new book If I Had Lunch with C. S. Lewis: Exploring the Ideas of C. S. Lewis on the Meaning of Life for the Patheos Book Club.
Why another book on Lewis?
The 50th anniversary of the death of C. S. Lewis led to a surge of books about him. I wrote two of them myself! So why yet another one? Let me tell you why. Many people knew I was writing about Lewis, and wrote to me telling me about their love for Lewis, and what they gained from reading him. One theme emerged consistently from this correspondence. They weren't really interested in learning about Lewis – they wanted to learn from him. As I corresponded with these people, mainly students, I began to realise that they saw Lewis as a mentor, a figure of wisdom who was able to help them think through some of the big questions of life. Having spent four years researching Lewis's writings in preparation for my biography C. S. Lewis – A Life (2013), I found that I could help them get more out of treading Lewis, showing them how he could allow them to answer the deeper questions that were troubling them. And that's where the idea for this book came from. It's not yet another study of Lewis's intellectual development or friendships. It's about how Lewis can help us to think through the deepest questions of life, written by someone who has been helped by Lewis in exactly this way.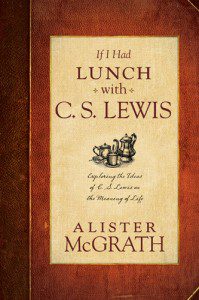 How did you develop the format of the book?
Like Lewis, I studied both Oxford and Cambridge universities. In fact, I am returning to Oxford University in April 2014 to take up a major endowed chair in its Faculty of Theology and Religion. Both Oxford and Cambridge use eight week teaching terms. When Lewis tutored students at Oxford, they would meet once a week for discussion over these periods of eight weeks. I began to imagine what it would be like to have tutorials with Lewis – except that this time, we would not discuss the great themes of English literature, but the even greater themes of life itself. What would Lewis say to us about the meaning of life? About friendship? About hope? About suffering? Realising that many potential readers would not be familiar with the Oxford tutorial system, I decided to rework this image, and framed the book in terms of a series of imagined lunches with Lewis, during which he would tell us his ideas about these great questions. Each chapter – or 'lunch' – includes specific guidance about what to read from Lewis about the issue in question, as well as recommending a handful of other books to let readers take things further.
How did you choose the topics for each chapter?
I've talked about Lewis to all kinds of audiences – church study groups, university students, and many others. (My most memorable lecture on Lewis was to a large group of people in Lithuania in late 2013, who told me about how Lewis sustained their faith during the long period of Soviet oppression. They pored over typescript Russian translations of Lewis, which helped them counter the relentless anti-religious propaganda of the Soviet era.) Afterwards, I take great pleasure in answering questions from these audiences. Some people want to know more about the fine detail of Lewis's life and thought. But most wanted to know what Lewis said about certain deep questions, which they were thinking through themselves. I made a note of the topics that really mattered to those audiences, and chose the top eight topics to include in this book. I hope that this will mean that the book will be helpful to a large number of people.
What's the balance between yourself and Lewis in the text?
This book is presented as a series of imagined lunches with Lewis. I never even met Lewis, let alone had lunch with him! This means that I, as the author, have had to weave together Lewis's statements about the major topics covered in this book. At some points I paraphrase Lewis; at others, I quote him directly. My task in this book is to help readers grasp both the importance of the topics we're exploring, as well as Lewis's views on them. But there's another issue. Lewis died 50 years ago, and Western culture has changed massively since then. I had to work out how best to apply Lewis to a cultural situation that he himself did not know. There were several points at which I had to translate Lewis into the cultural idiom of our own day, so that the approach he adopted could be appreciated properly. Lewis often uses analogies and allusions which are deeply embedded in British middle-class culture of the 1940s, some of which now get in the way of a proper understanding of what he meant. I saw my role as helping Lewis to transcend those historical and cultural limitations, so a new generation of readers would be able to appreciate his underlying ideas.
Is the book critical of Lewis?
One of the biggest challenges facing anyone writing about Lewis is that is impossible to avoid making judgements about him. Lewis seems to generate two unhelpful responses from some of his readers. One group hate his Christianity and his success, and take every opportunity to ridicule him. Another group lionises him, and regards him as being beyond criticism of any kind. I'm in the middle. I think Lewis is excellent on many things – but not all. He gets some things wrong (dates are a real problem for him). He sees many things from the somewhat limited perspective of a middle-class British academic. Yet these are flaws we can live with. I try to point out some of these weaknesses in this book, while at the same time emphasising two points. First, that you can learn a lot from reading a great writer, even when you don't agree with him at every point. And secondly, we are all flawed in one way or another. Lewis was; so am I. What I admire about Lewis in particular is how he made the most of the hand of cards he was dealt, and encourages us to do the same.
Why is Lewis such a useful role model for Christians?
I became a Christian during my first year at Oxford University in 1971, and discovered Lewis three years later. I quickly realised that Lewis offered me a rationally persuasive and imaginatively compelling way of thinking about my faith, which I simply did not find in other writers of the time. I know from my correspondence that many people feel exactly the same way about him. In part, Lewis is a great mentor because he has a rich vision of the Christian faith, which he communicates effectively and engagingly. Yet we must never forget that Lewis's life experience helped shape both his writing and his faith. For example, Lewis suffered the loss of his beloved mother in his tenth year. He was seriously wounded during the trauma of the First World War. As I researched his life, I began to realise that Lewis was no armchair theologian, pontificating about life from a safe distance. Here was someone who had experienced bereavement, suffering, rejection, and bewilderment – and wrote about these themes as someone who had not simply experienced them, but had lived through them and learned from them. If this book helps more people appreciate how Lewis can act as a spiritual and intellectual mentor, I will be delighted.
To read an excerpt from If I Had Lunch with C. S. Lewis, visit the Patheos Book Club here.
Alister McGrath is the Andreas Idreos Professor of Science and Religion at Oxford University, having previously served as Oxford's Professor of Historical Theology. He published two substantial works on Lewis in 2013: C.S. Lewis – A Life. Eccentric Genius, Reluctant Prophet (Tyndale House) and the more academic The Intellectual World of C. S. Lewis (Wiley), a collection of eight original pieces of research on Lewis's thought and intellectual development.