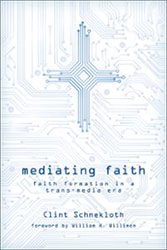 When I was writing my doctoral dissertation on the impact of the Internet on practices of evangelism, Lutheran pastor Clint Schnekloth's Mediating Faith: Faith Formation in a Trans-Media Era is the book I always wished existed but never could find. The vast majority of texts on the relationship between Christians and technology treat technology as a supplement to faith, an additional realm of engagement offering the potential for networking, evangelizing, community-building, or education outside of the "real," brick-and-mortar physical church.
What Schnekloth has realized, however, is that this distinction is not so clear-cut, nor should we force it to be. Beginning with an expanded definition of "media"—based on Marshall McLuhan's formulation of media as all the "extensions" of humanity (to include not just video games and Facebook groups but clothes we wear, buildings we inhabit, the language we use, etc.)—Schnekloth argues that "all of life is mediated, and much more is media than we are often aware." Furthermore, we are living in what he calls a "trans-media" era, a time in which, rather than experiencing new media replacing old media, new media is being layered on top of old, allowing for more complex and integrated relationships between the "real" and "virtual" elements of our lives. So, for example, Facebook church communities are not necessarily replacing face-to-face church gatherings (as some feared), but are enriching and expanding them.
With this understanding of media in mind, Schnekloth is interested in how the media effects of our trans-media age impact faith formation. He is also interested in how we might use a "theologically informed awareness of media" to better adopt and engage with new media. As case studies, he looks at World of Warcraft (WoW), Second Life, and the Evangelical Lutheran Church of America (ELCA) Facebook Group he created in 2011, examining in particular how these media might guide church leaders to improve the catechumenate model.
Each chapter provides both theological insight and suggestive starting points for further theoretical contemplation, all the while pushing readers towards ultimate action and deeper media engagement. In his examination of Massively Multiplayer Online Role-Playing Games (MMPORGs), for example, Schnekloth points out how shocking it is that more clergy haven't established a presence in digital virtual worlds. Citing Douglas Estes' Simchurch, Schnekloth notes that less than 1% of the seventy million individuals present in these worlds have been evangelized, making the avatars of cyberspace "the largest unreached people group on planet Earth." He observes as well that this is likely because of our discomfort at reaching out to avatars, which we deem to be fictional representations of real people. However, when Schnekloth applies his understanding of media to this context, one realizes that, ultimately, humans are constantly in states of various performance. We act one way at work, another at home; we act differently around different sets of friends; we change our appearance, language, and behavior based on audience, environment, and context all the time. So why should we isolate online representations of self as any less legitimate?
Schnekloth also points out some lessons for ministry that we might learn from how WoW and Second Life are played. The way WoW players must work together in guilds to have the most success in virtual worlds shows us a model of the importance of community for progress, and the way one must just dive right in and begin "playing" WoW to learn how to play (rather than reading an instructional) shows us the importance of making education into the church a concurrent part of the process of being involved in the church rather than a separate and isolated activity. From Second Life, Schnekloth argues that this virtual world—where his avatar Miroslav Tweedy attends church, participates in a Bible study, and prays compline at the virtual Episcopal chapel of peace St. Matthew's-by-the-sea—is based on "principles of produsage," specifically: openness to user participation, communal evaluation, fluid hierarchies, and permanent incompletion. In effect, Second Life is a world constantly under re-evaluation and re-construction, an approach to world-building Schnekloth finds productive for the church as well. Finally, Schnekloth observes that MMPORGs teach us the value of play as "a disposition." Rather than the idea that play is for children or appropriate for adults only in some circumstances, play should instead be considered as a great tool of education and faith building. The skills we might learn from engaging with these virtual worlds can prove invaluable for leading and discipling fellow Christians as well as for altering our own approach to church.In Schnekloth's discussion of his ELCA Facebook group—a closed group for ELCA clergy with over 5,000 participants—he describes how the community has become its own kind of spiritual practice. Clergy not only advise, support, challenge each other and develop relationships, but have indicated that this kind of spiritual experience might not be possible in other media. Many clergy, for example, feel geographically isolated from other clergy or have schedules that preclude them from much face-to-face interaction with colleagues; additionally, the feedback from such an extensive online community is vital and allows clergy who might not feel comfortable addressing issues in person to open up.
What Mediating Faith will not offer its readers is a how-to instruction manual on navigating new media. Instead, by pointing out that our lives are already thoroughly mediated—that even reading the Bible, among the most traditional of faith formation experiences, is a mediated practice—he hopes to diffuse lingering suspicions about immersing ourselves in new technology and to eliminate the idea that new media is in conflict with or will ultimately eliminate old media. In an interview, Schnekloth explained that his goal for Mediating Faith is that it will lead his readers to be "missionaries and explorers" and motivate them "to go and experience formation in new places—like Second Life, World of Warcraft, local catechumenal communities…[and] to think creatively and critically about the relationship between old and new media."
Read an excerpt from Mediating Faith – and leave a comment to win a free consultation for your church on digital strategy – at the Patheos Book Club here!

Amber M. Stamper holds a Ph.D. in English (Rhetoric and Composition) and is an Assistant Professor of Language, Literature, and Communication at Elizabeth City State University in North Carolina. Her research and publications center on religious rhetoric and communication, especially issues of Christian evangelism and the digital church.