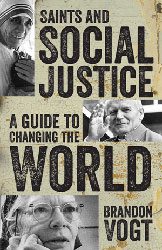 Book Review — Saints and Social Justice: A Guide to Changing the World, by Brandon Vogt
We are always given good news when we are give guidance in holding together what seems to get separated so often in the Church—the inner journey of Spirit and the outward journey of acts of mercy and justice. This new book by Brandon Vogt, a fairly recent convert to Roman Catholicism, is very helpful in that task. He has looked to exemplars in the church, most of them beatified by it, and tried to draw connection between their personal practices of piety and their responsive calls and work in the world. He has arranged them by seven principle doctrines of the church, two exemplars for each category.
The book reads like a simple primer, affirming categories of Catholic social doctrine, such as "Life and Dignity of the Human Person and "Options for the Poor and Vulnerable." He then introduces exemplars of each one. As someone from outside this tradition, I welcomed the introduction to many faithful servants over centuries, including the 20th, who acted sometimes quietly and hidden, in locations from highly urban to very wild. I was reminded of my own upbringing by evangelical missionaries, prompted by a love for Christ that would take my parents to places where others might not go.
I found the book easy to read, but didactic rather than nuanced. I found the format of inserting paragraphs about people other than the focused subject, set off with darker page colors, and the side bars with citations from documents from a variety of church writings to be distracting.
I am pleased to be acquainted with saints, whether fully recognized by the church or not, whom I did not know, like Blessed Anne Marie Jahouvey, St. Pete Claver, and St. Roque Gonsalez. Each of them, as everyone else in the book, demonstrated that a true journey inward can never be separated from a journey outward with any integrity. Each one is a witness to the Presence of the Holy in this world! 
Read an excerpt from this book at the Patheos Book Club here!