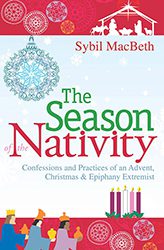 Now Featured at the Patheos Book Club
The Season of the Nativity: Confessions and Practices of an Advent, Christmas, and Epiphany Extremist
By Sybil MacBeth
We have a delightful challenging gift in Sybil MacBeth's new book, subtitled "Confessions and Practices of an Advent, Christmas & Epiphany Extremist." Those of us who have enjoyed her previous books, especially Praying in Color, have been introduced to the author's imaginative energy that facilitates prayer, especially for those long intimidated by the prospect of praying their own prayers.
Now in this new book she brings that freshness to the holy seasons surrounding Christmas in visual and creative ways that ground our observances in Biblical texts and traditions of the Church over centuries. By paying experiential attention to the theology that is the root of Advent, Christmas and Epiphany, she allows the reader (practitioner!) to sink deeply into the breadth of the truths of the Incarnation of Jesus, and to the spiritual practices of hope and experiencing the ongoing revelation of God to the world.
Her passion for the honoring and celebrating these seasons are particularly helpful for those who live with children, for those who live in community, and for those who seek to make those observances palpable and visible in their own lives. In each season she offers a plethora of easy, accessible exercises to commemorate the season, without ever losing track of the heart of the message. My only dilemma will be to limit myself to the ones most fitting for my own life and most necessary for my own devotion.
I especially like her challenge to become more intentional and devoted in the seasons that bookend Christmas. Her reflections and practices call us to learn to practice living in hope in Advent, and to open our eyes to God's wider intent in the world at Epiphany! Savor and use this gift she is giving us!