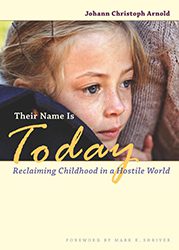 Now Featured at the Patheos Book Club
Their Name Is Today: Reclaiming Childhood in a Hostile World
By Johann Christoph Arnold
Jesus loved children. Mark 10:13-14 tells the story of Jesus chewing on the disciples because they would not allow mothers to bring their children to Him so He could lay their hands on them. Maybe my best mental picture of Jesus and children comes not directly from Scripture but from a film – "Gospel Road", produced by Johnny Cash. (The soundtrack album is great.) In one scene, Johnny sings a song simply entitled "Children". The song plays under a film montage of Jesus playing with kids (sand castles, etc.). The Jesus of Matthew, Mark, Luke and John would do this.
Probably at no time in world history has so much been voiced advocating the welfare of children in various ways. Simultaneously, at no time in history has there been so much suffering involving children. War with families destroyed, children soldiers perpetrating massacres and overcrowded refugee camps. Disease, water shortages, hunger and basic nutrition issues and inadequate medical care. Long-term poverty emanating from systemic corruption and fractured national economies. Inadequate educational opportunities including lack of resources and dysfunctional systems that occupy without teaching. Abuse (physical, emotional and sexual) in a thousand hideous forms including sex slavery with millions dragged into prostitution. How can people following Jesus make grassroots differences here? How can parents, grandparents and childcare givers of all kinds needing preventive and/or remedial help find traction to get started?
One place would be Their Name is Today; Reclaiming Childhood in a Hostile World. The book is more a product of an interesting community called the Bruderhof than of an author (even though Johann Christoph Arnold's name is on the cover). This group comes from the Anabaptist limb on the family tree along with Quakers and Mennonites with some differences. The big thing that this book brings to the subject of children lies in a voice utterly different from much out there including Christian publishing. The different voices shake the formulas and outside agendas of some from our head. Arnold will disturb graciously but insistently, teach with wisdom (spoiler alert – there will be "light bulb" moments) and encourage with hope. If we could serve all this up in a bun with mustard, the lines would stretch for blocks.
If we're honest, while we love our children, we struggle to read some books on children and their care. They're clinical and sometimes written by someone whom we can't imagine having children. No problem here. Their Name Is Today bristles with both meaty quotes from solid people and, more important, stories – lots of them. And these aren't stories Arnold found on Google. The reader will find that Arnold, a senior elder of the Bruderhof community, has travelled the globe immersing his life in the heartaches of the world. He takes us strange places like a school having no classroom computers whose students come from families of high ranking executives from Apple, Hewlett-Packard and Microsoft.
Some of his topics are standard fare (not out of stereotype but because they're important) including the importance of children, play is a child's work, parental expectations on steroids, oversaturation with all electronic media and materialism. But his take has a different feel. We may find ourselves, in the middle of some agitation at something he says, thinking, "This might be how Jesus would think about this." Don't assume we've heard everything on these subjects without reading Arnold.
But he also sounds some trumpets I would like to learn to play. "In Praise of Difficult Children" will be medicine for the broken heart of many parents. Who takes on these subjects and gets down into the wounds with the tender humility Arnold does? Read and find out. "Discovering Reverence". This chapter would be one of those "I never thought of that" moments. We think more of "Christianizing" our kids with Christian music, T-shirts and the "Full Armour of God Playset." (Never buy this for your kids or grandkids.) By the way, if we find ourselves liking Arnold, we should explore the excellent Advent devotional Watch for the Light (including Annie Dillard, Kathleen Norris, Henri Nouwen, Thomas Merton as well as Arnold) and Bread and Wine for Lent (also from Plough Publishing House).
Jesus had to touch children even if He didn't build sand castles with them; He couldn't help Himself. Yesterday I led a writing workshop for some Detroit residents who think they're not writers. With a little prompting, they opened up and the time was filled with wonderful stories running the gamut of human emotion and experience. These stories lay dormant in silence for years and bruised by life. But the stories still breathed. Theologically, I'm describing part of what the Bible means when it says people are created in the image of God. Jesus sees all of this in seed form in our children. He sees it bubbling out of every part of them. This is part of why they wear out their grandparents. And in Arnold's Their Name is Today, child caregivers who want in on the joy He took in them, who want them to flourish and have any dents removed, will find lots of meat on the bone to both think about and even enjoy.