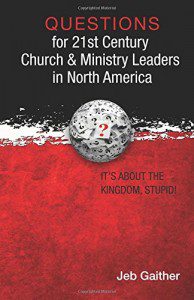 This month at the Patheos Book Club, we're talking about the new book, Questions for the 21st Century Church and Ministry Leaders of North America by Jeb Gaither. Here, the author talks about his book and what he hopes readers will take away from it.
What inspired you to write Questions for the 21st Century Church and Ministry Leaders of North America?
I wrote this book because I am concerned with much of what we call organized religion that passes as "church" in North America. It seems religiosity is driving an ever-increasing number of people away from Jesus, with the result that "generational non-Christianity" will become the norm, if it is not already the norm.
What was the hardest thing about writing Questions for the 21st Century Church and Ministry Leaders of North America?
Striving to generate "kind but perhaps ruthless" questions for churches and ministries to work through as they struggle to bring Jesus to more people and advance His Kingdom from "the way it is" to "the way it ought to be."
What book(s) are you reading at present?
I'm currently reading Piper's "The Pastor's Kid," Schaeffer's "Why I am an Atheist Who Believes in God," Perman's "What's Best Next", Pinker's "The Sense of Style", and Caskey's "Same Game, New Rules".
Why do you think others will be challenged by reading Questions for the 21st Century Church and Ministry Leaders of North America?
I'll defer to one of my earliest readers, someone who is several generations younger than me and who represents our future, who said: "I often found myself wishing these questions had been asked in places where I had ministered, and hoping and praying that they would be asked in those places I currently serve and in the wider church at large. … I truly think that every church leader in North America – staff or lay – should read this."
What do you hope readers will take away from your book?
Problems exist within our churches and ministries that must be solved to serve the Kingdom, given the reality of increasingly rapid changes in culture, technology, demographics and family structures of 21st century North America.
Conversations through social media and other avenues would occur by the book's raising hard and difficult questions — questions that church or ministry leaders must think through and wrestle with in order to solve day-to-day challenges and to find their way into the future.
My reader, referenced above, and her generation would see dynamic changes from the "way things are " toward " the way things ought to be."
Do you have a blog or website where people can learn more?
Yes. www.lapasa.com
What advice would you give people reading this book?
Since every church and ministry faces different problems at different times, this book does not provide any one-size-fits-all solutions. Instead the book asks lots of hard questions from different points of view needed to dig down through layers of "symptom" problems to reach and resolve the real root problem.
Again to quote another early reader who is a pastor. "Read at your own risk and read for your own benefit."
When you start down the path of changing a church or ministry, never stop praying and remember that you have a very powerful God, Son, and Holy Spirit going ahead of you.