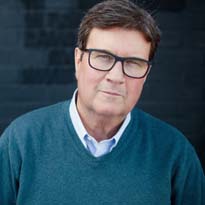 This month in the Patheos Book Club, we're featuring the new book Maximus, by Richard L. Black. The fictional account of Roman General Maximus' undercover investigation and encounter of Jesus is part mystery and part detective story, and an innovative rendering of the story of Christ through the eyes of an outsider.
We talked with author Richard L. Black about the inspiration for the book and how researching this story affected his own faith life.
Your book required you to encounter Jesus through the eyes of your character Maximus, knowing nearly nothing about Jesus except he is viewed as a potential threat to Rome. How much research did you do and did you consciously have to remain "neutral" about Maximus's investigation?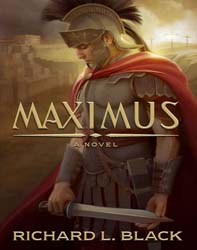 Christianity has been ingrained in me since childhood. But ultimately as I grew older I had to make a conscientious choice to continue in my belief. It was an easier decision for someone like me that had grown up learning about Jesus and the stories in the New Testament. I am always impressed with people that come from a different background that discover Christ and choose to follow him. I think it almost requires a higher degree of faith and self-reliance as opposed to leaning on the belief of others. Maximus came from a decidedly different background. His experiences had to be a compelling one and his faith had to be great to fully accept the change and challenge in his life that becoming a disciple would bring. Maximus was looking for change in his life and when he encountered Jesus he knew: His ears heard and his eyes saw. His conversion in the book is very powerful and swift because he was receptive to the message, willing to make the change and, because of his life experience in war and conflict, was deeply in need of Jesus's message.
From the experience of writing this book, did your perspective change about Jesus' life and times or the walk of faith of the early disciples?
I learned so much from researching the details of the people and times; which was the initial impetus for writing the book. I don't know that my perspective changed but certainly my understanding was enlightened. I think I appreciate more the difficulty the early disciples had in becoming such. They were cast out of the synagogues, belittled and cut off from the general brotherhood of the Jewish community. Who would subject themselves to that kind of rejection unless they firmly believed? Toward the end of Jesus' ministry many of the throngs of disciples disappeared. They couldn't commit to the sacrifice that Christianity was going to demand from them. Those that continued on were solid in their belief and based their commitment not solely on the miracles they had witnessed but on the expansion of the spirit within their hearts – which produces a much more solid foundation of belief.
Christian fiction is predominantly aimed at a female audience. How do you think this book will particularly appeal to Christian men?
I always thought this book would appeal at men. This is a story of a man, like many of us, who is dissatisfied with his life and situation and ponders change and resolution to unanswered questions. Modern man may struggle with a job, a relationship, a town they live in or a behavior/habit they desire to purge. All men, I believe like Maximus, have looked in the mirror at some point or many points in their life and raised the same questions. Maximus is no different in that regard. The message is that he was willing to take the risk of getting on a ship and journeying to a strange land not sure what he was going to encounter. What he found was life changing because he was humble and receptive to the message. He did something about it! He just didn't mope around Rome continuing in his current path and wish things would be different. He jumped headlong into a strange environment and placed himself squarely in the path of opportunity.
Did writing the book make you wonder how you would have responded to Jesus's mission if you lived in that time?
I would like to think I would have heard the message and felt the burning in my heart and committed to the path of a true disciple. I think it was harder than we imagine. And as I state in my Notes to the Reader at the beginning of the book – I don't know that being a disciple today is any easier.
What's the biggest lesson modern day Christians can take away from reading Maximus?
There's is a very important component of discipleship; it has to be a personal decision. Maximus, early on, looks to Ezra to give him an answer to his questions about God. Then he looks to Jershon. But ultimately, as Ezra tells him – "You will have to discover that for yourself". We have to discover our commitment to Christ for ourselves. No one else can convince us or talk us into it. It is a very personal thing. You can't believe because your friend or neighbor believes. You can't believe because your parents or significant other believes. You have to believe on your own account and because you experience your own personal "Day of Pentecost" where the Holy Ghost fills your heart and confirms truth to your mind and soul. This is what separates the true disciples from the casual believers.
Read an excerpt from the new book Maximus at the Patheos Book Club.
Author BIO: Richard L. Black
I was blessed to have great English teachers through school; teachers that taught me an appreciation of reading and encouraged me to write critically. I didn't become an avid reader until my late 20's. I grew to love well-written Historical Fiction – Michener, Clavell, Wouk. I like to walk away from a book feeling I learned something whether it's about a place, culture or a period of history. My greatest reward in writing Maximus would be for readers to say they learned something and that they appreciated the things that they learned.
I explored my interest in writing in my early 30's and went back to college to take a creative writing course. I wrote short stories and enjoyed the process and received feedback that I had a talent worth developing. It would be almost another twenty years before I put my nose to the grindstone and began writing Maximus. The writing and research process has been highly rewarding and an education in itself. I became a better writer as the book progressed. If you don't enjoy doing the research, historical fiction is probably not the genre for you.
I have had a diverse life experience, which has helped my writing. I have worked with and observed many types of people in many stressful situations. My own life has been at times fraught with difficulty and huge challenges. I have been married for almost forty years to a wonderful, patient and forgiving woman. I have eight adult children, some married with children. I draw from the discussions and experiences I have with them. For me personally this is a good time to have started my writing career – my perspective is much broader. I don't believe twenty or thirty years ago I could have written with the passion and understanding that I think I possess today. I am still learning and growing and perfecting my craft; it is an ongoing maturing process. When you have experienced a particular emotion it is easy to describe it and write about it, you don't have to make it up, it's real. A great asset for any writer is to have a healthy imagination but also a high degree of sensitivity to human emotion.
Reading is an important part of developing your craft. I read every night and always have a book or two on my nightstand. It's invaluable to read and learn from how other writers craft a story and describe emotion and setting. I have come to the conclusion that writers are not competitors. Marketers may disagree. I think if you are truly a writer you respect and enjoy the work of all other writers. We are all describing the stories behind a unique piece of the human puzzle. And who isn't disappointed upon completing a puzzle to discover one of the pieces is missing.