"Who willingly exposes their weaknesses? Yet that is exactly that path Jesus calls us to tread, and for good reason: There is more hope in honest brokenness than in the pretense of false wholeness.

— Jamie Arpin-Ricci, author, Vulnerable Faith
This month at the Patheos Book Club, we're featuring a new book by inner city pastor Jamie Arpin-Ricci called Vulnerable Faith: Missional Living in the Radical Way of St. Patrick. In this exclusive interview, Arpin-Ricci shares the story behind the book, how his church community ended up ministering to him, and what Alcoholics Anonymous can teach us about vulnerable faith.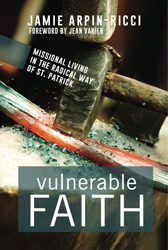 What was the inspiration for writing Vulnerable Faith?
The inspiration goes a long way back. Even as a child, I had a deep sense of longing, even calling, for friendship, acceptance and community. I would even feel guilty if I didn't include all my toys when playing. That stayed with me, even into my teen years when I discovered the writing of M. Scott Peck. It was in his work that I first encountered the idea that community was not only what we were designed for, but that it took genuine effort and that it formed and developed following stages.
After graduating, I joined a missionary organization that placed a strong emphasis of intentional community living, revealing both the beauty and challenges of what it takes to share our lives in authentic ways. It required a willingness to be vulnerable with one another, to let go of our masks and face our own fears, biases and prejudices. While Peck's writing was critical in this understanding, the added dimension of a shared missional vocation added something new.
As we sought to live this in community, I recorded our journey and began to share with others the hard-earned wisdom. After years of teaching & experimenting with the ideas, I decided to put it down into a book — and Vulnerable Faith was born.
Why did you choose St. Patrick as the model for a book on missional living?
In truth, as I looked at the lives of Christians through history, the pattern of their lives often beautifully reflected the stages we explore in the book. However, St. Patrick's story of capture, captivity, conversion and escape was uniquely compelling, especially because he willingly returned to the land of the captors to bring the gospel.
Further, the legacy of St. Patrick and Celtic Christianity at large makes for a strong argument for the lasting transformation that occurred there. It shows how the individual conversion of one man lost to the wilds could be transformed into one of Christianity's most beautiful examples of the kingdom of God. I believe the book offers the same invitation: While inviting individuals and small groups into vulnerable faith, I believe it has the potential of much greater impact.
You also talk about the 12-Step Program of Alcoholics Anonymous as offering us wisdom for living out a life of transformation and service. What does AA have to do with "vulnerable faith"?
Years ago, while watching a popular TV show, it occurred to me that well we often see the church as the brunt of pop culture humour, we rarely see Alcoholics Anonymous treated with anything but respect. And while I could (sadly) think of many reasons why we Christians deserve such representation, I was moved by the fact that AA, a community of admitted addicts who have collectively declared their helpless could inspire the kind of response that I only hope my Christian community could inspire. One of key reasons AA is able to do this is because of their unwavering commitment to finding hope in and through vulnerability.
The 12 Steps most explicitly embody this vulnerable path. They are particularly helpful because they integrate guiding principles with concrete actions, refusing to let them be abstracted into mere ideals. As I reflected on them in the book, I realized that the twelve steps involve admitting that we cannot control our brokenness; recognizing the need for God's intervention to give us strength; reflecting on all our failures, past and present, with the help of others; seeking reconciliation and making restitution whenever possible and beneficial; embracing a new life devoted to the principles learned; and compassionate reaching out to help others on the same journey. One could argue that these spiritual principles are necessary for everyone. Few movements reflect the kind of vulnerable faith we need like Alcoholics Anonymous.
In your introduction, you ask: "How do we become the kind of people who embrace this transformation and step into the fearless love of selfless service to God and neighbor?" How, indeed, do we begin?
We begin by examining and admitting where we are at. We begin by recognizing the fears that keep us tied up in selfishness and pretense. We begin by willingly embracing a hopeful vulnerability. After all, in the pop wisdom of TV's Dr. Phil, "You cannot change what you do not acknowledge." Again, the wisdom of AA and 12 Steps is practical and to the point: we must admit that we are powerless over the things that keep us from wholeness.
Too often, though, we attempt to ignore, minimize and mitigate our own problems and failures in an effort to avoid this costly path. We compare ourselves to others who we think are "worse than us". We explain away our weaknesses as circumstantial. Consciously or not, we even convince ourselves that, as long as no one else sees us for what we really are, it isn't true. Such responses, while ultimately unhealthy, are at least understandable. Who willingly exposes their weaknesses? Yet that is exactly that path Jesus calls us to tread, and for good reason: There is more hope in honest brokenness than in the pretense of false wholeness.
What have you learned in your own life of servant living in community about transformation? About becoming vulnerable? About self-sacrifice? About love?
For many years, I have served as the pastor of an inner city church community, helping people with addictions, mental illness, poverty and all the other every day challenges people face. And it has been a good and worthy ministry. And yet, for all that "noble service", it was in this last year that my own faith has been newly challenged to embrace vulnerability.
Last year, after a pattern of unpredictable outbursts, I was diagnosed with Post-Traumatic Stress Disorder, likely the result of witnessing a friend take his own life. Suddenly, I went from being the pastor of people with mental illness to living with mental illness myself. And in recognizing that reality, I needed to accept help — from family, friends and professionals. Above all, I realized that those people who I lived with mental illness — the people I had served and loved — were best equipped to understand and support me in my journey. They became my pastors.
Who did you write this book for? Who do you hope most reads it?
Serving in the context I do, I often get invitations from suburban and rural churches to come and share about our ministry, to talk about ministry among the poor and the mentally ill. Often people will express sincere compassion for the how much need there is in my community. While this is true, I have come to realize that the difference between my community and those I visit is often simply that my community has had the pretense of false wholeness stripped away. Circumstances have conspired to expose the raw brokenness in our lives. Yet, for many Christians in more "stable"and "healthy"contexts, our privilege (be it economic, social or racial) often serves to effectively hide their brokenness. Pretense, intentional or not, is the great enemy of vulnerable faith.
This book is written for anyone willing to face their vulnerability because of the hope of transformation that awaits them on the other side of the cross of Christ. And not simply a transformation for our own sakes, but so that we can be united and empowered by the Holy Spirit to bring the hope of forgiveness, salvation and fullness of life to others. As Jean Vanier so powerfully expressed in the book's foreword:
"The urgency of the invitation to each of us in Vulnerable Faith cannot be ignored. In a world of terror and hatred, of protection and retaliation, it is a bold and important reminder to Christians of the radical nature of our witness as followers of Jesus. He is the Word made flesh, the vulnerable incarnation of God's love for each and every one of us. And it is in a relationship of mutual vulnerability with the One who loves us that we will be able to grow to freedom, that God's desire and our hope of shalom will be realized."
Read an excerpt from Vulnerable Faith at the Patheos Book Club here.