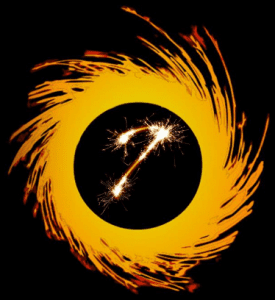 This is the first post in my "Countdown to 30" series! In one week – on January 3rd, a birth date I share with JRR Tolkien (as well as Mel Gisbson – sigh) – I will turn 30. I'm someone who takes milestones like this seriously. I don't subscribe to the view that it's "just another day" – instead I try to take the opportunity milestones afford to reflect on my life, my values, and my priorities for the future. This tendency is particularly pronounced on my birthday, since it's right at the start of a new year, a time when people traditionally take stock of their lives and make resolutions.
That's why I've chosen to launch my new website and blog project on my 30th birthday: it seems a propitious time to start a project which I hope will define much of the next stage in my career. Over the next seven days running up to its launch I'll be indulging in a little retrospection, looking back over my life so far and picking out some pieces which seem important to my current work and future plans. Today, I begin with a vignette which sets up the series.
Vocational Premonitions
For a whole hour, we talked about me. We discussed my aspirations and dreams, my skills and weaknesses. Discussed my family life – their professions, their hobbies, my relationship with them. Explored the passions and frustrations of my current job. Wondered aloud about my future, where I wanted to be in ten years, what I sought to achieve. And finally, the dialogue complete, she had a diagnosis:
"James", the high-powered careers advisor said as she leaned toward me, an infectious gleam in her eyes, "you should be a priest!"
A pause, as I digested this entirely unexpected outcome, and then: "But I don't believe in God!"
My advisor released an expletive.
***
At the time – twenty two years old, fresh out of college, working as a high school teacher with
Teach First
(the UK's equivalent to
Teach for America
) I thought the idea of me as a priest was ridiculous. But as I've approached my thirtieth year I recognize there was deep wisdom in my career advisor's words: she saw something within me it would take me almost ten years to discover.
You see, I had told my advisor that I was frustrated with teaching. I saw myself as an educator, but I was not an excellent classroom teacher, and I wanted to address broader social themes and speak to the society as a whole, not just one classroom. I revealed that I loved theatrical performance and had a long flirtation with the stage, but wanted to speak my own words, to use my skills as a performer and orator to address the critical social issues of the day. I loved social activism, but was frustrated by the lack of idealism and the compromise inherent in party politics. I had a guilty secret –I adored watching motivational speakers and hoped perhaps one day to be one – but I was frequently unimpressed with the shallow ideas such speakers offered, and with the limited view of human flourishing they often espoused. I was passionate about my academic work, but feared the isolation of the academy, and desired to be a member of a community who shared my moral values, not just my love of learning. Most of all I wanted to make a difference: to repay the privilege of my upbringing by doing the best I could to change the world for the better.
Given such numerous and specific requirements, "priest" was a wise career suggestion! Years before I had discovered the Humanist community at Harvard, before I had become a writer and public speaker, before I had come out as gay and become a gay rights activist, before I had cultivated a passion for the development of moral communities for Humanists, before I ever decided I might want to lead such a community, my advisor had hit on an almost ideal career. But, at the time, I thought there was no such thing as a priest – or anyone who plays a similar role to a priest – who doesn't believe in God. I hadn't heard of Ethical Culture then. I'm glad I've found it now.