We live in a world of plenty, but billions live in want. Some 780 million people lack access to clean water – the most basic of necessities – while 3.4 million people a year – almost a whole Los Angeles – die from a water related disease. 99 percent of these deaths occur in the developing world, in a preventable tragedy of epic proportions. Something must be done, and done now, to end this blight on humanity.
You could be the one to do it. You could become a Pathfinder.
For a long while I've been watching the development of Pathfinders Project with excitement. Pathfinders is "a non-profit organization started by Conor Robinson created to focus, encourage, and demonstrate the generosity and compassion of secular humanists" which engages Humanists in service and learning trips in Asia, Africa, and Latin America,  and is a pilot program of the Humanist Service Corps (an initiative from the estimable Foundation Beyond Belief).
The Project is looking for potential Pathfinders – individuals dedicated to Humanist values and willing to spend a year of their life travelling the world (Brazil, Burkina Faso, Cambodia, Chile, Colombia, Ecuador, Haiti, India, Mongolia, and Uganda) to complete clean water, education, and sustainability projects, and engage in dialogue across religious, cultural and ethnic boundaries. Does that sound like it could be you?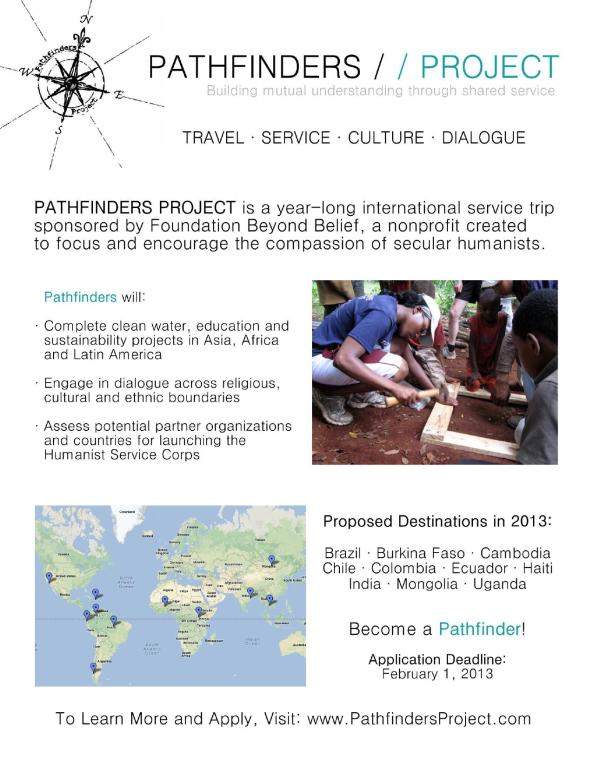 Truly, there are few people as well-suited for such work as Humanists: our commitment to reason as well as compassion ensures that we strive to find the most well-evidenced solutions to global problems, and our humane perspective – which affirms the dignity of 
all 
people – ensures we will never be content with situations which perpetuate oppression. Our
Humanism demands we act
.
But you have  to act soon – the deadline is February 13th! That gives you just over a month to put an application together. Before you leave you'll have to commit to one full year of travel (July 2013-July 2014), fundraise half the total cost of your participation ($10,000), and participate in three conference calls and one orientation prior to departure. $10,000 sounds like a lot – and it is  lot – but for a whole year of world travel, food, and lodging  it isn't so steep. And this is a  life-changing opportunity.
If you heed the call and become a Pathfinder, you'll be joining a project right at it's most critical point: the beginning, when everything is still being shaped. You will be a member of a cohort of Humanists taking a critical first step: aiding in the establishment of a Humanist Service Corps which could go on to do even greater things. When they tell the story of the Corps, your name would shine brightly – one of the forerunners, the people who came first.
So, how about it? Are you ready to make a difference? Ready to step up and wear your Humanism on your sleeve? Are you ready to become a Pathfinder?