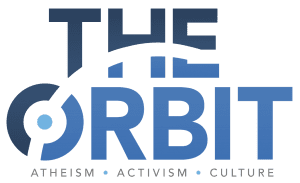 Earlier this week atheist blogger Stephanie Zvan launched a Kickstarter to help launch "The Orbit", a new atheist and nonreligious blog network focused on social justice. The campaign has been a great success – The Orbit was almost fully funded in the very first day, and is already meeting stretch goals! This is a testament to the quality of the authors on the network, and the ability of its founders – who operate as a collective, and share basic values as well as some revenue from the site – to promote and gain support for their work. This bodes well for their future!
The list of founding members of The Orbit is impressive, a mix of well-established and newer voices from diverse backgrounds and perspectives, all focused on making the world more just and free. People whose writing I know already include Greta Christina, who has already started blogging about her cat Comet =P; Heina Dadabhoy, who has written a gorgeous reflection on Atul Gawande's Being Mortal which explores mortality, the positioning of authors, and the challenges of reading challenges; Brianne Bilyeu, who introduced me to a (in her words) "FAT FLYING HAPPY-LOOKING FEMALE SUPERHERO"; Miri Mogilevsky, who has a GREAT piece asking whether therapists should decline to work with clients they are bigoted against; Zinnia Jones, who offers an excellent introduction to her work and to The Orbit;  and Alex Gabriel, whose post on the social justice oriented atheist movement is one of my favorite pieces from the atheist blogosphere this year. To have all these writers blogging at the same place is a joy.
Even better, though, are the newer voices The Orbit has introduced me to. I hadn't read Tony Thompson's writing before The Orbit brought his blog to my attention, and now I'm loving reading his take on the limited release of gay movie The Weekend in Italy due to the Catholic Church's meddling; Consider the Tea Cosy by Irish writer Aoife O'Riordan wins my Best Blog Name Ever award, and has helped me learn more about Irish politics than I ever knew before (which, as a politics addict, I consider a great service); and Luxander Pond (whose blog Metaphorical Penis wins Second Best Blog Name Ever) makes a powerful case against the use of ableist slurs which has reinforced my commitment to eradicating them from my language.
This is the best thing about blog networks: the good ones bring together great authors with a clear perspective, enabling you to follow your favorite writers and helping you discover new ones who you might not encounter otherwise. On this score, The Orbit is off to a great start: I spent a few hours over the past couple of days browsing the site's content, and I think you'd be hard-pressed to find a better collection of atheist writing anywhere on the web (with the possible exception of our own
Patheos Atheist Network
, of course!).
The launch of The Orbit comes at a propitious time for atheist and Humanist social justice work. The American Humanist Association recently reaffirmed its commitment to social justice in a statement co-authored by the president and vice-president of the organization, and appointed Sincere Kirabo as their first social justice coordinator. Sincere – who is both a contributor to The Orbit and a blogger here on Patheos – is an amazing writer and a ferocious critique of unjust systems, and his appointment by the AHA along with his tenure at The Orbit is the sign, I think, of exciting developments to come in the Humanist social justice sphere.
I'm enthused by the launch of The Orbit and by what it represents. From my perspective as a Humanist activist I celebrate the existence of a blog network dedicated to the promotion of true justice from a nonreligious viewpoint. For too long the narrative from some religious quarters has been that organized atheism has nothing to say about matters of injustice and inequality. The Orbit is a powerful rebuttal – atheists do have a passion for justice, and our star is rising.