This post is the first of a three part cycle on the Gay and Lesbian Association of Choruses Festival 2016. Part Two is here. Part Three is here.
As they walk onto a stage bathed in rainbow light, we stand. 60 or so singers dressed in black pants and vests, white shirtsleeves completing their funereal look. On the breast of each, a rainbow ribbon: this is the Orlando Gay Chorus, about to sing their set at the Gay and Lesbian Association of Choruses' (GALA) quadrennial Festival in Denver, CO. The applause is thunderous and sustained before Orlando have sung a note – it almost seems they might not get an opportunity to sing, given the extent of the ovation. Yet a soloist approaches the mic, the audience finally quiets and, holding back tears, she gives voice:
"You with the sad eyes
Don't be discouraged
Oh I realize
Its hard to take courage
In a world full of people
You can lose sight of it all
And the darkness inside you
Can make you feel so small…"
The GALA Festival is special. Once every four years, LGBTQI choruses from around the world come together in one city to sing for each other. This time Denver had the honor of hosting, and the streets of the Mile-High City are thronged with more than 6600 delegates representing over 200 choral ensembles from all across the United States and beyond. The Beijing Queer Chorus is here, performing their first set in the masks they wore (until recently) to hide their identity as they sang. Homonics, an exquisite (and exquisitely handsome) trio from Dublin, have made the trip. And Mano a Mano, the five-man gay male chorus of Cuba are strutting their stuff, a highlight of numerous performances throughout the week. For five days Denver was thrumming to the sound of queers making music.
What is always a joyous and energetic occasion is uniquely intense this year: we are gathering not three weeks after the mass shooting at Pulse gay nightclub in Orlando, at which 50 people were killed (49 victims plus the shooter) and 53 wounded, most of them queer Latinx people. The massacre at Pulse casts a shadow over GALA: the specter of death haunts our music, and every song is a requiem. Lyrics otherwise innocuous take on meanings sinister and profound. Every sung reference to homophobic violence feels more scary, every call to peace and love more essential, and every insistence on pride and self-acceptance more defiant.
When Out Loud: The Colorado Springs Men's Chorus sings words from "The Secret Garden" –
"When you see a man who's raging
And he's jealous and he fears
That you've walked through walls
He's hid behind for years"
– I can't help but see the face of Omar Mateen, the shooter at Pulse, and imagine the demons which drove him to mass murder.
When the Denver Gay Men's Chorus sings "Nessun Dorma" ("none shall sleep"), I think of the sleepless night I spent on the day of the shooting, hoping to hear from friends I thought were dead.
When my own chorus, the Gateway Men's Chorus of St. Louis, joins hands to sing "Walk hand in hand with me," I remember the lovers who danced, hands also entwined, clinging to each other even in death.
Every song is tainted.
Orlando's performance is a nexus for these feelings. The Chorus has been performing day and night since the shooting, members taking time off work and rearranging shifts to sing at vigils and memorials, often at only a few hours' notice, almost every day for three solid weeks. I remember older members of the Boston Gay Men's Chorus, where I used to sing, telling me of the time when they would perform at multiple memorials a week for their brothers who died of AIDS. For the Orlando Gay Chorus, those days have come again. The ovation they received as they took the stage was an expression of shared grief and solidarity from a traumatized queer community still coming to terms with atrocity.
Traumatized, but undefeated. For as Orlando sing they summon reserves of grace and bravery I have rarely seen. Their set starts hopeful with "True Colors," then looks to the future with the upbeat "It Takes a Whole Village to Raise Our Children" – the applause is fierce and warm. But when the display behind the singers suddenly shows the logo of Pulse nightclub, there is immediate tension in the room.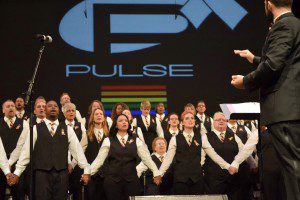 James A. Rode, Orlando's Artistic Director, turns to offer a statement on the shootings:
"None of us on stage were prepared for what happened at Pulse three weeks ago today. On that Sunday, many of us like myself woke up to texts asking if we were OK, not even knowing what had happened…What we saw on the news…didn't seem real. It was unbelievable…None of us were prepared for the role that OGC would fill in the weeks to come…We have sung in candlelight vigils, benefit concerts, sporting events, and even memorials for several of the victims…None of us were prepared for the magnitude of all of your love, the way so many of you sprang into action.."
And here his voice fails him, and he struggles on through tears, speaking over desperate applause:
"All of us in Orlando have learned some important lessons. We have learned we must keep fighting for the rights and protection of everyone, within the LGBTQ community, and our allies. We have learned that we are not just here to entertain people, but our music can inspire, it can heal people, it can do amazing things. We have learned that the amount of love from GALA Chorus here, and at home, and LGBTQ singers around the world, is boundless…Our music, and our love, will conquer hate."
Then Rode leads us in song, and the room rises: "When you walk through a storm hold your head up high…." I stand, trying to sing through strained sobbing, shaky on my feet. I'm not sure I could walk, and my head isn't high: but for the support of the person next to me I think I'd fall over. I hope I'm performing the same solemn service for him. That's what it's been like these past weeks in the queer community: we're trying to hold each other up while we can hardly stand ourselves. But tonight, lifted by the harmony of hundreds of queer voices, it seems possible to carry on.
After what feels like hours of ovation, the Orlando Gay Chorus launches into a raucous rendition of "We Are Family," complete with pink feather boas and shoes with neon soles. People dance, clap, and sing along. The miasma is lifted, banished by melodic exorcism. We are family: that's what GALA is.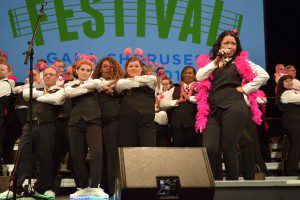 Like my blog on Facebook here!