In the Parkway School District "MassResistance Missouri," the local branch of a national hate group, is trying to sway school board elections to promote unsafe, homophobic, Christian-based sex education. This is not hyperbole: right now an organization based on hatred of LGBT people, which promotes that hatred in the USA and around the world, wants to decide what is taught to children in the Parkway school district.
What is MassResistance?
MassResistance, founded by anti-LGBT extremist Brian Camenker, is an intensely dangerous and unpleasant organization which has fought against equal rights for LGBT people for many years. I lived in Boston for 7 years, and there had the misfortune of encountering MassResistance while I worked as an activist. It is not an experience I wish to repeat. Camenker is notorious for his hateful views and actions: he was keynote speaker at a rally in Jamaica supporting criminalization of homosexual sex, and has a long history of hate speech targeting LGBTQ people. One of Camenker's favorite tactics is to intimidate LGBTQ activists by following them around and filming them without their consent, then using the video to try to harm them: MassResistance once even set up a secret camera to film people using the bathroom. His employees have been caught secretly attempting to film and take photos of elementary school children. He has criticized both anti-bullying and suicide prevention programs designed to protect LGBT youth (he is literally against programs designed to prevent the bullying and suicide of children), and he even called anti-bullying efforts in MA "fascist-like." And, just recently, MassResistance came under fire for distributing a disgusting leaflet detailing the supposed "Health Hazards of Homosexuality" at an event at which the President spoke.
This is a profoundly sick organization. To be clear, this is not simply a conservative group opposed to LGBTQ equality: this is an extremist hate group which ruthlessly targets LGBTQ people for denigration. MassResistance, in its extremity, is more like the Klu Klux Klan than a respectable political organization.
There is now a Missouri branch of MassResistance (which is recognized by the Southern Poverty Law Center as a hate group in its own right), which focuses on the same issues and uses many of the same despicable tactics.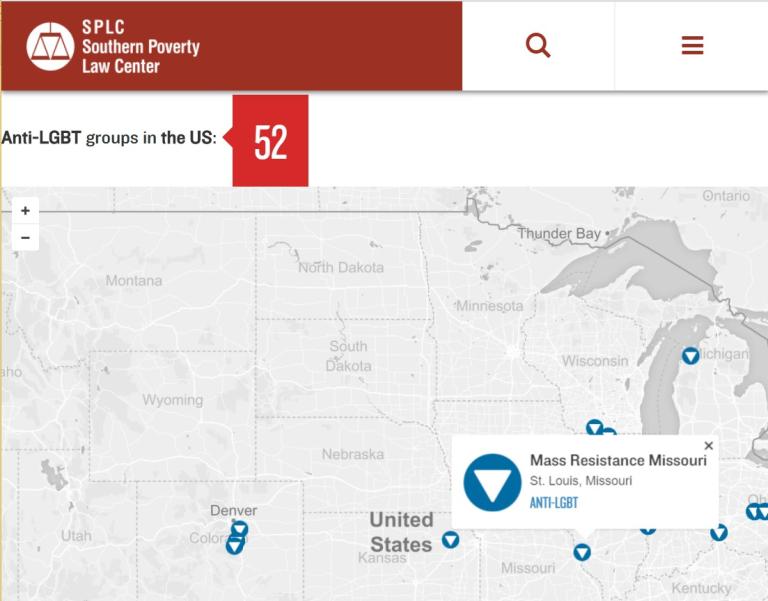 For instance, during recent school board elections in Parkway, they stalked a candidate's social media accounts and used a funny picture taken at the popular kids' attraction Myseum to insinuate he kept his children in a cage: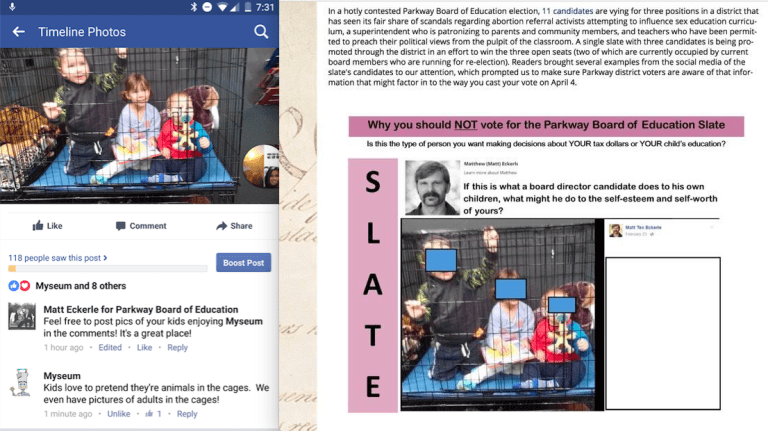 Grotesquely dishonest electioneering of this sort is used by MassResistance MO to promote their anti-LGBT agenda in schools. On their website they criticize schools for teaching about the contributions of gay scientists and artists, for example, and are appalled that trans youth are being allowed to use the bathroom or changing facilities which match their gender.
Even more disturbing is how Missouri MassResistance targets student activists – often minors – by trawling their social media for "incriminating" posts and placing them online, making the students in question vulnerable to bullying and abuse. Already at least two students have been targeted and one, Andrew Bennett, spoke about his experience for St. Louis Public Radio, saying "It made me very worried for my friends and for my safety and for my friends' safety." Any organization which puts children at risk for political purposes should be nowhere near schools – and yet MassResistance (and other related organizations, as we shall discover) are actively attempting to shape policies and curricula in Parkway.
Sue Weaver, the public face of Missouri MassResistance, denies that they are a hate group, but the facts are clear: MassResistance is the local arm of a national hate group, and those associated with it have chosen to affiliate themselves with one of the worst anti-LGBT extremists in the country. Ms. Weaver didn't have to call her organization "MassResistance," or take on the more unpleasant tactics of the national group – she chose to do so, and concerned citizens have every right to be worried about this organization targeting area kids.
MassResistance Links to Advocates for Educating Taxpayer Accountability (AETA)
Disturbingly, the extremists of Missouri MassResistance aren't the only group St. Louis residents need to be concerned about. Another organization, "Advocates for Educating Taxpayer Accountability (AETA)," has close links with the hate group, and is working to promote many of the same ideas – just with a more respectable façade.
This part of the story starts with a mailer from AETA, a flier sent out to voters in the Parkway School District during the 2017 school board elections. Ostensibly, the mailer is a voter guide: it ranks the candidates according to their stances on various issues, offering a final recommendation in the form of a grade. In this case, the more conservative candidates receive A's, while the more progressive ones receive F's.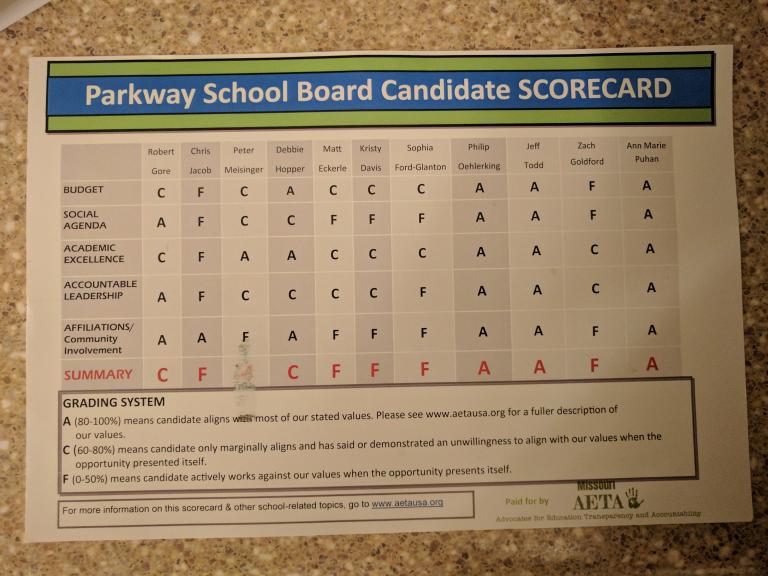 This mailer, however, is different: it doesn't comply with Missouri Ethics Commission rules mandating that every mailer meant to affect an election for a public office must disclose both which organization funded it and the name of the chief operating officer or treasurer of that organization. Take a look at the image below to see if you can find that information (the blacked-out area is the recipient's address):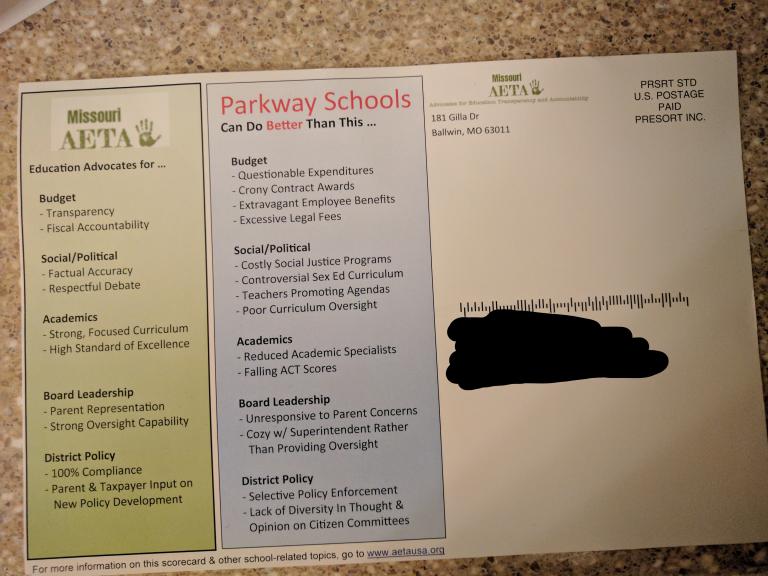 Note that while an address and organizational logo is visible in the top right, no individual – a treasurer or COO – is named. The AETA mailer, then, would seem to be illegal, in violation of clearly-specified ordinances meant to ensure that every group which wants to sway an election be publicly accountable for the material they distribute to voters. (I spoke with an official from the Missouri Ethics Commission while writing this article, and they confirmed both that my interpretation of the rules is correct, and that from a description I offered this mailer would seem to be in violation of the ethics rules.)
Who Is AETA?
So who is AETA, and what is their agenda? Ostensibly, AETA is a group who "advocate for transparency and accountability in school districts, school buildings, and classrooms" – laudable goals in themselves. But dig deeper and a more disturbing picture emerges. As we've seen from the mailer, AETA supports only the most conservative candidates for school board elections, and (from their website) is focused to a large degree on sex education and abortion. Indeed, the only educational issue featured prominently on their website at the time of writing is "pro-life/abstinence," and on that page the organization promotes discredited "abstinence only" sex education programs, while disparaging comprehensive sex ed programs which are proven to be much more successful.
Just like the suspect mailer, the AETA website offers no identifying details for any individual involved in the organization. No one, it seems, wants to be associated publicly with its work. This is strange for a political pressure group. Mostly, people who engage in local politics want to be known, and want to let people know how to contact them, in case a supporter wants to get in touch to join their campaign – but AETA is closed as an oyster. No one at the listed email address responds to inquiries, and the phone number seems to have been disconnected: I have never received a response to any communication I've sent to AETA, yet the organization is trying to influence public elections with illegal materials. Why are they so cagey about the identity of their activists?
Perhaps it has something to do with AETA's links to Missouri MassResistance. What's the connection? When MassResistance MO created their new website in 2016, they used the contact email for AETA to register the site (I have removed personal information from the image):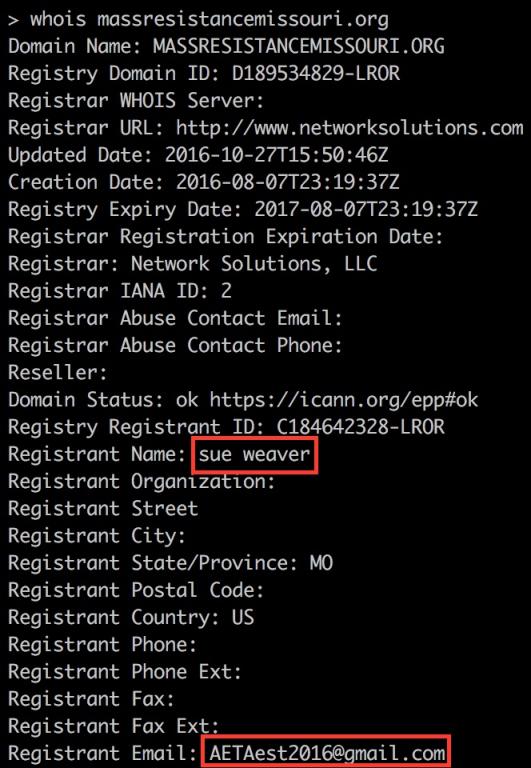 This clearly requires the consent of whoever controls the AETA email address – it would have been impossible to set up the site otherwise. Yet here the website stands. So, at the very least, AETA supported the establishment of MassResistance Missouri – which is no surprise, given they work on similar issues and use similar rhetoric. I would not be shocked to discover that the two groups were supported by essentially the same people. Further evidence of the connection between the two groups can be found in the following mailer, sent to parents in the Parkway School District, which clearly includes the AETA email address and the MassResistance website at the bottom: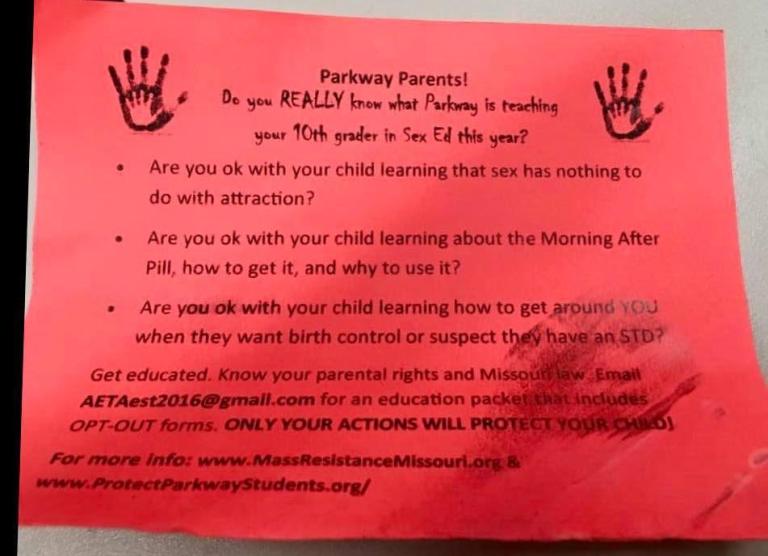 Who runs AETA? As I've said, it's a strangely secretive organization, but the one name I can associate with it is Leigh Heisel, an Associate Teaching Professor at UMSL. Prof. Heisel set up AETA's website (see image below – I have blocked out Prof. Heisel's email address and other personal information), and admitted supporting the group in emails to me after I contacted her to offer the chance to comment on this piece.

Unlike Ms. Weaver, I cannot speak to Prof. Heisel's views regarding the close association between AETA and MassResistance Missouri: she refused to answer the simplest questions about either organization. Indeed, her primary response was to aggressively threaten legal action against me – an intimidation tactic used frequently by those who wish to associate with extremist groups in secret. What I do know is that Prof. Heisel, by her own admission, helped establish AETA and gave it financial support, and that AETA was involved in setting up the website for MassResistance MO, using the very same email to do so which AETA uses, to this day, to receive queries about its work. Prof. Heisel did not disavow any connection with MassResistance MO when asked, nor did she repudiate its views or tactics.
Why share this information? People have every right to engage in the political process, and to encourage voters to support their views – however odious and hateful these views might be. But AETA and MassResistance are breaking the rules of civic engagement by sending out illegal mailers, lying about people on their websites, and attempting to intimidate their political opponents (including children) with personal harassment and (as in my case) threats of legal action. These people want to fill school boards with their cronies, but don't want you to know who they are. They want to control what public schools teach your children, but when those same children advocate for themselves, they smear them publicly and make them afraid.
The creeping influence of the hate group Missouri MassResistance leads to pressing questions for anyone involved in the debate about sex and sexuality education in St. Louis-area schools:
Will all school board candidates endorsed or otherwise supported by Missouri MassResistance and/or AETA repudiate that endorsement, and state clearly they oppose the actions of these groups?
Will thriVe St. Louis, promoters of a controversial sex education curriculum which has recently been kicked out of numerous St. Louis-area schools, disavow the endorsement they receive from Missouri MassResistance, given that it is a hate group?
Will voters in the Parkway School District, and all across Missouri, demand that election rules are followed, and regard with extreme skepticism any mailer they receive 1) from any hate group and 2) from organizations unwilling to identify anyone associated with their activities?
Will the leaders of Missouri MassResistance and AETA, if they must continue their crusade against effective and honest sex education and LGBTQ safety and inclusion in schools, commit to doing so without misrepresenting their political opponents, smearing individuals, or targeting youth?
Can we, as a community, agree that whatever our political differences, our children's education is sacred, and should not be tarnished by policies designed and promoted by hate groups?
For the sake of all our children, we must answer "yes" to all these questions. School board elections are coming in March, and already AETA and Missouri MassResistance are ramping up their efforts to infiltrate our public schools with their hateful agenda. Already AETA are sending out email blasts targeting Parkway voters, decrying schools' anti-racism efforts and encouraging their dangerous brand of extremism. It is the responsibility of all parents of goodwill – of all voters – to repudiate this hateful extremism and elect school board candidates who have the best interests of all children at heart.