Update: The American Humanist Association has started a petition to bring back the pillow! Sign now! Hemant Mehta, the Friendly Atheist, wrote a post about this also!
Unless you've already picked up your Humanist pillow from Target, you may be out of luck – they've already been pulled from the shelves.
Last week, a congregant at the Ethical Society of St. Louis posted a link to our Facebook group showing that Target was selling – rather surprisingly – a pillow embroidered with the word "Humanist." Why they decided to sell this pillow I'm not sure, as it wasn't part of a collection representing different religious perspectives, and it's not normally the sort of thing I expect to see at major national stores. However, excited, I ordered one online and picked it up at my earliest opportunity. Here I am holding it outside the Ethical Society: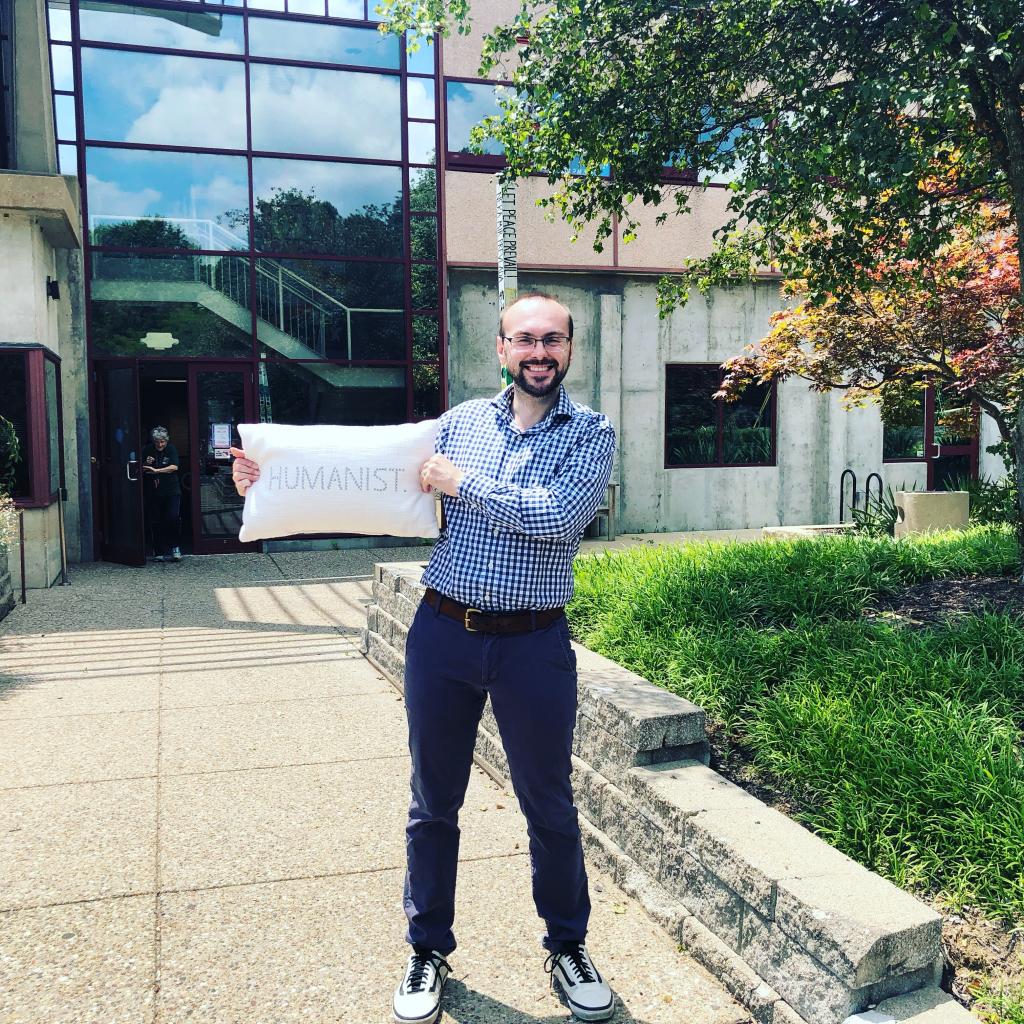 I am quite impressed with the quality of the pillow. The texture is soft and nubby, the colors are attractive, and the stitching is clear and contemporary. It makes a great addition to my office, although I wish it were just a little bigger – 8/10.
Sadly, though, almost as soon as they began selling it, Target have removed the Humanist Pillow from sale! Reasons for this outrage are murky, but a friend informs me that it may have been recalled due to negative customer feedback! According to my friend Paul:
I went to the local Target after ordering mine online and they gave me the pillow, had me do an electronic signature, then took the pillow back from me and told me there is a recall. They refused to give the pillow and canceled my transaction.

I spent a half hour calling the black hole of customer service to be told that it was discontinued and recalled because of "customer feedback". They said there was nothing physically wrong with the product, just feedback.
Disgraceful! Has Target bowed to anti-Humanist prejudice? Was the mere mention of Humanism sufficient to have them deny my friend his lumbar support even after he had made his order? We don't know. What we do know is that the pillow is Target's own brand, Room Essentials, so presumably was designed in-house, and that it has indeed been removed from shelves: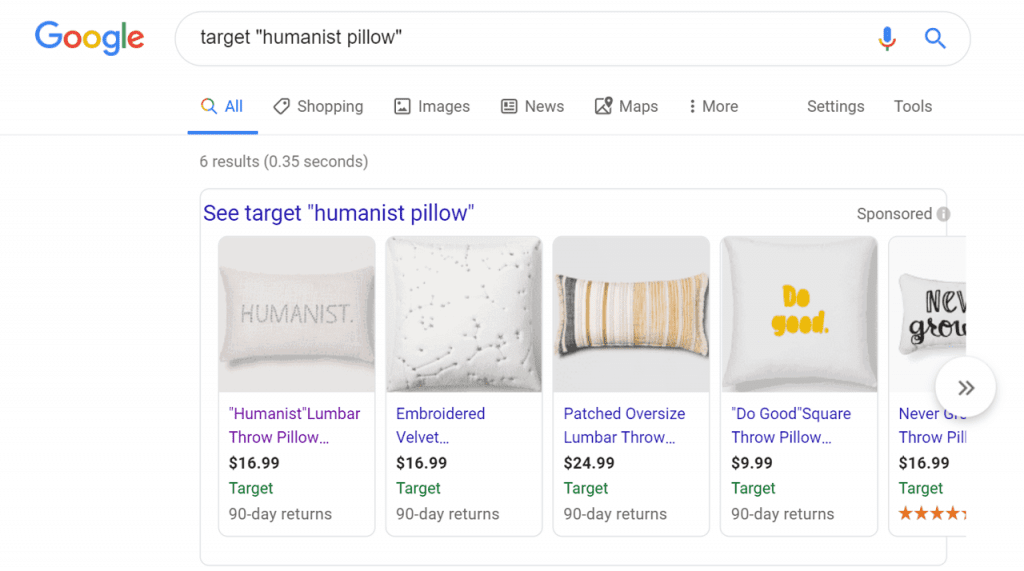 Target now has some serious questions to answer:
Why was the Humanist Pillow removed from sale? Is it so dangerous that I should consign mine to the flames?
If it was because of "customer feedback," what was the nature of that feedback and why did they decide to heed it?
Is there a secret Humanist in Target's design department, and are they sending a subtle cry for help?
Does Target hate the Humanist community, and would they also bow to pressure to remove Christmas Cards or Hanukkah items from sale?
Humanists everywhere deserve answers to these pressing queries! For now, I will sit and wait, my lower back gently caressed by the word "Humanist"!