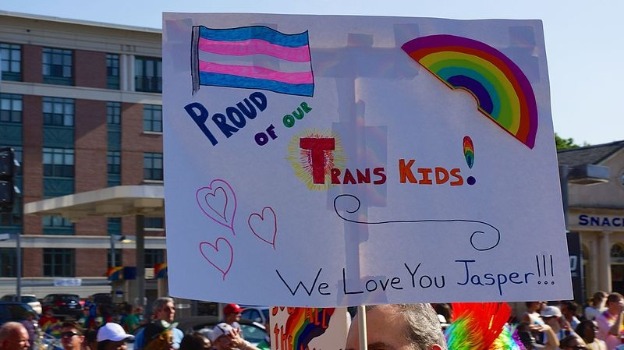 My daughter was two years old when she first told her birth mother that she was a girl.

For those of you with children, this might not come as a surprise; toddlers often begin to describe themselves at this age. They might say their own name, or insist that something is "mine." This is also the age where imagination play really takes off; pretending to be an animal, a cowboy, or a princess. Certain special toys are dragged everywhere, sometimes in entire superhero teams.
What sometimes surprises people about my daughter telling her mom "I'm a girl," is that my daughter was assigned male at birth.

In fact, when I became "Mama Ashleigh," my daughter was four years old, and I thought I had adopted a son. A son who loved rainbows, pink, and glitter, right along with trains and Legos.

But within a few months of becoming a mom, my opinion changed drastically. Kiddo started telling me, "I'm a boy and a girl." When our family visited the Renaissance Festival that year, my daughter's father and I explained that she could dress-up. We presented lots of options, and Kiddo picked Princess. So off we went, to thrift for a Princess dress.

That day, I still saw my daughter as my son. I remember how darling she looked, and how happy that dress and tiara made her. And I remember feeling frustrated with the number of people at the fair, who "mis-gendered," her by saying "mi'lady." On the ride home, I did a lot of research.

The New York Times had an article on "Pink Boys," that struck a chord. A number of possibilities for what was going on with my child were presented, and I was determined to hold space for all of them.

As fall turned to winter, "I'm a boy and a girl," fell away, to be replaced with, "I'm a girl today." Kiddo also presented us with feminized variations on her birth name. I would ask her in the mornings, if she felt like a boy, a girl, or both.

One morning, near her fifth birthday, she said, "Why do you keep asking me that? I don't have boy days anymore."
Honestly, those words hurt. It wasn't that I couldn't accept her gender identity; after all, that is what I had been trying to do all along. It was more the sense that my daughter knew exactly who she was, and it was the adults in her life that were struggling to comprehend.

And, according to her other mom, my daughter had known for several years. It took us as a family–Several Years–to accept and embrace the child that we had been given.

I tell this story, because I want people to understand that I've wrestled with this. I have first-hand felt that sense of doubt in my gut, "Is this true? Is this a phase?"

My daughter entered Kindergarten as herself. I'm proud of that. My daughter has lots of friends her own age, mostly girls, and they play lots of games together. She still loves rainbow, pink, and glitter; she still loves trains and Legos, and more recently, robots and science experiments.

Some of the older folks in her family have struggled to see her for who she is. They continue to say "he," and call her by her birth name. My daughter handles this with grace. It's as if, she understands, that they are struggling, and forgives them.

By contrast, on the rare occasions when other children have questioned her identity, even in imaginative play, she has reacted intensely. Sometimes she screams at them, saying, "I can be whoever I want," or, "You're wrong! I'm a girl!."

She's six now. She tells me, when she grows up, she wants to be pretty and invent things.

There have been those in the greater Pagan Community, who question my parenting. I've heard many variations on the theme of, "let children be children," which I take to mean, "keep your gender politics out of childhood." I've also heard murmurings of doubt about my child's identity, how she's so little, how it's probably a phase, how I'm allowing her to "run the show."

Well, here's the thing; my child lives in her body. My child, like any other, expresses strong opinions about her favorite colors, what foods she likes to eat, and what toys she likes to play with. And more than many other children I know, she has strong opinions on how she presents herself to the world.

When preparing to write this article, I thought I'd better include a few reputable resources, so I visited the Human Rights Campaign website. When I read their example of a scenario involving a transgender child, and how to know, I almost laughed out loud:

"The general rule for determining whether a child is transgender (rather than gender nonconforming or gender variant) is if the child is consistent, insistent, and persistent about their transgender identity. In other words, if your 4-year-old son wants to wear a dress or says he wants to be a girl once or twice, he probably is not transgender; but if your child who was assigned male at birth repeatedly insists over the course of several months that she is a girl, then she is probably transgender."

One more factoid I'd like to put forth, from the Human Rights Campaign, is this:

"Gender identity and expression are central to the way we see ourselves and engage in the world around us. This is certainly true of transgender and gender-expansive children and teens, for whom family support is absolutely critical."

For children like mine, family acceptance of their gender identity can literally be a matter of life and death. I am blessed to co-parent with people who embrace my daughter's gender identity.

In the greater Pagan Community, I hear Family and Chosen Family used interchangeably with Community. In festival culture, we often say things to each other, like, "Welcome Home!" We talk about how it takes a village to raise a child. We talk about unconditional love, acceptance, and letting our freak flags fly.

In our ritual spaces, and rites of passage in particular, we take pride in our Community members. We honor those we love, and we hold them up. And it pains me to say, that when it comes to our transgender youth, we have a big gaping hole to fill.

It goes beyond pronouns. It goes beyond "he" and "she." It's in the simple things; the way we put, "Daddy's little guy," on baby clothes, or explain "the difference between boys and girls," because we assume body parts equal inner identity.

I know women in the Pagan Community who rail against the frills they were forced to wear as children; how they wanted to wear jeans and play in the mud. I know men, who grieve over the lack of pattern and color available to them in conventional clothing. I know non-binary people, too, who don't see much of themselves reflected in the mainstream anywhere.

We can be better than this. We tell ourselves that we are better than this; that we accept everyone for who they are. That "weird," is a good thing. That the word Witch is a compliment.

So, on this International Transgender Day of Visibility, we can choose, as a Community, look to our trans children, and say, "I see you. I embrace you. I support you. Just as you are."