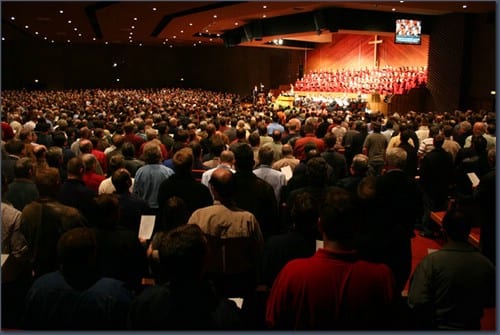 Introduction
This past Sunday, John MacArthur and Grace Community Church (GCC) assembled together, in person, and in defiance of the standing state directive of Governor Newsom. This two days after announcing that they would do so. This announcement came less than two weeks after California Governor Newsom issued an executive order that essential aborted reopening plans after a surge of COVID-19 in the state. The renewed restrictions halted all indoor dining and closed bars, zoos, and museums. Major counties like Los Angeles, San Bernardino, Orange, and Riverside, were forced to close gyms, malls, and churches. The new order effects some 80% of Californians. Rolland Slade, chairman of the SBC Executive Committee, considers the reversal of reopening a governmental overreach, also highlighting the lackluster relationship between Newsom and the faith community in the state, none of which have been consulted regarding COVID-19-related policies.
Newsom's new directive was a significant blow to morale. He has indicated that state residents can expect oscillation between closure and partial opening for the foreseeable future as the state tries to ride the coronavirus wave. Back in June, the Governor had initiated a modest reopening strategy. Churches were going to be allowed to open at 25% capacity or 100 people, whichever was smaller. Some areas, like Santa Clara, was limiting attendance to a flat 25 persons. This was quickly reversed when there was an uptick in hospitalizations. Presumably, when this spike subsides, the state will return to the former, stage 1 stipulations.
The new order also specifies that restaurants may serve patrons outdoors, that protesters may continue to demonstrate outdoors, and that churches may meet outdoors. But as the California-based Advocates for Faith and Freedom pointed out, not all churches have the facilities or resources to conduct outdoor services. MacArthur and GCC are not alone in their defiance of the Governor's latest orders. Micaiah Irmler, pastor of Southridge Church in San Jose has joined with other congregations in suing Santa Clara County for its particular limitations Irmler said he planned to meet in person anyway. The civil disobedience of pastors like Irmler seems to be in response not to any particular piece of Newsom's pandemic policies but rather the consistent disregard for faith communities throughout the past several months, especially during reopening efforts. The refusal to trust pastors to care for their flocks, as many see it, and factor in health in tandem with other concerns, has also been offensive. The request that churches halt congregational singing also struck a chord.
GCC's Statement
The GCC statement argued that because Christ is the one true head of the church, the state of California had exceeded its authority in ordering the indefinite closure of churches. Under Newsom's latest directive, congregations, regardless of size, are not allowed to meet indoors. It is the conviction of MacArthur and his fellow elders that this policy exceeds the bounds of legitimate governmental authority and violates the clear commands of Scripture to maintain assembled, corporate worship.
"The church by definition is an assembly. That is the literal meaning of the Greek word for 'church'—ekklesia—the assembly of the called-out ones. A non-assembling assembly is a contradiction in terms. Christians are therefore commanded not to forsake the practice of meeting together (Hebrews 10:25)—and no earthly state has a right to restrict, delimit, or forbid the assembling of believers."

"Even where governments seem sympathetic to the church, Christian leaders have often needed to push back against aggressive state officials," the statement also reads, noting that their appeal was not to the Bill of Rights but to the authority of Christ revealed in Scripture, something never contradicted by the words or actions of Christ himself: "Our Lord Himself always rendered to Caesar what was Caesar's, but He never offered to Caesar what belongs solely to God."
More:
"Christ is the one true head of His church, and we intend to honor that vital truth in all our gatherings. For that preeminent reason, we cannot accept and will not bow to the intrusive restrictions government officials now want to impose on our congregation. We offer this response without rancor, and not out of hearts that are combative or rebellious (1 Timothy 2:1–8; 1 Peter 2:13–17), but with a sobering awareness that we must answer to the Lord Jesus for the stewardship. He has given to us as shepherds of His precious flock."
(The Daily Wire has reported on the announcement from MacArthur and his elders). GCC has, needless to say, created a bit of a buzz with this announcement. The buzz grew louder when pictures were posted online of the Sunday service; MacArthur preaching, thousands of mask-less faces listening intently. It should be noted too that the same day that GCC met in defiance of the order, protesters less than 400 hundred miles north in Oakland, set fire to a courthouse, vandalized a police station, and launched fireworks at law enforcement. It was declared an unlawful assembly by the local police. GCC's defiance could only be described as civil disobedience.
In response to GCC's announcement, Jonathan Leeman, blogging at 9Marks, questioned MacArthur and co.'s decision (see Part 3). This was followed by a podcast discussion of the matter between Mark Dever and Leeman. The podcast was mostly taken up with reassuring other evangelical churches that the decision of the GCC elders did not (or should not) constitute a universal directive for all pastors. This is, of course, correct, and, I would have thought, self-evident. Their discussion of the situation was gracious and fair. No qualms there, though some of the analogies provided to support their position (and Leeman's blog post) were shaky.
Part 3 of this series will focus primarily on Leeman's blog post in response to GCC's announcement—which is not to say that it too was not gracious and fair. The argument of this series is rather that Leeman fails to grasp what is at stake, fails to frame and interpret the socio-political dynamics in play appropriately, and, therefore, fails to grasp the essence of GCC's protest. (This is also not to say that there are not legitimate objections to GCC's approach to the matter, especially regarding the erroneous insinuation in the statement that the pandemic is not serious).
MacArthur's defiance of the California order (and Leeman's response) comes at a convenient time. The recent decision (or lack thereof) by the Supreme Court in Calvary Chapel Dayton Valley v. Steve Sisolak, 591 U.S. __ (July 24, 2020) and South Bay United Pentecostal Church v. Newsom, 590 U. S. ___ (May 29, 2020) provides occasion, and ammunition (Part 1), to fully consider the essence of MacArthur's protest (Part 2) and, later, the point of disagreement between MacArthur and Leeman (Part 3).
The Dissenting Brethren
Voting 5-4, the justices rebuffed Calvary Chapel Dayton Valley, a Reno-area church that said the state was unconstitutionally discriminating by imposing stricter requirements on church services than on Las Vegas casinos. The state's order limits indoor church services to 50 people, and the church said it wanted to accommodate as many as 90.
(SCOTUSblog rundown here). Chief Justice Roberts, yet again, joined the liberal majority (this time, thankfully, without besmirching the name of Edmund Burke), as he did in an earlier, similar California case (South Bay) back in May which received the same 5-4 split. Unlike Calvary Chapel, which received an unsigned per curiam opinion, the Chief Justice provided a short opinion in South Bay, the reasoning of which presumably stands in the subsequent case. (Note: GCC had originally planned to reopen fully back in May but, after South Bay Pentecostal lost in the Ninth Circuit, decided to remain closed per Newsom's orders at the time).
South Bay
Even without strained Burke references though, Roberts (in South Bay) was able to lean on his, as Kavanaugh puts it in the subsequent case, "overly broad judicial deference":
Our Constitution principally entrusts '[t]he safety and the health of the people' to the politically accountable officials of the States 'to guard and protect… When those officials 'undertake [ ] to act in areas fraught with medical and scientific uncertainties,' their latitude 'must be especially broad.'…Where those broad limits are not exceeded, they should not be subject to second-guessing by an unelected federal judiciary, which lacks the background, competence, and expertise to assess public health and is not accountable to the people.
Justice Kavanaugh, writing for the dissenters rejected Roberts' characterization (i.e. that broad limits were not exceeded). Kavanaugh (and the other dissenting brethren) would have granted the church's request for temporary injunction because "California's latest safety guidelines discriminate against places of worship and in favor of comparable secular businesses." The discriminatory substance and application, the unfairness, of the state orders evidence the excessiveness that Roberts denied. The state may have been able to satisfy the compelling interest standard generally (i.e. COVID-19), but not a compelling justification for distinguishing between churches and other facilities/business, nor had the state met the narrowly tailored/least restrictive requirement (see Church of Lukumi Babalu Aye, Inc., v. Hialeah (1993). (Kavanaugh noted that California had other options for satisfying its general compelling interest).
The restrictions at play in South Bay were the ones mentioned above in the introduction: church attendance limited to 25% or 100 attendees, whichever was lower. (Presumably, these are the restrictions that will return once California resumes stage one reopening). The problem was that "comparable secular businesses," including gyms, pet groomers, and cannabis dispensaries were not being subjected to a 25% or 100-person occupancy cap.  All South Bay Pentecostal Church was requesting was fairness in application regarding the cap:
Importantly, the Church is willing to abide by the State's rules that apply to comparable secular businesses, including the rules regarding social distancing and hygiene. But the Church objects to a 25% occupancy cap that is imposed on religious worship services but not imposed on those comparable secular businesses.
Kavanaugh asked rhetorically: "Assuming all of the same precautions are taken, why can someone safely walk down a grocery store aisle but not a pew?" "And why can someone safely interact with a brave deliverywoman but not with a stoic minister?" The point being, similar activities should be treated similarly. The discrepancy in occupancy caps could only be explained by discrimination against religion.
Calvary Chapel
Mentioned already, the Nevada case received no majority opinion, but the dissenters produced 24 pages in response, with Justices Alito and Kavanaugh filling most of them (Josh Blackmun called it Kavanaugh's "strongest effort since he joined the Court."). Roberts did not write at all; he did not attempt to apply his South Bay analysis with the Calvary Chapel situation and the dissenters made him pay for it.
Calvary Chapel's basic claim was discrimination—that the Governor's order (in substance, on its face, and application) would not survive strict scrutiny ("neutral and of general applicability"). Its plea: injunctive relief (Free Speech and Free Exercise grounds—upon which the dissent found a likelihood of success and therefore would have granted relief) pending appeal. Whereas casinos, gyms, bars, and restaurants were being permitted to operate at half capacity, churches in Nevada were still being held to a flat 50-person limit regardless of facility size. Similar facilities are being treated dissimilar it was argued.
Alito points out in his Calvary Chapel dissent that contra the attempt at analogy by the state (and implicitly by Roberts's silence), the California (South Bay) case and the present one is not the same. In South Bay, churches were distinguished from factories and groceries stores because congregating only happens in churches and not the other scenarios provided. In Nevada, the distinction no longer applies. Casinos are obviously conducive, indeed require, congregating of large numbers of people, just like churches. Therefore, per Alito, certain facilities are obviously receiving preferential treatment over others (i.e. non-neutral). "The Governor's directive specifically treats worship services differently from other activities that involve extended, indoor gatherings of large groups of people."
Calvary Chapel is, as it is framed, not an Establishment Clause case, wherein the state is preferring some religions or denominations over others or religion over non-religion, but rather a Free Exercise case. But in a truer sense, Calvary Chapel, in fact, is an Establishment Clause case: one religion has been favored over another. (I'll return to this later).
Fair and Balanced?
The state of Nevada defended what it characterized as a balanced approach. Whereas churches are being limited to 50 occupants, casinos are required to provide masks for customers and offering, in some fashion, COVID-19 testing. Likewise, movies theatres and museums are limited to 50% occupancy or 50 people, which ever is smallest. The point being, on balance, in the opinion of the state, a tailored approach to each industry yields better results—churches may be held to a lower occupancy requirement but they are subject to less requirements than casinos and the like during their operations. Casinos can be given more leniency, it is claimed, because the state can more easily regulate their conduct.
These justifications notwithstanding, Alito's points remain. As he shows on the first page, 50% occupancy limits on casinos still permits thousands to congregate; not so with most churches, which average less than 100 attendees per week. There is also no evident Free Exercise exception that allows differential treatment to facilities/industries more squarely under government control— indeed, this only suggests more preferential treatment. Further, even if the state's argument made sense within Free Exercise jurisprudence, it would not account for the differential treatment to bowling alleys, arcades, and gyms. (Plus, there was some evidence that the state was not trying quite as hard as it let on to police health-related requirements in casinos).
Nevertheless, Alito has some sympathy with state efforts to respond to public health crisis (as does MacArthur—more on that below). He acknowledges that at the beginning of the COVID-19 outbreak, the restrictions of personal liberties that went along with that, were understandable. Public health crises require decisive, sometimes overbearing restrictions on the economy, travel, and other activities.
In times of crisis, public officials must respond quickly and decisively to evolving and uncertain situations. At the dawn of an emergency—and the opening days of the COVID–19 outbreak plainly qualify—public officials may not be able to craft precisely tailored rules.
That being said, "a public health emergency does not give Governors and other public officials carte blanche to disregard the Constitution for as long as the medical problem persists." As time goes on, and state governments get their feet under them, so to speak, more tailored measures are expected. "The problem is no longer one of exigency, but one of considered yet discriminatory treatment of places of worship." Governor Sisolak's (Nevada) order in question does not date to March but rather May 28, more than two months after a state of emergency was declared, and now, almost two months old itself. Whilst conditions have changed, restrictions on churches have not.
It is clear that the governor's directive blatantly discriminates against churches, and therefore requires strict scrutiny (something the majority obviously did not do, nor did the state even try to defend itself on such grounds), a standard that Alito believes the state could not satisfy. Any appeal to compelling interest is undermined by the differential treatment itself inherent in the order and lackluster enforcement of the same. The state is, of course, allowed to burden religious practice, but only for a justifiable reason (i.e. compelling interest, narrowly tailored, etc.). As Kavanaugh notes, echoing Alito, the state of Nevada provided no such justification, indeed, its theory of the case was all the more insulting because it barely tried to.
But importantly, Kavanaugh adds that, under his proposed framework, a government's decision to disfavor one class must, obviously, be justified, but so also must any policy which treats one group more favorably than others, which is exactly what happened in Calvary Chapel.
The State has not explained why a 50% occupancy cap is good enough for secular businesses where people congregate in large groups or remain in close proximity for ex-tended periods—such as at restaurants, bars, casinos, and gyms—but is not good enough for places of worship. Again, it does not suffice to point out that some secular businesses, such as movie theaters, are subject to the lesser of a 50-person or 50% occupancy cap. The legal question is not whether religious worship services are all alone in a disfavored category, but why they are in the disfavored category to begin with.
Another Brick in The Wall
In Everson v. Board of Education (1947) (solidified by Lemon v. Kurtzman (1971), which provides a "test" to ensure that the government is not effectively endorsing religion), the Court conjured up, from the spell book of Jefferson, the idea that the Establishment Clause's includes (or establishes) a "wall of separation" between church and state— and an equality principle between religions— meaning that the government cannot aid religion or prefer religion over non-religion (whatever that means) (the government cannot "pass laws which aid one religion, aid all religions, or prefer one religion over another").  This separationists jurisprudence has been called on the carpet before (e.g. Justice Rehnquist in Wallace v. Jaffree (1985)) (see also Peter Lillback's Wall of Misconception). But none have done it as well as Justice Thomas (e.g. Zelman v. Simmons-Harris (2002), Town of Greece v. Galloway (2014)) (see also Vincent Phillip Muñoz's lengthy article on the topic, which Thomas has cited, as well as Robert Natelson's unique take).
Per Thomas, "the Clause served only to protect States, and by extension their citizens, from the imposition of an established religion by the Federal Government." As a matter of federalism, the clause does not apply to the states (and the incorporation of the clause via the Fourteenth Amendment was botched, by Thomas' lights). Everyone agrees that originally, this was the case. Where they disagree is over the incorporation question, and the substantive meaning of the clause at the time of the founding. The Fourteenth Amendment, which keeps state governments from abridging the "privileges or immunities of citizens of the United States" or depriving any person of life, liberty, or property without "due process of law," it is claimed, pulled the Establishment Clause into the state context, such that states (as well as the federal government) cannot support religion over non-religion; and that the government must treat all religions equally.
Thomas demurs, claiming that the original meaning of the Establishment Clause still applies, viz., that the state cannot coerce religious orthodoxy or force financial support. Even if the clause is rightly incorporated to the states— a fact he doubts given that it is questionable whether the Establishment Clause constituted an individual right (a privilege or immunity of citizenship) at the time of the founding or of the passage of the reconstruction era amendments— the Court since Everson, says Thomas, have effectively rewritten the substance of the Establishment Clause by inserting a wall of separation whereby the government cannot, in any way, support religion generally, which effectively privatizes religion in toto.
Justice Thomas recently outlined his objections expertly in his concurrence (joined by Gorsuch) to the Chief Justice's majority opinion in Espinoza v. Montana Department of Revenue (June 30, 2020).
In Espinoza, Thomas writes,
Thus, the modern view, which presumes that States must remain both completely separate from and virtually silent on matters of religion to comply with the Establishment Clause, is fundamentally incorrect. Properly understood, the Establishment Clause does not prohibit States from favoring religion. They can legislate as they wish, subject only to the limitations in the State and Federal Constitutions.
Espinoza was decided on Free Exercise grounds, but the genius of Thomas' concurrence is his recognition of how the clauses of the First Amendment are intertwined (viz., Establishment Clause and Free Exercise Clause go hand-in-hand).
[T]he Court's wayward approach to the Establishment Clause also impacts its free exercise jurisprudence. Specifically, its overly expansive understanding of the former Clause has led to a correspondingly cramped interpretation of the latter.
What Thomas is referring to is when state government appeal to the equality principle under the Establishment Clause to justify the violation of the Free Exercise Clause, effectively turning the First Amendment in on itself, employing one clause to defeat the other. What has been in vogue since Everson is essentially a First Amendment jurisprudence of antagonism predicated on a decidedly modern public-private dichotomy.
The example Thomas uses is that of Locke v. Davey (2004) wherein the Court held that prohibiting a theology student from using a state scholarship to pursue a degree in his field of choice, a violation of Free Exercise, was justified on Establishment Clause grounds.
You see how petty the no support of religion over non-religion theory is? I doubt the state objected to the same scholarship applying to courses of study within the litany of Grievance Studies "disciplines," but I digress.
As Thomas rightly points out regarding the Locke example, "The State neither coerced students to study devotional theology nor conscripted taxpayers into supporting any form of orthodoxy." There was no Establishment issue, but governments like the one in Espinoza continue to rely on the logic of Locke to justify encroachment of Free Exercise, drawing their "compelling interest" from the need to enforce a flawed view of the Establishment Clause. Round and round it goes.
The Lemon test presupposes the same separationists theory, and thereby "removes the entire subject of religion from the realm of permissible governmental activity," a sort of "content-based restriction on the government," which disallows healthy public debate and would be totally out of bounds under the Free Speech Clause. In Thomas' (and I believe, correct) view, the present state of the Establishment Clause is both contrary to its original public meaning, ahistorical, and inserts incoherency into the First Amendment (frustrating the relationship between Free Speech, Free Exercise, and the Establishment Clause).
What has been initiated by the separationist triumph in Establishment Clause jurisprudence is a "neutral" rewriting of said Clause, one that favors the presumptions, values, and myths not of non-religion, but of a very real religion, one that serves as the public faith (see below).
What's more, because of the pedagogical effect of law, the same assumptions that run through contemporary Establishment Clause cases leaks out into other cases that, though organized under separate doctrinal heads, deal with similar subject matter. Stated already is the fact that, in reality, the Establishment and Free Exercise clauses are, in many ways, interdependent. The public pedagogical function of the law also disseminates the logic and values expressed in law into the popular consciousness where it runs amok.
Law as Teacher
The net result is that the Court's First Amendment jurisprudence "communicates a message that religion is dangerous and in need of policing, which in turn has the effect of tilting society in favor of devaluing religion." Thomas gives several examples of where the Court itself has described religious petitioners as "sectarian," "propagandists," and "divisive forces" in search of "complete domination and supremacy." Thomas' prognosis in Espinoza is grim: "So long as this hostility remains, fostered by our distorted understanding of the Establishment Clause, free exercise rights will continue to suffer." The Free Exercise Clause will never be given proper place so long as the Establishment Clause is allowed to undermine it.
All of Thomas' analysis is, of course, correct. But as alluded to earlier, what is really going on here is not so much the erosion of Free Exercise of religion generally via a misapplication and interpretation of the Establishment Clause, but rather the elevation of a public civil religion (however decentralized and seemingly haphazard) over and against other competitors, the latter being strictly relegated to private observance (in the name of toleration and neutrality) whilst the former is increasingly given public prominence.
Law has a pedagogical function. It morally instructs. But further still, it supplies norms, and the internal logic of its working out in the dicta of judges infiltrates the public consciousness, for better or worse. But this is a two-way street, as no one could deny after reading Justice Kennedy's infamous words in Casey: "At the heart of liberty is the right to define one's own concept of existence, of meaning, of the universe, and of the mystery of human life." William Bennett rightly labeled Kennedy's line an "open-ended validation of subjectivism."
In the same way, the logic of the Court's religious liberty jurisprudence (specifically that of the Establishment Clause, as outlined via Thomas above) trickles down, but also validates sentiments already held common.
The sentiment that churches (traditional organized religion) is a nuisance and not an intricate, indispensable part of society (drawn out from especially from Justice Black's opinions by Thomas) has been evidently adopted by state governors across the nation. Churches (and mosques and synagogues) are simply non-essential.
But this is not to say that religion of a certain kind is not embraced, the religion of Liberalism, that is. The public religion of radical human autonomy (radical individualism over and against social and moral constraints), entertainment, profit, and social justice is evidently privileged by Nevada, California, and Illinois.
Caesar's Palace
Calvary Chapel is also considered by Alito under the Free Speech Clause (as it was alternatively brought by the petitioners): "The directive fares no better under the Free Speech Clause."
But again, I call this an Establishment Clause case not because the framing by the parties is not legitimate from the perspective of established Constitutional jurisprudence but because it does not get at the essence of what is going on here from a socio-political one. The Free Speech analysis by Alito (and Gorsuch) helps draw this out.
The Governor's directive, true enough, favors one brand of speech over another ("secular expression" over "religious expression"). It also favors certain types of facilities over another, secular over religious. But at bottom, it is favoring one kind of religion over another, one kind of public display of religious fidelity and conviction over another.
Though the Calvary Chapel papers seemed to focus on casinos, the real meat (also presented therein) is rightly identified by Alito, viz., the mass, ongoing protests across the country, including Nevada.
Not only has the governor not enforced his directives against protestors, but, as Alito notes, he has celebrated the violation of the same. For all the talk from the experts about the threat to the rule of law by Donald Trump, there scarcely any acknowledgement of the threat to the same by mass (often mask-less) protests in the midst of a pandemic, and the refusal of state governments to enforce their own policies against them.
Returning to the Free Speech matter in Calvary Chapel. In Alito's words:
Calvary Chapel has also brought to our attention evidence that the Governor has favored certain speakers over others. When large numbers of protesters openly violated provisions of the Directive, such as the rule against groups of more than 50 people, the Governor not only declined to enforce the directive but publicly supported and participated in a protest… He even shared a video of protesters standing shoulder to shoulder. The State's response to news that churches might violate the directive was quite different. The attorney general of Nevada is reported to have said, "'You can't spit . . . in the face of law and not expect law to respond.'"

Public protests, of course, are themselves protected by the First Amendment, and any efforts to restrict them would be subject to judicial review. But respecting some First Amendment rights is not a shield for violating others. The State defends the Governor on the ground that the protests expressed a viewpoint on important issues, and that is undoubtedly true, but favoring one viewpoint over others is anathema to the First Amendment.
In short, the government may be justified in treating dissimilar cases dissimilarly, but they are, in fact, treating similar cases dissimilarly.
In this way, the decision evidences a far greater, deeper problem. The public religion of Liberalism, the commitments of our Rousseauian "civil religion" in all its forms, has triumphed over true religion. One of the Justices even seems to recognize this. "In Nevada," says Gorsuch, "it seems, it is better to be in entertainment than religion. Maybe that is nothing new." Quite right.
This is why I call the case an Establishment Clause one. The values and interests of the faith of Liberalism are being favored by state governments. But even worst, the case really expresses how willing the state is to undermine the very basis of republican self-governance. Its priorities are clearly laid out by these COVID-era cases. It's taken a crisis to make obvious what has long been true.
In his Calvary Chapel dissent, Kavanaugh provides a sort of religious case typology:
laws that expressly discriminate against religious organizations; (2) laws that expressly favor religious organizations; (3) laws that do not classify on the basis of religion but apply to secular and religious organizations alike; and (4) laws that expressly treat religious organizations equally to some secular organizations but better or worse than other secular organizations.
Kavanaugh places the COVID cases into the fourth category:
laws—like Nevada's in this case—that supply no criteria for government benefits or action, but rather divvy up organizations into a favored or exempt category and a disfavored or non-exempt category. Those laws provide benefits only to organizations in the favored or exempt category and not to organizations in the disfavored or non-exempt category.
In Kavanaugh's understanding, the government has organized some "secular" facilities/activities into a favored category and religion, along with certain other "secular" things, into a disfavored category. This, as Kavanaugh discerns, is nothing short of a value judgment (i.e. non-neutrality). Commenting on the South Bay case, Josh Blackmun realized this (all of his posts on the COVID cases are worth perusing):
Governors are making "value judgments" about the importance of religious worship. They have deemed it unimportant. They have decided that "Churches can feed the spirit" over Zoom. We need Amazon Prime but receiving communion and reciting the mourner's Kadish aren't essential.
Kavanaugh agreed in Calvary Chapel:
Nevada's rules reflect an implicit judgment that for-profit assemblies are important and religious gatherings are less so; that moneymaking is more important than faith during the pandemic.
Kavanaugh's analysis is apt. His proposed two-step framework— which gets away from flat "comparisons" analysis (which is something akin to Gorsuch's logically problematic reasoning in Bostock) and presumes favorable treatment ("exemptions") at the outset for all facilities but especially religious ones— for approaching these sorts of cases is infinitely preferable to whatever framework the majority is operating from. But I would still maintain that it is not just that the state governments have two buckets, one "essential" and the other "non-essential," into which they toss myriad organizations and facilities according to the needs of the moment. Rather, consistently, in both South Bay and Calvary Chapel— and across the country— religion is particularly disfavored. What is always favored is the things intricate to the civil religion of Caesar—viz., those things that promote consumerism, licentiousness, distraction, and utopian visions of tomorrow in service of the god of Progress.
Again, what is before us, from a socio-political standpoint is an Establishment Clause issue. That is, the state is favoring one religion— viz., Liberalism as a political-theological order, as I will argue in Part 2— whilst disfavoring all competitors. The "value judgments" identified by Kavanaugh— the decision by governors and judges as to what is essential to, and valuable for, its citizens and the republic itself— evidence this fact.  
Gorsuch ends his pithy dissent with, "But there is no world in which the Constitution permits Nevada to favor Caesars Palace over Calvary Chapel." No world, but this world. Hail, Caesar! But the faith of Liberalism deserves more extensive definition to support the argument being furthered here. That will be the object of Part 2.
Image Credit: Wikimedia Commons