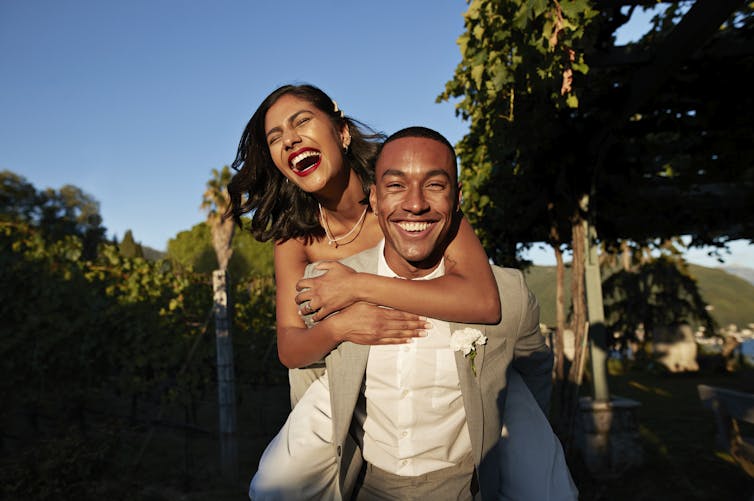 Who did the honors: clergy, a justice of the peace or just a friend? More and more weddings are performed by someone ordained online.
Klaus Vedfelt/DigitalVision via Getty Images

By Dusty Hoesly, of University of California, Santa Barbara
Wedding season is here again, and my calendar is filling up – not just as a guest.
Over the past 15 years, I have officiated over 20 weddings for friends and family, plus nearly 200 more as a part-time professional wedding officiant. These weddings have ranged from simple elopements to fancy ceremonies before hundreds of guests. They have taken place at farms, beaches, mountaintops, hotels, wineries and warehouses – but never at a church. They have been secular, spiritual, religious and interfaith.
I became a nominal minister through the website of the Universal Life Church, a nondenominational church that offers free, lifelong ordination to anyone, regardless of their beliefs. More than 20 million people have been ordained so far. Just type in your name, email and mailing address and you will receive confirmation of your new status as a clergyperson, able to perform any legal marriage. You can adopt any religious title you please or none at all.
In the U.S., many, if not most, weddings today are officiated by a friend or relative of the couple rather than a traditional clergyperson or civil official authorized to perform the ceremony. According to the wedding planning website The Knot, 51% of couples in 2020 had a friend or family member officiate their wedding, up from 37% in 2015. Though there are multiple ways for a layperson to get ordained, the Universal Life Church is most popular.
When two friends whom I had introduced to each other asked me to officiate their wedding back in 2008, I was touched and honored. Each experience of performing a wedding for friends or family has moved me deeply. Since I'm a scholar of religion in contemporary America, they also piqued my interest in what this trend says about religion and wedding rituals today – questions that sparked my subsequent research on the ULC.
Mail-order ministry
The Universal Life Church was founded in 1959 in Modesto, California, by Kirby J. Hensley, an itinerant minister from North Carolina who could not read or write yet created Baptist and Pentecostal congregations across America.
Hensley's religious views were hard to categorize, and the congregations that he formed kicked him out when disagreements arose. So he wanted to found a church where anyone could believe, teach and practice whatever they wanted, free of constraints imposed by religious or government authorities. The ULC's only doctrine is to "do that which is right," which each person can define for themselves.
Hensley offered free mail-order ordinations and soon began mass ordinations at spiritual conventions and college campuses, where he was a popular speaker. Classified ads in the magazines Rolling Stone and Fate helped grow the church's popularity, as did a flurry of news reports.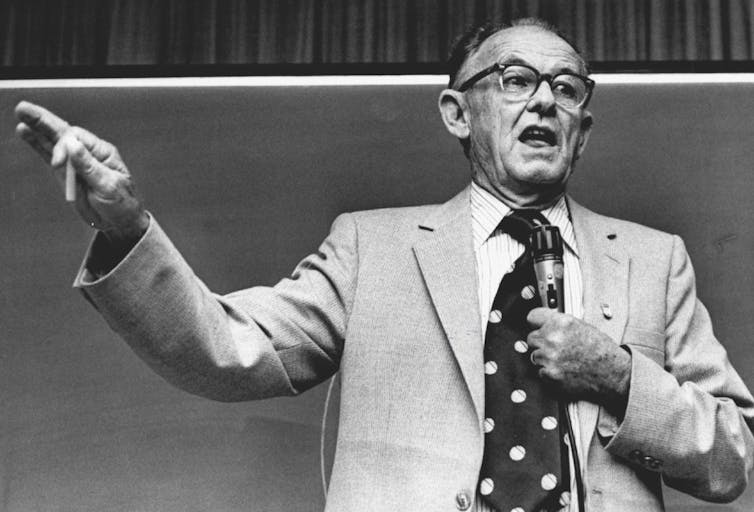 Most people got ordained as a lark: after all, why not? Others felt a spiritual calling. Ordination also appealed to young men hoping that a ministerial credential could help them avoid the Vietnam War draft. Some became ministers, created their own churches chartered under the ULC and claimed income and property tax exemptions. In 1995, the church began offering ordination online.
After Hensley's death in 1999, his wife, Lida, took over. Since her death in 2006, their son Andre has led the church, which still meets weekly in a church building in Modesto, California.
However, most people seeking ordination online today wind up using an offshoot of the Universal Life Church, not the original website.
In 2006, the Universal Life Church Monastery based in Seattle split off from the rest of the ULC under the leadership of minister George Freeman. The ULC Monastery's websites now dominate the online ordination business, claiming to receive 1,000 requests each day.
My wedding, my way
The ULC is most famous for ordaining people to officiate weddings for friends and relatives. Couples want unique, customized ceremonies that reflect their values and beliefs. They want their weddings performed by someone they know, trust and care about and who will deliver a ceremony tailored to them. Typically, they want a nonreligious wedding.
These desires reflect two key trends in the wedding industry and in American religion: personalization and secularization.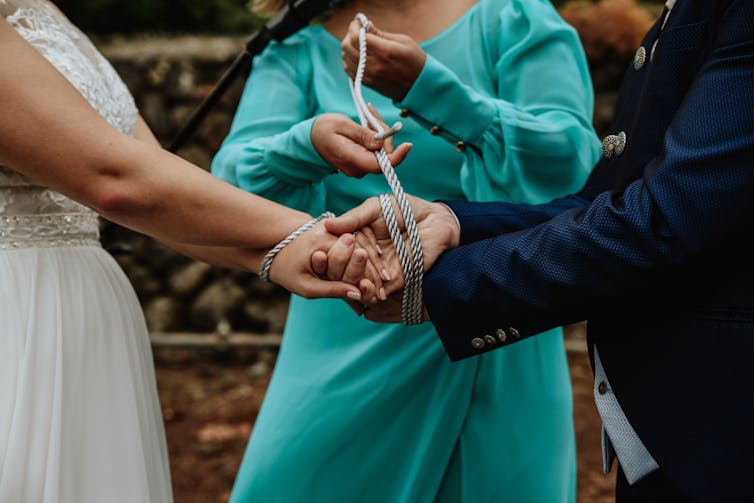 With 29% of Americans reporting no religious affiliation, up from 7% in the 1990s, fewer couples identify with any religion, and far fewer belong to a congregation.
Most of these couples want a secular or spiritual officiant who reflects their beliefs and who will help them tailor the ceremony to their interests and values. And while these couples could have secular civil ceremonies at city hall, those are usually not personalized and the officiant is a stranger.
Most of the couples who use an online-ordained officiant say they and their weddings are nonreligious. However, they use the ULC's religious status to ensure the legal validity of their marriages, showing how blurry the line between secular and religious can be in America today.
The ULC has transformed not only how people get married, but also who can get married. The church has authorized same-sex weddings since at least 1971, when Kirby Hensley presided over a wedding of two women. According to my research, Jim Obergefell, the lead plaintiff in the 2015 Supreme Court case that legalized same-sex marriage nationally, was married to his late partner John Arthur by Arthur's aunt, who was ordained by the ULC for the occasion.
The church's six-decade history reflects major, long-term transformations in American society. While the ULC often serves as a religion of convenience, it has allowed many spiritual and secular people to practice what is sacred to them.

This article is republished from The Conversation, a nonprofit, independent news organization dedicated to unlocking the knowledge of experts for the public good. .