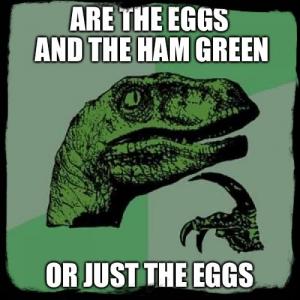 Bartoleme fell into a meme
With a Nicolas Cage theme.
In which Weird Nic went after
The wise Philosoraptor.
Whilst The Most Interesting Man
Unspooled his dark plan,
To build a spelling machine
That would secretly wipe clean
Our memories of all words
Tied to fish, reptiles, and birds.
Leaving just the indignity
Of soporific benignity
A dream world so silly
Cheered on by Wonk Willy.
In which Weird Nic grew large,
And tried to take charge.
Herding cute cats and kittens,
Wearing wool hats and mittens.
Driving each boisterous feline
Deep in the spelling machine.
Leading the Raptor to cry,
I'll never – ever – say die!
You can remove all the words
For fish, reptiles, and birds.
You can unskein the wool
And play me for the fool.
Leaving only three letters.
My brain skeined in fetters.
My wooly head thickened.
My bowels quite sickened.
My universe compacting.
My poor species redacting.
My language refracting.
My chin claw retracting.
Vocabulary reduced.
I believe I've been Seussed!
I must destroy that machine!
I must wipe its filth clean!
I must retrieve each cute kitten
(With whom I'm adorably smitten).
I'll chin scratch those cute cats.
I'll feed them all to the rats!
Bartoleme woke, in the middle of night.
He's been given (for sure) a terrible fright.
Falling into this dark meme,
Makes him so want to scream!
This meme dream sends him into a rage.
After all …
Who wants to dream
Inside a meme
Starring Nicolas Cage?