The Max Boot Chronicles (Continued)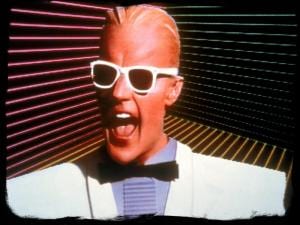 This post continues my account of the internecine dust-up between post-conservative military historian and Washington Post columnist, Max Boot, and his former colleagues and allies at stalward Catholic conservative magazine, The National Review (think Raylan Givens/Boyd Crowder in Justified). For purposes of continuity, I include below the final paragraph of the previous post.
Sixth, but matters really get jiggity when Charles Cooke, National Review editor Rich Lowry, and various fellow travelers such as Ricochet editor and Jewish Daily Forward columnist Bethany Mandel tear off their clothes and launch themselves into the fray. They hyperventilate about the besmirched honor of young Hirschauer (and by some weird process of transitivity,  of the venerated William F. Buckley himself – since Hirschauer is, we are reminded repeatedly, not simply an intern, but a Buckley Political Fellow). But what really cooks their goose, and properly so, I must admit, is Max Boot's drive-by hit on an article published in the National Review way back in January.
---
Seventh, When Max Boot smacked back at The National Review and John Hirschauer, he was clearly agitated, writing quickly, probably without moderating editorial oversight from the Washington Post, and so in a likely spasm of anger tacked the following paragraph to the end of his column, a move he probably now regrets (although who knows for sure).
With its long-standing opposition to immigration (both illegal immigration and current levels of legal immigration), National Review has found common ground with the far right. Like many conservative media outlets, it has flirted with the "great replacement" theory espoused by the El Paso gunman. A National Review article in January warned: "The native-born are having fewer children, leading to a fear that new entrants into American society will replace the existing culture rather than assimilate into it." This is, sadly, a return to the roots of a magazine that defended Jim Crow in the 1950s (and even the early 1960s) and South Africa's apartheid regime until its dissolution in 1994. Nowadays the magazine often defends Trump from (well-founded) charges of racism.
There are more emotional and psychological undercurrents in this paragraph than we can catalog, but to crudely summarize they seem to coalesce around a pained reckoning on the part of Max Boot with the dark, recurring, and unacknowledged undertow of racism in the history of The National Review, a magazine he once with filial intensity loved. Setting side for the moment, the broader context of The National Review's problematic racial revanchism (viewed as the thread tugged upon as part of the "Trumpification of conservatism"), we can isolate the specific quote, that arouses Max Boot's ire, from the January National Review article written by Dan McLaughlin entitled Why We Panic About Immigration.
"The native-born are having fewer children, leading to a fear that new entrants into American society will replace the existing culture rather than assimilate into it."
In response, Rich Lowry posted on Twitter, "Now @maxboot is portraying this analysis by @baseballcrank as some sort of white nationalist screed—how completely dishonest and thoroughly pathetic." Followed by Bethany Mandel's husband, "Boot's full-on Chernobyl meltdown is here, and it is quite a thing to watch. The saddest part is the embrace of this paranoid anti-intellectualism by the McCarthyite hangers-on rushing to link arms with him." Followed by Charles Cooke, "Having purposively libeled one of our Buckley Fellows after he had the temerity to argue that one does not fight racism by making lazy racial generalizations, Boot has now moved on to libeling Dan McLaughlin, one of the most thoughtful writers in America, and to making peculiar charges about National Review as a whole." Followed by Bethany Mandel, "Being polite in the face of being called white supremacists is how we got Trump, and on this front, maybe we needed him. It's time to stop being polite. The left calls the President a white supremacist until they're blue in the face, and they are astounded that the accusations don't resonate with a majority of Americans."
Eighth,
I'll quote Charles Cooke's response in full. His statement about Max Boot's "purposive" clumnies, slanders, and libels is comically dumb. But I do agree with his sense of bepuzzlement about how Max Boot could take such umbrage with the McLaughlin article about Republican immigration panic. One might not agree with the article's premises, analyses or conclusions. But Cooke is absolutely right that the article is analytic, thoughtful, and introspective, not ideological and normative. The topic itself is vitally important, interesting, and worthy of a full spectrum dose of inquiry.
This is bizarre. The piece at hand — which you can read here — is a 2,300-word exploration of an important question: "Why is immigration such a big issue in our politics today when it was not two or three decades ago?" At no point does it, or its author, find "common ground with the far right"; at no point does it, or its author, flirt with the "great replacement" theory espoused by the El Paso gunman; at no point does it, or its author, "warn" that "new entrants into American society will replace the existing culture"; and at no point does it, or its author, share any sympathy whatsoever for Jim Crow or for apartheid South Africa. On the contrary: The piece makes precisely one mention of the "great replacement" theory, which it casts as a "hysteria" that manifests itself in "screeds": We see that in the tone of hysteria that creeps into immigration conversations: not just traditional fears of crime and ghettos or clashes of language or culture, but screeds about "invasion" or, worse, "white genocide."
One of the tragedies of our time is the loss of pleasure we can all take in reading stuff because it is smart, provocative, and thoughtful – not because we feel compelled to agree with it or otherwise judge and impugn its authors (in not even very clever fashion). It sucks.
Ninth, Here's the heart of the matter, which Max Boot was (perhaps inartfully) striving to touch within each of us, and which his between-a-Trump-and-a hard-place critics at The National Review will not acknowledge. And maybe most Americans still can't face this fact. In many ways, Trump has successfully made immigration a red herring. An act of deception and misdirection. His incendiary rhetoric plays best in the parts of the nation farthest from the Southern border, where there are the fewest immigrants!
The deeper problem, the deeper stain on our national soul, remains domestic racism against African-American citizens and (in different ways) Native Americans. Against these twin travesties that so ensnare us within our 400-year history of national settlement and conquest, the challenges of immigration pale. We see full flashes of this awareness in both of the Max Boot Post columns. The subtext (and supertext) of nearly every reference  in these columns to the "great replacement" hyperventilations of white supremacists  are the devastating historical effects of the nation's seamless weld between white racism and white power, specifically in relation to African-Americans and to the enduring legacies of chattel slavery.
Tenth, In his first Washington Post column, on how white America needs to "get a grip," Max Boot invokes Donald Trump's participation in the inflamed rhetoric surrounding the trial of the Central Park Five in 1989. When They See Us, the title of the recent Netflix film recounting of this dark moment in our history, lays bare the physical and visual primacy of the landscapes that color our fears. The "Trumpfication of conservatism" about which Max Boot writes is entirely about the exploitation of these fears to achieve the most base and destructive political ends. Once we honestly and decisively address this reality, the immigration problem will take care of itself. And until The National Review figures out how to fully and honestly acknowledge this truth, it will remain lost in the wilderness as a publication committed to honoring the traditions of natural law moral philosophy and politically conservative ideology and values.
---
American Jeremiad / Desecrations at the Altar of Impurity – Context
American Jeremiad – see Perry Miller, Errand into the Wilderness (Harvard University Press, 1956)
Impurity – see Mohsin Hamid on the rise of ethnic nationalism: 'In the land of the pure, no one is pure enough' (The Guardian, 2018)