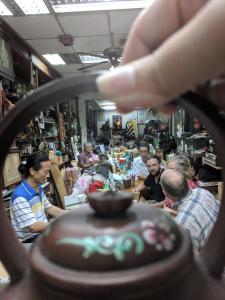 I tried to plan an adventure
I planned out all of the parts
But almost from the beginning
My well-made plans fell apart.
I missed a lot of adventure
While trying to salvage the plan
I did not notice the great things
I missed the wonder at hand.
But then I discovered the tea shop
And met the strange man with no name,
He treated me like one of the family
Which took me away from my game
Some things were immediately obvious
Other things took a while to sort out
I realized it was a lot about presence
But mystery left much bigger doubts.
I thought I would find a great message
So I sat down to compile a nice book.
I discovered that I was the message
And from the Tea Shop, it's mission I took.
Karl Forehand
Karl Forehand is a former pastor, podcaster, and award-winning author. His books include Apparent Faith: What Fatherhood Taught Me About the Father's Heart and the soon-to-be released Tea Shop. He is the creator of The Desert Sanctuary and Too Many Podcasters podcasts. He is married to his wife Laura of 32 years and has one dog named Winston. His three children are grown and are beginning to multiply!