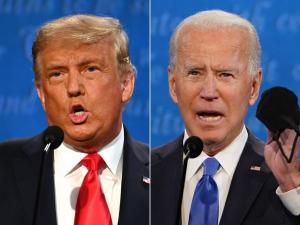 This year is the first time ever that I have watched all the presidential debates including the one that didn't happen. They are at least somewhat all socially distanced which gives them a unique feel unlike other ones in the past. Just like all other years, we begin the viewing by blankly staring into the screen wandering why these are the best two people in the United States of America that we could glean to represent us. It is either an indictment on our character or our judgment.
It is true what some people say. The debates do not really change anything. For the most part we are biased in the way we watch both candidates. We report on the failings of our opponent and the jabs from our hero and we pretty much continue to have the same opinion even though we frame it through a thoughtful lens.
This year has been somewhat different because of the circumstances. The pandemic continues to gain momentum and divides people over the solution. Movements like Black Lives Matter have gained full strength from all sides. All these issues are emotionally charged and important to us all. We all probably want similar things, but we cannot agree on how to get there. It is like after a school shooting. We assess blame and then almost immediately begin to argue over how to remedy the problem.
But something shifted after this last presidential debate and I think I know what it is.
The end of the debates signals the upcoming general election. Already 1/6 of the U.S. population has voted. It may be the biggest turnout ever; but even that it is mostly already set in motion. People have generally decided who they are going to vote for, so the energy behind fighting with each other has cooled off to some extent.
What we are considering right now is how to move forward. How do I proceed after the election regardless of who wins? It may be a survival instinct within us that prompts us to realize there is truly little we can do to change certain things and so then eventually we must adapt. This situation is way less than ideal, so do I run, hide or fight? What would best serve the preservation of my species or more realistically, what will best help me survive the days, months, and years ahead?
There was a meme of the presidential debates that redrew the candidates as young children. It is appropriate in many ways. When I think of the afterlife, and I consider people like Hitler, I always see them as little children and often they are crying. President Trump often mentions that people are "mean" to him. Before we tell him, "you deserve it," maybe we should look deep into his eyes and see the pain he obviously lives with. Possibly, before calling Biden "sleepy Joe" or "creepy Joe" we should consider the little boy inside of him that cries at times (just like everyone else).
What I am considering is taking this a step further. I am even starting to see hints of it on social media. Before responding harshly to the one we disagree with, what if we considered why they are responding the way that they do? When they don't understand, it doesn't do any good to call them names or embarrass them – they all have pain and fighting only drives the pain deeper.
Compassion, like Jesus demonstrated may be the most important tool in our arsenal. Maybe Paul was right and love really does conquer all things. Maybe the simple things like gratitude and being positive are much more powerful than we originally imagined!
When we care about our communities and countries, issues and problems seem to become increasingly urgent. If you will, we carry some of the burden of those problems and the passion we feel collectively helps us move forward with solutions. When we care enough, together change happens.
But realistically all change happens when individual people change. Representatives in government are representative of us. In a way, our pastors and spiritual leaders are the same way. Until we decide to change, it doesn't matter so much if we elect, hire or "call" the right person. I will be involved politically and socially as much as I possibly can, but in the back of mind I must continually remind myself, like Jesus and Gandhi and the Buddha and many other suggested….it all starts with loving my neighbor!
Will you join me in doing what we can today to change the world?
Be who you are, Be where you are,
Karl
Karl Forehand is a former pastor, podcaster, and award-winning author. His books include Apparent Faith: What Fatherhood Taught Me About the Father's Heart and the soon-to-be released Tea Shop. He is the creator of The Desert Sanctuary and Too Many Podcasters podcasts. He is married to his wife Laura of 32 years and has one dog named Winston. His three children are grown and are beginning to multiply!