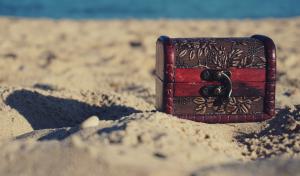 Most religious systems begin with the identification of what we should fear. It helps to create a need for the product it is selling, and it sets up the story. Every God story has an adversary that comes into the narrative to mess things up just at the right time. Over time, religion has included much of its culture into the narrative to make the story work better, so the solution seems all that much more effective.
Focus on the character of the Satan or the danger of Hell works to sell a product, but it really doesn't do anything noble in our lives. It leaves us furiously trying to exorcise the things in our lives we don't understand or don't like instead of trying to grow love and compassion. Religious activities turn into witch hunts and only produce hordes of judgmental disciples when the focus is on the bad and the ungodly.
Throughout my pastoral career I took some heat for being too full of grace. I know, I know, it doesn't make sense, but people wanted me to focus more on removing the cancer they perceived, but I enjoyed preaching about love and grace and mercy, and only later began to more deeply understand compassion. Never-the-less the demon hunters could find a devil under every rock. Often when I encountered the evil in our world, I found a person that was scared and lonely and often abused.
I get accused a lot of burying my head in the sand, but I'm not really ignoring anything, I am just trying to focus on what is true. I'm not trying to prove or disprove any religious system – I'm trying to distance from religion all together. I'm not even interested in theology or wrestling intellectually about ancient books. I find them useful like Paul mentioned and I often draw wisdom and strength from them, but ultimately, they were written by men, even though they were inspired by God.
So, how do we save the world? How do we make it like it is supposed to be? How do we win at life?
My belief is that there is a good! I hate to label it any further than that because too many of my past labels that used to make sense to me now only carry excess baggage of past trauma. When we say god, we will ultimately spend the next hour debating about what we mean by that. If the Bible enters the discussion, a debate is sure to emerge and we will have to deal with the consequences not just of what we believe, but what we just said. Religion and theology start with noble intent, but often lead us down unproductive paths.
Let us just return to the initial thought: There is a GOOD!
When I stripped away some of my religious baggage, I began to realize that what was left was this good. This good has a permanence to it that is hard to describe. It's like every time my religion got undressed, the body of it was still there and it was good. My ego was good at piling on layers of covering and my trauma threw up smoke screens. But, when the smoke cleared and the costumes were removed, the GOOD was still there.
This good also seems to have a persistence. Religion really likes to attach itself to the lion metaphor of the Bible that describes the Satan as pursuing us to devour – whatever that means. It works well with the sales pitch because then religion offers the solution to slay the lion or put a "hedge" of protection around us. But this focus on the predator leaves us huddled in caves waiting for the inevitable so we can use our guns or missiles or secret religious incantations to ward off the enemy. I don't think we need a secret defense as much as we could change our focus. When we really pay attention, we find that the good is not only available, it is pursuing us. It's more like learning to see that learning to do.
The last thing I have noticed about the good is that is its purity. Evil to me is more like the dross that boils off the pure gold than any thing substantial. Evil is everything that is NOT pure – Good is what is left that is pure, eternal, and useful. We don't need to look for the evil under every rock, we need to pick up the rocks that are precious and the evil will fall off.
Much of the narrative of hell and the Satan is slowly being understood as more of a fable than anything we need to take seriously. Obviously, Dante's influence on these narratives are huge, and all of history has contributed to creating demons and visions of hell that scares us enough to accept their cure.
The remedy that I find these days is very simple: Move toward the good!
It is permanent, it is persistent, and it is pure!
Be where you are, be who you are, be at peace,
Karl
Karl Forehand is a former pastor, podcaster, and award-winning author. His books include Apparent Faith: What Fatherhood Taught Me About the Father's Heart and the soon-to-be released Tea Shop. He is the creator of The Desert Sanctuary and Too Many Podcasters podcasts. He is married to his wife Laura of 32 years and has one dog named Winston. His three children are grown and are beginning to multiply!