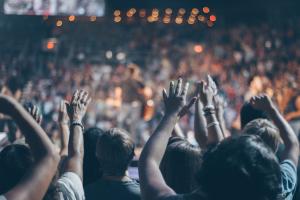 Sometimes we praise people in our lives.  Usually, we do this because it is helpful in some way.  They have low self-esteem, they need encouragement, or they are discouraged.  So, when I think about praising or worshipping God, it puts me in a little bit of a dilemma.  I have to entertain the thought:
Why does God need my worship?
If He is holy and perfect and all the things we ascribe to, why does he need or require my praise / worship.   A holy God should not have to be appeased in any way.  Does God need me to satisfy his anger?   Does God need me to complete his joy?  Does God need me satisfy or finish anything in Him?
At this moment I can't rationalize a holy God that somehow needs completion — it doesn't compute.
Maybe it would be helpful to look at the root word for worship when Jesus said, "God is spirit, and those who worship Him must worship in spirit and truth."  This Greek word for worship, proskuneó, most literally means "to kiss."  This makes a little more sense.  I can kiss something I appreciate, but I don't have to praise something that really doesn't need that praise because it is already whole.
Our ideas around worship obviously are evolving.  The time frame of the Bible marks a certain period in time where the idea of worship changed, and it can keep evolving as we understand it better.  I can commune with nature and in so doing, embrace the Divine.  I can sit in silence, without ever saying anything and realize I have kissed the heavenly.  I can simply exist in a state of gratefulness and BE thankful without seeing it as some type of appeasement for God's anger or neediness.
Maybe, this whole thing is greatly connected to our ideas of transaction.  If we can begin to see our relationship with the Divine as relational and experiential (instead of transactional), we might move away from the ideas of appeasement and satisfaction which obviously need to evolve.
I don't want to take away feelings we get from being in traditional worship services.  My only suggestion is that we can get similar feelings going to a live concert (once COVID-19 is over).  We can still have those experiences without feeling a burden to complete or appease God who doesn't need to be completed or appeased.
Maybe if we got back to the ideas of communing or dancing or simply being with God, we would move away from the notion of completing a God that is already complete.
Email me at karl@karlforehand.com if you have thoughts about this.
Be where you are, be who you are, be at peace,
Karl Forehand
Karl Forehand is a former pastor, podcaster, and award-winning author. His books include Apparent Faith: What Fatherhood Taught Me About the Father's Heart and the soon-to-be released Tea Shop. He is the creator of The Desert Sanctuary and Too Many Podcasters podcasts. He is married to his wife Laura of 32 years and has one dog named Winston. His three children are grown and are beginning to multiply!