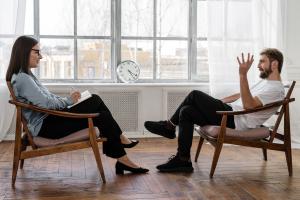 Thousands of years of a tradition and philosophy and religion have coalesced together to give us our practices and preferences of the present day. No matter how original we think we are, most of what we do and how we act, especially in religion, is inherited. One of the most unfortunate things we acquire, especially from religion, is spiritual bypassing.
I talked about it my recent book, Being: A Journey Toward Presence and Authenticity.
"Ever since man invented religion to help him understand God, he has spent a lot of time trying to transcend this earth and avoid the physical realities of life. To me, spiritual bypassing is using spiritual language or making religious excuses for not doing the hard and difficult work of navigating this world that we live in. We are spiritual beings, but we also must face the hard realities of our woundedness and struggles as humans." ~Karl Forehand, Being p. 63
Often, we use religious catchphrases to get us past the uncomfortable realities of life like: "God is in control", "God probably has a purpose", "I will pray for you", or other things that we feel will help us quickly get through our difficult moments.
I also made the following observation in the book.
"People that study neural pathways and brain function call it dissociating. It means to "to disconnect or separate." Spiritual bypassing separates us from our humanity and all its messiness and struggles and pain and makes us feel good briefly. I noticed many of my faith communities seemed stubbornly determined to be happy; having said that, sometimes the human condition calls for something different than happiness. Bypassing tries to convince us that we should avoid anything painful and just pray that God would take it away magically." ~Karl Forehand, Being p. 66
I feel so strongly about spiritual bypassing and believe if we could make progress in this area, we would be miles ahead of where we are now. Spiritual bypassing is how I avoided addressing my trauma for 20+ years. This avoidance brought me to my crisis is 2018 where I felt like my life was over.
Spiritual bypassing keeps us grounded at a superficial level and won't allow us to allocate any time to the messier, complicated aspects of life. It keeps our theology simple, but ineffective. It holds our psyche hostage and our well-being in check as it does not allow us to spend the necessary time getting in shape (so to speak). In this way of living, mental health becomes not just a concern, but a full-blown crisis.
I only remember a few things that I specifically taught my children directly. I taught them to think for themselves. It urged them to be brave. And I taught them that things don't change or get better when you ignore them. Just consider taking out the trash, for example. The things that need our attention will most often get worse when neglected, and they will scream louder and louder for our attention.
A simple approach to addressing our trauma and not bypassing it is very simply to notice how I feel and where do I feel it?
When I share trauma with my contemplative friends, they generally don't try to solve the problem for me, and they don't hurl platitudes at me to bypass the hard things. Most times they sort of softly just say, "hmmmm," or they repeat what I said to clarify. It seems like they are feeling it with me, and that empathy and compassion does so much more that the bypassing that caused me to ignore it.
The book Being: A Journey Toward Presence and Authenticity is not a magic collection of phrases and techniques that will help you navigate your struggles. It is not step-by-step sure-fire way to get through your issues. It is a more difficult path that provides better results. It is a journey of transformation not a vacation from reality.
There is a way that leads to life, and it's not necessarily found simply in understanding a theology. It requires that we take the path that leads to transformation. That path is less worn than the other roads. It's not a day trip—it's a life-long journey. But we can find sanctuary and we can find healing if we listen to the right guides who have gone before us.
My hope for all of us is that we stop bypassing, spiritual or otherwise, and lean into the necessary work of becoming whole.
Be where you are, Be who you are,
Karl Forehand