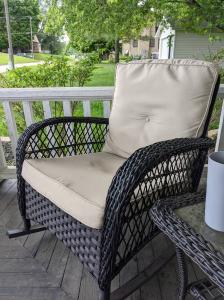 I spent the entire day on my porch today. I've been working a 53-hour work schedule on an assembly line. My body has adjusted, but I find myself wrung out at the end of the week and in need of natural sounds and feels that bring me back down to earth (so to speak).
I realize I'm fortunate to have the porch that people dream about, even though there are some trade-offs to owning this porch in a smaller town. We are 45 minutes from everything and I drive that far to work every day. But occasionally, days like this make me realize what a gift this 1920's house is. Other times, I walk around back and realize it's like a retreat spot and makes me happy that I built a deck around the fire pit about a year ago.
We decided we would work on the landscaping and flower beds a little next weekend, but we probably won't get carried away. Our gardening is not intricately planned or expertly maintained, it's just a hodgepodge of little ideas we had at various times. There's too many weeds in the yard and in the flower beds, but none of that is a priority today — today is about writing and rest and thinking about whatever comes to mind.
I watched people go to church this morning and felt glad for them that they seemed relatively content to go there. I felt the same way to be in my own place of communion with the Divine and my favorite two beings, Laura and Winston. In addition, I felt a closeness to the finch that took over the robin's nest this year as we moved our chairs down to the other end of the porch to give her some space. The butterflies are finding the bush out front in much the same way the ants are making their way to the peonies. Flowers are beginning to bloom, just like the people all around us are living their lives as we are gradually aging.
It's always spiritual for me to be in nature and the climate today made it easy. But it's just as moving when we cuddle up in blankets under a chilly night and a full moon. I am extremely thankful for these times that I finally feel what some of the ancients might have felt when they moved outside of the city and chose to live in the desert. Today we are not scurrying to accomplish things, but literally doing what we feel serves us. It's absolute, true sabbath to me!
I hope you find your place or places that are like this for you. They don't have to be a distant location. They can be wherever you find communion with God, your favorite people and all of creation. Finding "rest for your soul" is the truest image of communion with the Divine. One of the things we deconstructed was the mistaken notion that we have to go somewhere to find sanctuary — the mystics knew that you could find it wherever you are!
Laura and I wish you well.
We are looking forward to visiting the sanctuary of our friends, the Elam's, in a little over a month. Until then, you'll probably find us out here at least a few times a week building a fire or just staring off into space or writing something on our laptops. You can do the same where you are and some day maybe we'll get to hear your story of solitude and sanctuary.
Be where you are, Be who you are,
Karl Forehand