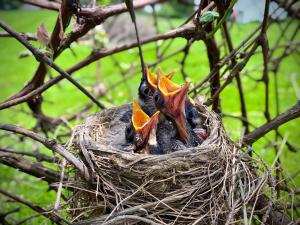 Right now, I am sitting on our porch in rural Missouri. It took me a few years to appreciate it, but we finally got some good outdoor furniture and possibly, I have matured to the point that I can just BE without an agenda. This is my one day off during the week, so as soon as I could pour a cup of coffee and plug in the tablet, I was enjoying some stillness in my little sanctuary of sorts.
I heard the baby birds erupt in a chorus of tweets when their mother brought food to them a few minutes ago. I saw my first cardinal of the year that stopped in to peck around on the ground, taking advantage of the morning dew. The air seems fresh and the noise level of the normal day has not yet begun. Sometimes, there are so many birds and nature sounds that it can be overwhelming, but right now it's like a subdued family conversation over breakfast.
In my new book Being: A Journey Toward Presence and Authenticity, I talked about several of my discoveries when I took time to be with world around me. Whether it is contemplating a compost pile or admiring the robin's diligent work building a nest, there seems to be no limit to the lessons I learn when I take the time to simply pay attention.
In the book, I talked about the drumbeat and rhythm of nature. I also considered the circle of life and how life, death and resurrection are clearly exhibited in so many different ways in nature.
But nature doesn't seem to be anxious about any of it. When the robin's nest fell down a few years ago, they simply started building another one before I gently helped them out a little. Some animals will take precautions because of predators and sometimes they get excited about what they naturally crave; but none of them seem to be preoccupied with anything but the present moment.
Being gently past middle age, I often take inventory of the things I've learned. Recently many of my past understandings have been discarded. There is always some value in what we learn, but many times it is what not to do or where not to explore. So as I conduct mental and emotional garage sales, I get better at getting rid of things that don't serve me and much better at determining the worth of gems discovered on this path of life.
As of today, two of my treasured understandings, are the major themes of the new book. They are presence and authenticity. If I had to sell off all my other discoveries, like I sell my old clothes in a garage sale, these two things, that I also notice in nature, would be what I would preserve. I still don't know the depths of their wisdom and long to keep probing for as long as they prove valuable.
But, right now, I'm experiencing presence. I am not pondering the future or reliving the past. There are times for planning and times for healing, but right now is a time to be present. I know that nature will continue to teach me, my body will alert me, and my breath will renew me when I continue to be where I am.
I know you will learn to be present where you are. Even if it's routine, painful work or experiencing things in your life that you would rather not go through, I hope you don't spend thousands of dollars on a vacation this year to escape, only to discover a sanctuary in your own back yard. or somewhere nearby.
Above all, I want you to experience the you that is so precious and the day that is before you. Be present today and see what emerges!
Be where you are, Be who you are,
Karl Forehand
Karl Forehand is a former pastor, podcaster, and award-winning author. His books include Apparent Faith: What Fatherhood Taught Me About the Father's Heart and The Tea Shop. He is the creator of The Desert Sanctuary podcast. He is married to his wife Laura of 32 years and has one dog named Winston. His three children are grown and are beginning to multiply!