It is probably true that mot of what we teach our children is by the example we set. It seems they watch us more than they hear us, and actions do speak louder than words. But, if we are intentional and we provide a good example, we may even teach them something that we intended to in the this big ole' crazy world (reference to John Prine).
For me, one of the primary lessons I wanted my children to learn was bravery.
When I was a toddler, I hid under the coffee table and it seemed like it took me half of my life to come out of that pattern. I suppose we reinforce patterns in our experience and we have to be intentional about steering toward a different direction. My dad never learned to swim and was afraid of most things public, so I struggled to find good examples to follow. Eventually, I slowly emerged out my shyness (even though I'm still somewhat of an introvert).
When my first daughter started to face challenges, like pulling a tooth or answering the phone, I would simply whisper to her, "Be brave!" Sometimes, it worked and other times she missed the opportunity. But, all in all, I saw her confidence build, and she became somewhat of a model of bravery. She is currently a nurse in a large city and the breadwinner for her family of 4. I don't have to tell her to be brave — she just is.
I noticed one of her quotes the other day. It said, "I don't need a man to slay the dragon — I am the dragon.
When it came time for my younger daughter to face some similar challenges, I didn't have to teach her to be brave because I heard my older daughter whisper in her ear, "Be brave, Lily." I fought back the tears and felt proud the we had started a good tradition — now I have two female granddaughters and I am pretty sure I will see this bravery in them. In fact maybe I saw a glimpse the other day when we took our granddaughter to breakfast.
We took her on a little adventure in the city and I saw her summon her courage to experience things she had never investigated before. We rode the trolley and bought vegetables in the market and walked out on the bridge over the railway. But the confirmation came at breakfast.
When we asked her what her favorite show was, she said it was something called, "Brave."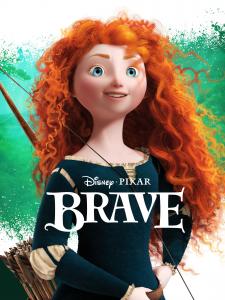 I'm sure I didn't say anything because I was struck by the significance of that mixed with my ignorance about the movie. But, when Laura asked what other movie she liked, she simply responded, "Just brave." While they continued talking, I was covertly looking up the movie on my phone.
The first thing I noticed was that for Merida to be brave, she need to carve out her own path. Most of us have traditions and pattern that we inherit from the environment we emerged from. Mot of them are good, but occasionally, we feel a nagging to find a different path that suits us better. The courage to begin our own personal journey can seem debilitating, but once we begin, we slowly gain confidence to keep going.
The next challenge she faced was to defy tradition. It may sound similar, but it actually the next step. In the early stages of our journey, we may find that there are others who have developed a certain comfort with their traditions and patterns. In the move, her detractors throw the kingdom into chaos. It may seem like a simple thing, but when we change, people become uncomfortable because of their own insecurities. Our bravery will reveal the lack thereof in others. But, most importantly, we must remember that it is their inadequacy that causes them to lash out — not ours.
In our brave journeys, we also realize there are most always obstacles and it usually helps to have a guide that has been where we are going. The things that make a good movie are also the scripts that we must follow in real life. It is hard to embark on a new journey, there are always challenges we didn't expect, and we can benefit from a helpful, seasoned guide.
I hope you will be brave in your journey. Challenges don't mean you're on the wrong adventure — they indicate you're on a worthwhile journey! But, remember the most important part of bravery is that it makes you vulnerable. Everything in us wants to stay in the safe harbor, but it's almost impossible to have a journey without eventually pushing out from the dock. Adventures require venturing in so many ways.
I'm getting ready to watch the movie — don't be surprised if there is a follow-up blog!
Be where you are, Be who you are,
Karl Forehand
Karl Forehand is a former pastor, podcaster, and award-winning author. His books include Apparent Faith: What Fatherhood Taught Me About the Father's Heart and The Tea Shop. He is the creator of The Desert Sanctuary podcast. He is married to his wife Laura of 32 years and has one dog named Winston. His three children are grown and are beginning to multiply!