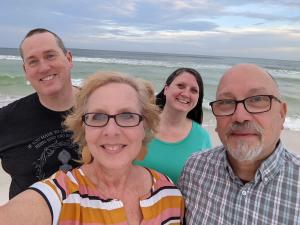 (an ode to the Elams)
Laura and I don't have many close friends. It's our own fault, we are an interesting mixture of introvert and extrovert. We know what it's like to have a good friend, but we also know what it is like when friends turn on you or abandon you. For the most part, many of us are self-centered and don't take the the time to invest in close friendships. Ministry wasn't designed for close friendships — it likes to pretend that it is– but it's not.
Part of the reason, organized religion doesn't foster genuine relationships is because it's an organization. Whether it likes to admit it or not, most of the energy of organizations is spent preserving the organization, not fostering relationships. Take small groups for instance. Many religious organizations like to brag about these groups like they are the church's key to success. But many times, these are the very groups where spiritual bypassing and other tendencies can lead to the actual trauma that church organizations are becoming known for.
Let me give you an example. Suzy has a real problem – her sister died in a car accident and she is having trouble functioning on most days. It is confusing and she feels depressed and hopeless when she tries to put her life back together. In her small group at church, people are caring and they hug her and let her cry. But, when she shares in their group time, there is only so much time to share. Babysitters have been hired, there is work tomorrow and everyone has things to share. So she doesn't really get the time she needs to process.
To make it worse, Christians have a tendency to bypass over problems instead of giving them the necessary attention. We are known to say things like, "God is in control" or "God has a purpose" or "you will understand this better down the road." We focus on fixing people and problems and, when they make us uneasy, we use spiritual language to try to make ourselves and others not feel what naturally happens when we encounter the uncomfortable experience of other people's trauma. Instead of feeling what comes naturally, we gravitate toward logic and prescribed solutions. We try to subdue our feelings instead of letting them flow organically.
Last night we recorded a podcast with Jason and Brandi Elam. Jason is a podcaster and former pastor that I met online a couple of years ago. My publisher introduced us when my book, Apparent Faith, was being released. After he read it, he reached out to me and we have been involved in each other's deconstruction and discovery ever since. Eventually, he interviewed me and Laura on his podcast, Messy Spirituality.
On Monday, we flew to Florida to take a much needed vacation and visit our friends in person. Jason has been an especially close friend over the last two years. We have had in-depth and deeply transparent conversations on our podcasts about the trauma and hurt that we both experienced. Over time, Laura and Brandi have been drawn into the conversation and last night, in many ways, it was the culmination of two years of growing closer. We had a very deep, healing type of conversation which we recorded for later broadcast.
Everyone would agree that community and relationships with people is important. Most of us understand that we are wired for this connection to others and it's probably one of the things we're searching for when we start religions and form fraternal and religious organizations. But, often we fail. But why do we miss the mark so often when we all agree about what we're striving for?
I think there are some clues in the relationship between the four of us that met last night.
Podcasts are an interesting invention. I didn't think I would love them, but I do. They force me to listen and they give some intentionality to conversations that is hard to duplicate in real life. Over the last two years, Jason and I have become so close, that it wasn't that big of a surprise when I met him in person. He was and is what I knew him to be. I think Laura and Brandi felt the same way and were talking like old friends two minutes after they embraced at the airport.
We have another podcast to do tomorrow, but I think our discoveries so far have been relatively simple. We don't need to build a physical building or create a complex organization to foster relationships that are healing and helpful. In some cases, we don't even need to be in the same vicinity to develop closeness that meets our need for connection. Nurturing relationships still require what they have always required – time and patience.
I am trying desperately to imagine how we move forward with religion and community for the future. Maybe tomorrow, we will find those answers miraculously, but I suspect what will propel us into the future organizationally will be similar to what matters personally. I imagine that things like listening and empathy and compassion will prove to be the silver bullets that helps us find home.
Be where you are, Be who you are,
Karl Forehand
Karl Forehand is a former pastor, podcaster, and award-winning author. His books include Apparent Faith: What Fatherhood Taught Me About the Father's Heart and The Tea Shop. He is the creator of The Desert Sanctuary podcast. He is married to his wife Laura of 32 years and has one dog named Winston. His three children are grown and are beginning to multiply!