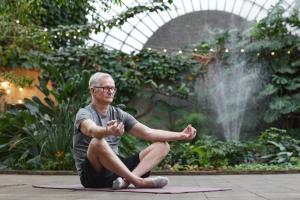 In recent years, I have developed a deep kinship with nature and animals. I love that I feel more a part of nature and understand it to also to be a part of me. I don't want to go back to my elemental thinking that what I do doesn't matter to the world around me. I realize now that I am deeply connected to it.
But, even though I am deeply connected to the animals, I realize that human beings are a unique kind of animal. For all other animals, they seemed be at a fixed level of development. Animals don't have the ability (that I know of) to evaluate their state of being and pursue their own enlightenment — but we do!
When I set out to write my book, Being: A Journey Toward Presence and Authenticity, I discovered this process of being and becoming and detailed it as clearly as I could. It is something I am still discovering, but as best I can tell, it involves about three steps.
1. Don't ignore the work that needs to be done.
In this day and age, we want easy answers. All of have at least some trauma that won't go away just by ignoring it. There is some work to be done and usually we need trained professionals to help us dig deep and directly address our woundedness. I prefer a process called Focusing, because initially I can do it myself. It helps me feel and be present with the part of me that is stuck and then shifts me from reactionary to responsive in that area. I may never be done with this work, but each time I address it, I move forward.
2. Dare to go deeper.
After my experience with shadow and my decision to tell my story, a friend encouraged me to go deeper. Now that I am less reactionary to triggers, I can take a deeper look at what is beneath the surface issues in my life. And when I make discoveries there, it just gives me another chance to be present with that part of me and bring compassion, presence and healing to it.
3. Being and becoming
Being sounds like a copout to modern people, but it's actually one of the most responsible things we can do. To intentionally be present with presence not only grounds us, but connects us with things like intention, purpose, and healing. Being is about presence and authenticity as I explained in the book, and eventually it leads to becoming — not just understanding, but evolving!
I wish you well on your journey. My book is very vulnerable and is already helping some see the way forward.
Be where you are, be who you are,
Karl Forehand
Karl Forehand is a former pastor, podcaster, and award-winning author. His books include Apparent Faith: What Fatherhood Taught Me About the Father's Heart and The Tea Shop. He is the creator of The Desert Sanctuary podcast. He is married to his wife Laura of 32 years and has one dog named Winston. His three children are grown and are beginning to multiply!