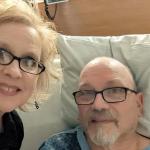 The Tuesday before my stroke I felt a little tingling in my arm. I thought it was because I drank an energy drink.  Over the next 2 days, I started to feel symptoms like my foot was dragging and my arm felt heavy.  I went to see the doctor.  I had been sure to take all my medicines because my blood pressure was high.  On Friday morning, we decided to go to the ER because my blood pressure was still high and I almost fell into our entry way door on my way back from the bathroom.
At the ER, they ran lots of tests for a stroke since that is what I seemed to be presenting with.  I could still walk at this point, but soon after my left arm and left leg grew weaker until I couldn't move them at all.  In what can only be described as a few hours after arriving at the ER, I found that I was disabled.  Every stroke is different, but this is how my stroke played itself out.  Slow and methodical.  It is called the 'evolution of a stroke'.
The following week, I was transferred to acute rehabilitation where they taught me to dress myself using only my right arm and one leg, as well as take a shower using a shower chair.  They also taught me how to walk using a cane and a brace.  It was 2 weeks worth of therapies to help my left arm and left leg 'wake up'.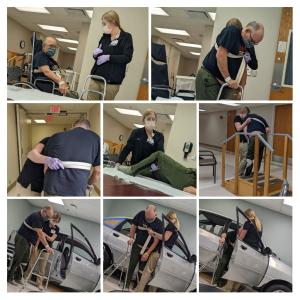 After 2 1/2 weeks, I was transferred to an all-day outpatient rehab center.  We moved into my daughter's basement in order to be closer to the facility.  Every day I do physical therapy, occupational therapy, work on higher level thinking skills/cognition, and strength building.  In our spare time, Laura and I answer emails, phone calls, and texts.  We keep up with insurance deductibles, order adaptability aids, and check in with our work places to keep them updated on the latest information we have.
At this moment, I am on medical leave meaning I do not receive an income.  Laura continues to do what she can to work on things away from school, but she will have to return soon as her sick leave is dwindling and we cannot afford to have both of us without a paycheck.  We will soon be out of reserves and will be relying solely on Laura's income and gifts from family and friends.  The estimate on me returning to work is 4-6 months, but we are unsure if I'll be able to do the same job or if they will have to find me something else.  It just all depends on how well my arm, hand, and leg recover from the effects of the stroke.
A wonderful friend of ours, Jason Elam, has organized a fundraiser through Go Fund Me.  He has set a goal of $10,000 to cover medical expenses, lost wages, and living expenses until I can return to work.  We have included the link below if you are able to give and/or can possibly share it with those you know.  You can also follow my progress on my Facebook page.  I have included that link below as well.
We hope you enjoy some pictures of my journey so far.
https://www.facebook.com/karl.forehand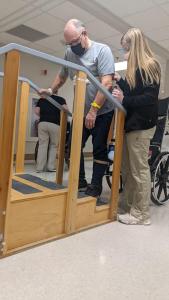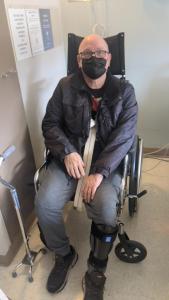 Thank you,
Karl and Laura