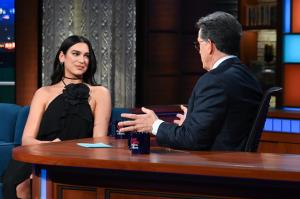 In an interview last week on CBS's The Late Show, British singer Dua Lipa took a moment of privilege and asked her host, Stephen Colbert, a question. Colbert is a Roman Catholic Christian and refreshingly open about his beliefs. Lipa asked how his faith and his comedy overlap. His off the cuff response was, to my ears, a perfect little public articulation of the Easter faith. 
Funny and Sad
Colbert began by telling her about a recent movie, Kenneth Branagh's Belfast.  "It's funny and it's sad," he said. "And it's funny about being sad." He explained that he believes sadness is a kind of emotional death. A death, "but not a defeat, if you can find a way to laugh about it." "No matter what happens," he concluded, "you are never defeated. You must see this [grief, tragedy] in light of eternity and find something to love and laugh at with each other."
I particularly admire how Colbert articulates here the way his faith has shaped him. He doesn't direct us to any part of the biblical story (a point not lost on some of his Evangelical critics.) Instead, he implies the whole. If you've been shaped by this faith, you'll recognize the story. You'll remember the way that the Emmaus disciples, for instance, experience a loss of hope. And then you'll remember how they run through the dark back the same road they'd just traveled. It turns funny, and it turns funny right where it was sad. 
What Colbert doesn't say is as important as what he does. He doesn't say that sadness is not a defeat if you can find something else to laugh about. The empty tomb is not an epiphany meant to distract us from the cross. The risen Jesus is still the scarred Jesus. Even the ascended Jesus bears the marks of his violent death. The Easter faith is the eschatological laughter at death, evil betrayal, cowardice, fear. All the ugly bits of humanity that drive the crucifixion narrative. 
Returning to Jerusalem
It's not funny when it's not sad, it's funny precisely as it is sad. It's like the way that laughter sometimes surprises us at a funeral. The eulogist is in the middle of reminding us that the one we've lost was an irreplaceable presence of love and hope. Suddenly she's there in front of us again, saying the thing she always said, and we laugh. Our loss is also our laughter. The tragic and the joyful are not enemies: surely this is one of the central lessons of the Bible.
This is not the first time Colbert has spoken publicly about his faith. His interview with Anderson Cooper came on the tails of the latter's loss of his mother. The two men discuss grief, faith, and gratitude. The conversation includes Colbert's poignant remark that as his Catholic faith has taught him to "love the thing that I most wish had not happened."
I wrote a couple of moths ago about Ta-Nehisi Coates's criticism of Christianity as a faith that avoids the hardest parts of being human. I don't know that Colbert and Coates have ever talked about this, but I'd love to hear the conversation if they do. Christianity can seem like a religion of distraction. We often preach it and teach it and live it as a religion of distraction. 
But to turn away from our grief would be to fear it, to imply that God is powerless against it. That sort of gospel might have had those Emmaus disciples recovering from their grief by talking about something else. Perhaps planning their next trip to the coast or abroad. Anywhere but Jerusalem. That's where it all happened. But that, in Luke's gospel, is precisely where they go. And it's kind of funny.
The Comedy beyond Tragedy
The intersection of grief and hope is something I explore in my research on Shakespeare. Toward the end of his life, the Bard seems to have looked over his works of comedy and tragedy and gotten curious about why they needed to be separate. In fact, many of his earlier comedies had mapped the edges of the genre. They take us right to the precipice of grief and loss before pulling back. But Shakespeare's last plays let us go on and tumble over. Then they let time pass, or luck change, and we get to see what it's like to laugh at the end of tragic loss. These plays are more Easter-like. 
Even good old 20th century slapstick sometimes finds the rhythm that Colbert pointed his guest to. The Marx Brothers' Duck Soup parodies the horrors of geopolitics in the tense times between World Wars. It was released as the Nazi threat was rising. Groucho's Rufus T. Firefly is said to have brought Churchhill some laughs from his bunker during one of the German air raids. 
The Laughter at the End
Churchill's famous mantra in the midst of that global crisis, "Never give up," might actually offer itself up for a reframing in Colbert's closing ambit. "No matter what happens, you are never defeated. You must see this in light of eternity and find something to love and laugh at with each other." This is not quite "press on until you have routed your enemies." The last enemy is one, Paul reminds us, that we cannot defeat. Only the crucified and risen Lord defeats the reign of sin and death in creation. But he does defeat it. And this is where the laughter happens. 
Not all Christians will be as convinced by Colbert's words as I am. Many take offense at his political commentary, and I'll admit that I generally do not simply because my political views more or less align with his. I find him funniest when he rises above the cheap shots of punditry to let us see how ridiculous it all is. I find him less funny when he does not.
This week though, I found myself grateful for his theological commentary on laughter itself. He reminded me about the deep laughter that comes after and beyond it all. To find something to love and laugh at is perhaps the most powerful way Christians can give expression to the hope that is within us.