Lana Dalberg leads workshops that link spirituality with creative writing and social justice. Her book, Birthing God: Women's Experiences of the Divine will be published in March 2013. Lana was raised Lutheran and holds a masters degree in Theological Studies. Currently, she is a member of herchurch, a Lutheran church in San Francisco, California.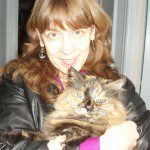 The Divine Feminine to me is gratitude, joy, and support. Why do I choose these three nouns out of a myriad that I could use? Because when I settle to my core in meditation, I feel her presence caressing my soul with a light brush stroke, and I feel great joy welling up within me: uncontainable, bursting, overflowing. I feel the abundance of life when I sense her presence within me and in my women's spirituality circle, a group of friends who meet to share a meal, laughter, and ritual. And when I am alone but not alone in those places where life sparks and flows—the ocean, a city park, a mountain lake, a redwood grove—I feel the divine energy thrumming.
The Divine Feminine to me is abiding support for my day-to-day struggle as a single parent. At the same time, the Divine is present in all the challenges too. This I see more clearly when I meditate, when I sink into the depths of her calm support and sense that everything will be okay in the end, however it works out. With her wisdom within me, I will do just fine; this I know, trusting in her goodness and joy. And so for me, the Divine Feminine is these three things: joy, support, and love. How could I forget love? Support is love. And gratitude is what I feel in her presence.
So how do I act as the Divine Feminine?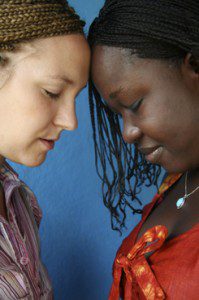 I am most like the Divine Feminine when I connect to others. Consider the words of Sister Joan Chittister in The Friendship of Women: The Hidden Tradition of the Bible:
"Real friendship then requires two things: the transparent disclosure of the self and another's single-minded appetite to hear it and abiding commitment to treasure it."
When we listen and support each other, when we share and treasure one another's presence and friendship, we are most like the Divine Feminine. Speaking, listening, and acting with hearts wide open, we embody the Divine Feminine and her courageous love.