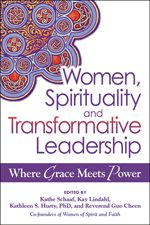 Women, Spirituality and Transformative Leadership: Where Grace Meets Power

Our Latest Book Women, Spirituality and Transformative Leadership: Where Grace Meets Power was published on November 1, 2011 by SkyLight Paths. This exciting anthology features the unique voices of more than 26 diverse women exploring the opportunities and challenges of spiritual leadership, as well as tangible tools and resources. It's the perfect gift for the women of spirit in your life. Already an Amazon number one best seller in its category!
by Kathe Schaaf, Kay Lindahl, Kathleen S. Hurty, Guo Cheen
Copyright: 2011
Publisher: Skypaths Publishing
Summary:
The world is in crisis and it seems that many are looking to women to heal the planet and our human family. Before women can step into our full potential as leaders and guides in this moment, we must individually reconnect with our deepest wisdom and with our spiritual roots; collectively heal the many dimensions of separation that keep us fragmented and ineffective as agents of social change; and globally reclaim our rightful place as spiritual leaders in service of a balanced and compassionate new paradigm.
This empowering resource engages women in an interactive exploration of the challenges and opportunities on the frontier of women's spiritual leadership. Through the voices of North American women representing a matrix of diversity–ethnically, spiritually, religiously, generationally and geographically–this book will inspire women to new expressions of their own personal leadership and invite them into powerful collaborative action.
Topics include:
*   How do our spiritual values inform us about living with the challenges and blessings of diversity?
*   How do we stand for the greatness of each other?
*   How do we catalyze our collective transformational power as women of spirit and faith?
Endorsements:
"Showcases [women s spiritual leadership s] hallmarks: listening and collaboration. Use the provocative, creative suggestions as a practical guide for sharing the insights and extending the reach." –Mary Hunt, co-founder/co-director, Women s Alliance for Theology, Ethics and Ritual (WATER); coeditor, New Feminist Christianity: Many Voices, Many Views
"An essential tool, an exciting read and a gift on the journey toward a transformed future." –Dirk Ficca, executive director, Council for the Parliament of the World s Religions
"Full of wisdom and speaks the truth on difficult issues…. For people of all faiths or no faith it helps spark reflection on how true spirituality for our time can be re-shaped by empowering women." –Rabbi Elyse Goldstein, editor, New Jewish Feminism: Probing the Past, Forging the Future