by Colette M. Liddy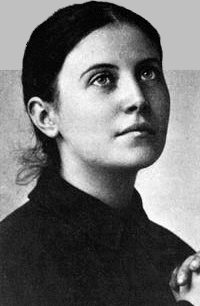 Today we celebrate the feast of Saint Gemma Galgani, a woman who was known for her smile.
She was born on March 12, 1878, in Italy near Lucca.
It has been said that Saint Gemma had a smile for everyone. She raised her seven siblings after her father died.
Saint Gemma on earth was chronically ill; she experienced ridicule for her mystical experiences;contracted tuberculosis; was given the gift of the stigmata for a few years and suffered greatly on behalf of sinners. Still, she smiled and through that smile others were able to see God's love.
Gemma died on Holy Saturday at the age of 25 and the parish priest who was with her is reported to have said "She died with a smile which remained upon her lips, so that I could not convince myself that she was really dead."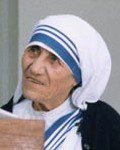 Blessed Teresa of Calcutta, founder of the Missionaries of Charity and known to the world as Mother Teresa, spoke often of smiling. She knew that we all needed smiles, that they are like food to our soul. April 11 is also significant day to remember Mother since on this day in 1951 the the Missionaries of Charity began their novitiate with their first group of sisters.
"Let us not use bombs and guns to overcome the world. Let us use love and compassion. Peace begins with a smile," said Blessed Teresa. She said we should smile five times a day at someone we don't really want to smile at – that we should do it for peace.
Five times at day? That means head up, eyeball-to-eyeball, whether we are rushing around the house or the office. If we give someone a 5 second smile, five times a day, that is 25 seconds of our precious time in a 24 hour day. An investment in relationships and love, and as Mother Teresa pointed out, it is important for the cause of peace.
Perhaps we are most challenged to smile at those closest to us, the people we love and usually take for granted. A little smile in the morning might set the tone for our entire day, and theirs.
I once had a colleague who always smiled, and so beautifully. I don't know where she is now, but I can still see her with her smile. Someone modeled that smile for this young woman, and it radiated towards others. That smile was power for the workplace, power like nothing else. It changed everything, for everyone who came in contact with her.
Researchers have found that smiling reduces stress — the "fake it until you make it" concept has research to back it up.
In 2012, there was quite a bit of press on a study from the University of Kansas with psychological scientists Tara Kraft and Sarah Pressman that was published in Psychological Science, a journal of the Association for Psychological Science. It looked at the potential benefits of smiling, different types of smiles, etc. They found that even smiling during brief stressors can help in reducing the intensity of the body's stress response and help lower heart beat levels.
Blessed Teresa said that "every time you smile at someone, it is an action of love, a gift to that person, a beautiful thing."
The idea that a smile could affect our mental, physical, emotional well-being makes sense since our bodies are the temples of the Holy Spirit.
Of course St. Gemma and Blessed Teresa have much more to teach us than the importance of smiling.
Most people are familiar with Blessed Teresa's enormous love for the poor and sick, her respect for the dignity of every human person, her messages of how to show love and joy in every aspect of lives — even with offering up our ordinary and mundane tasks. She continued to smile even though she experienced great spiritual darkness, as we learned after her death.
Not as many people are familiar with St. Gemma. Her writings show a young woman who pled to Jesus for the conversion of sinners and mercy, prayed the name of Jesus over and over again, knew the enormous value of suffering and humility, was attacked by the devil, and was very close to the Blessed Mother.
St. Gemma and Blessed Teresa saw smiling as a starting point for the love of God to grow in us and others. So, on this day, in honor of our smiling St. Gemma and Mother Teresa, let's set out to give the gift of smiles to those people the Holy Spirit puts in our path. Our loved ones may wonder what's going on, so we need to be careful not to walk around annoying people with a pasted grin.
Gently, little by little. Oh, our humanness!
Smiling St. Gemma and Blessed Teresa, smile down on us and pray for us!
Colette M. Liddy is a media relations professional and former television and radio producer. Her previous piece at Patheos, on reaching out to others in the digital age, can be found here.
Images via Wikimedia Commons/Public Domain