Amidst reports today that knife crime has hit a record new high in England and Wales, Lee Russell, Executive Director of the Christian Police Association, said that believers across the country have a role to play in combating an epidemic of violence.
If you hear a siren or hear a blue light – stop and pray for ten seconds. Pray for those people who are responding to someone in need and pray for the person who's called as they'll be vulnerable.

It doesn't cost anything for us to spend those ten seconds praying.
Meanwhile, its reported here that the first in a new series of "prayer walks" aimed at reducing violent crime got underway in north London on Sunday.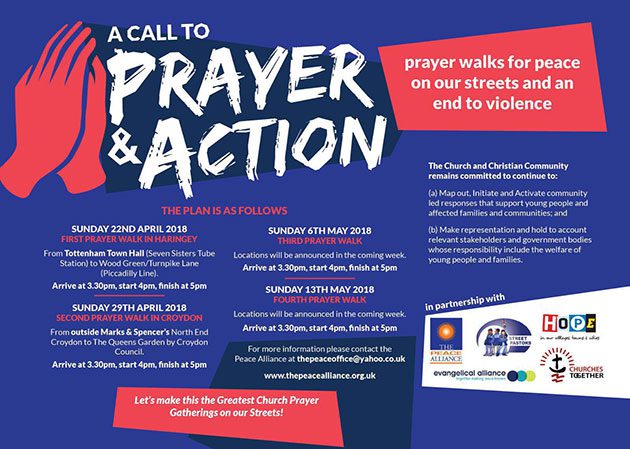 Christians gathered outside Tottenham Town Hall at 4pm, hours after a 20-year-old man was stabbed to death in Finsbury Park three miles away.
The knife attack in Seven Sisters Road at around 3am on Saturday brought the number of violent deaths in the capital to 58 so far this year.
Organiser of Sunday's march, Nims Obunge MBE, above, from the Peace Alliance said:
I've never seen a need to call the Church unto the streets the way I do now; we have had such unprecedented levels of violence in our communities.
Describing the impact of prayer, Obunge said:
We have seen through scripture that prayers work, we've seen in our practical lives that prayers work.
Obunge said further prayer walks are planned for east, south and west London in the coming weeks – ensuring each of the city's 32 boroughs is prayed for.
Explaining why Christians must reach out to people affected by violent crime, he added:
We need to let them know 'you can be forgiven, you can express forgiveness to others, and you can experience the power and the love of God'. The Church is well equipped to do this.