Brett Kavanaugh  supporters are besides themselves with glee, now that the man branded as 'a partisan ideologue' by American Atheists has been made an Associate Justice of the United States Supreme Court.
But they will be less than enthused by the creation of a lipstick called "F*ck Kavanaugh" which has been sold to raise funds to support anti-sexual assault organisations including RAINN, NO MORE, National Alliance to End Sexual Violence, and End the Backlog.
The brainchild of Katie Sones, of Lipslut, "F*ck Kavanaugh" – a maroon red – was launched elevated to after Sones watched hearings held to decide on Kavanaugh's appointment.
Said Sones:
While watching the hearing and the events leading up to it, I got so upset seeing women's voices being ignored, doubted, and flat-out denied. If the highest levels of government won't listen to us, who will? To me, this entire mess serves as a microcosm for how thousands of women's experiences and traumas are treated everyday – we had to act.
In addition to making a political statement regarding the sexual assault allegations against Kavanaugh, which he denied, 100 percent the proceeds of the new £15 ($19.95) liquid lipstick sold between October 1 and 7 was earmarked for the charities,
The new shade is the brand's fourth political lipstick colour since it was founded in 2017, shortly after the 2016 presidential election when Scones was still a student at California Polytechnic State University.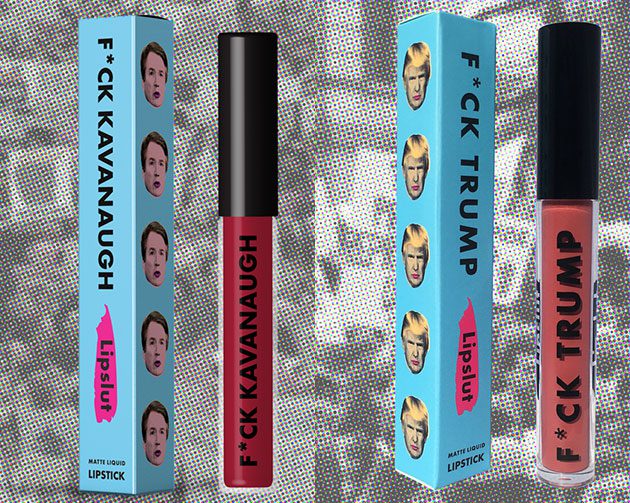 With Lipslut's first colour, "F*ck Trump", the brand was able to raise £75,312 ($100,000) for migrant families after announcing a commitment to donating 50 percent of the profits to pro-immigrant organisations under its "Fight Zero Tolerance" campaign.
"F*ck Kavanaugh" can be bought from the cruelty-free vegan cosmetics company here. Supplies of "F*ck Trump" are still available.