The Sabarimala Temple in Kerala has always prevented females between the ages of 10 and 50 from worshipping there – but last month India's Supreme court ruled that this was discrimination, plain and simple, and the the practice was to end at once.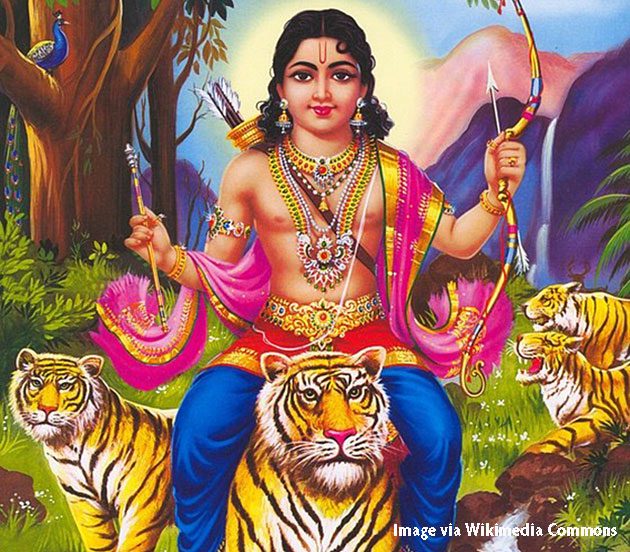 Fury came in the wake of the decision, with Hindu organisations protesting that the ruling was wrong, and that the temple – dedicated to Lord Ayyappa, above – would suffer all sorts of catastrophes it it were to be opened to "impure" women, especially those who are menstruating.
Sasikumar Varma, A member of the Royal Family and President of the Pandalam Palace Coordination Committee, expressed his shock at the verdict:
We felt like an innocent defendant who realises that he has been sentenced to death. We are not only the true devotees of Lord Ayyappa but we believe that he makes everything right for us. More than a God, we see him as our family member.

Our sentiments were similar to a father who feels that his son has been wronged. That's how special the relationship of our family is with Ayyappan. [The verdict] was shocking, astonishing and unbelievable.
No, what's "shocking, astonishing and unbelievable" is that people in this day and age are still clinging to blatant misogyny. Even more shocking is that many women support the restriction.
Varma claimed that at least 35,000-40,000 people had turned out last week to protest the decision – 85 percent of whom were women – and that the verdict was likely to force other temples to allow women of all ages to worship.
In delivering the verdict, Chief Justice of India, Dipak Misra, said:
Right to worship is given to all devotees and there can be no discrimination on the basis of gender. The practice of barring women in age group of 10-50 to go inside the temple is violative of constitutional principles.
But Varma warned:
If temple traditions and rituals are not followed, it will bring ill luck to the temple and the devotees. The connection between the Pandalam royal family and the Sabarimala temple is irrevocable. If there is a discrepancy in rituals at Sabarimala, it will have a direct effect on us and the 'tantri' (priest) family.

Naturally, small changes there will affect us. People may not believe me when I say this. In 1951, when there was a big fire at Sabarimala temple, the same day, our ettukettu (traditional homestead) made completely of teak was burnt to ashes barring a small prayer room where our forefathers used to light a lamp in front of our family deity …

Many years ago, in another incident, the priest one day saw a line of ants around the saligramam (stone used for worship) and came to our family, suspecting some kind of bad luck.
Varma went on to claim that the verdict was likely to force other temples to allow women of all ages to worship.
A line in the judgment says 'This is applicable to all the temples in India.'

Devotees are agitated right now and there is a chance of conflict if their sentiments are sparked. Violence is not a solution to this as people cannot be beaten up. If that happens, it will intensify into a much bigger problem. I hope that doesn't happen. The government must take care to not let that happen.
More fuel was added to the controversy when 21-year-old man from Chennai was arrested yesterday (Saturday) for allegedly circulating a video featuring Lord Ayyappa with a menstruating woman. 
Hat tip: Gaurav Tyagi