Filmmakers Carl and Angel Larsen would love to use their talents to shoot weddings, but they can't enter the marriage movie field because Minnesota law says that, if they do, they would have to include same-sex unions.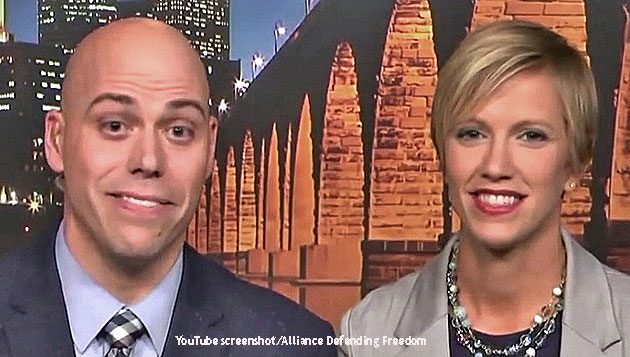 Last year the couple challenged that ruling – and lost.
US District Court Judge John Tunheim ruled against them last September. He argued that:
First, Speech-for-hire is commonly understood to reflect the views of the customer. Thus, when a person views a wedding video, there is little danger that they would naturally attribute the video's messages to the videographer.
And:
Second, the Larsens can easily disclaim personal sponsorship of the messages depicted in the wedding videos they create for clients. For example, the Larsens could post language on their website stating that while they follow applicable law, and thus serve couples regardless of protected status, they are opposed to same-sex marriage.
With the aid of hate group Alliance Defending Freedom, the pair appealed that judgement this week at the Eighth Circuit Court of Appeals.
At the appeal hearing Carl Larson Larsen explained the significance of the couple's business, saying that:
Every story we tell magnifies Jesus like a telescope. Hence the name of our business, Telescope Media Group.
ADF is claiming that Minnesota law violates the couple's constitutional rights.
The Larsens serve all people. They just cannot convey all messages. Because of their religious beliefs, they cannot celebrate any vision of marriage other than one between one man and one woman.

At the same time, the Larsens' faith requires them to use their talents to express messages that honor God. They want to do this by producing wedding films, publishing them online, and posting a statement explaining their religious views. But these plans are on hold because Minnesota will punish them if they post their statement or create wedding films consistent with their faith while declining to create wedding films promoting contrary views.
ADF Senior Counsel Jeremy Tedesco said in a statement released on Monday that the state:
Shouldn't threaten artists with fines and jail simply for living in accordance with their beliefs in the artistic marketplace. Americans should have the freedom to disagree on significant matters of conscience, which is why everyone, regardless of their view of marriage, should support the Larsens.

Government is supposed to be freedom's greatest protector, not its greatest threat. That's why we are asking the 8th Circuit to reverse the district court's decision.
ADF says on its website that state officials have repeatedly threatened to prosecute expressive business owners who decline to create speech promoting same-sex marriages. And there are steep penalties for violating the law, including payment of a civil penalty to the state, triple compensatory damages, punitive damages up to $25,000, and even up to 90 days in jail.
The Larsens can't comply with Minnesota's speech-compelling law. Telling stories that celebrate a same-sex marriage would violate their religious beliefs and directly contradict the very message about marriage they desire to express.

But they also don't want to be investigated, prosecuted, and possibly jailed simply for exercising their First Amendment rights. Therefore, the Larsens have not publicly offered or provided their wedding film services, but they did create a wedding teaser video so that the court could see the kind of marriage stories they want to tell.

Fortunately, Americans don't have to wait to be punished or thrown in jail before challenging unjust laws. Instead, they can file a pre-enforcement challenge, which is exactly what the Larsens have chosen to do.

They have filed a lawsuit before entering the wedding field, seeking a court order that says Minnesota cannot threaten them with severe penalties and jail time if they exercise their First Amendment right to decline to promote a message with which they disagree. Until they get a favorable ruling, the Larsens are refraining from making wedding films and muzzling their speech about God's design for marriage to avoid the severe penalties for violating Minnesota's law.