Members of the Tehreek-e-Labbaik (TLP), a new political party dedicated to punishing blasphemy, blocked roads in Lahore and pelted police with stones after Pakistan's Supreme Court struck down the death sentence for blasphemy handed down to Christian woman Asia Bibi.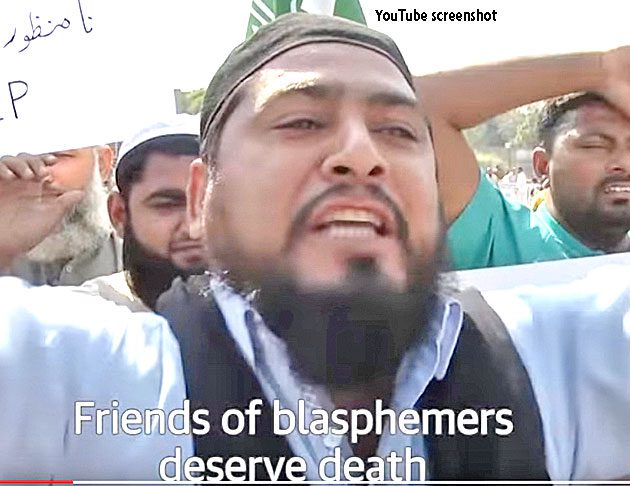 According to the Guardian the court, in a three-member bench led by chief justice Saqib Nisar, released the verdict this morning (Wednesday) in Islamabad, three weeks after they had reached a decision.
The delay followed threats by blasphemy campaigners to hold large protests and kill the judges if they did not uphold the death sentence.
The judgment written by Justice Asif Khosa said:
It is ironical that in the Arabic language the appellant's name Asia means 'sinful', but in the circumstances of the present case she appears to be a person, in the words of Shakespeare's King Lear, 'more sinned against than sinning'.
The Christian farm labourer, a 47-year-old mother of four, was sentenced to hang for blasphemy in 2010. She had angered fellow Muslim farm workers by taking a sip of water from a cup she had fetched for them on a hot day. When they demanded she convert to Islam, she refused, prompting a mob to later allege that she had insulted the prophet Mohammed.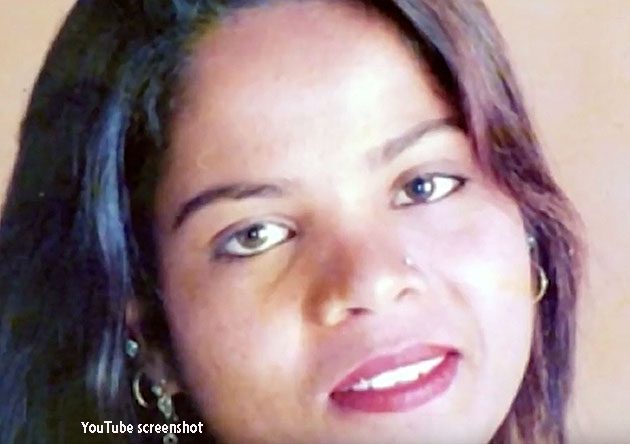 Bibi , above, remains in Adiala jail, in Rawalpindi, but will be freed as soon as jail officials receive the court order.
On Wednesday, the judges noted that no solid evidence of wrongdoing by Bibi was presented before the court. The three witnesses who did appear, according to observers, presented contradictory stories from the stand.
Paramilitary security forces have deployed across the capital in the past 24 hours, protecting the Judges Enclave and the diplomatic zone. About 300 police have been stationed to guard the supreme court.
On 13 October, Khadim Rizvi, the TLP leader, announced he would "paralyse the country within hours" if Bibi was freed.
Acquittal does not mean that her ordeal is over
In a separate report, the Guardian said that Bibi will almost certainly have to start a new life with her husband and children outside Pakistan, perhaps with new identities. She will spend the rest of her days looking over her shoulder in fear of an international assassin.
Furthermore, the lives of the three judges, who apparently made the decision to overturn her conviction three weeks ago but held back from announcing it for fear of the consequences, are also at risk from fundamentalists intent on revenge.
There is precedent. In January 2011, Salmaan Taseer, the governor of Punjab who had lobbied for a presidential pardon for Bibi and urged reform of the blasphemy laws, was shot in the back by one of his bodyguards, Mumtaz Qadri. The bodyguard was found guilty of murder and executed; tens of thousands of people attended his funeral in March 2016.
A month after Taseer was killed, Pakistan's religious minorities minister, Shahbaz Bhatti, a Christian who spoke out against the blasphemy law, was shot dead in Islamabad.
Open Doors, which monitors Christian persecution around the world, said Pakistan's blasphemy laws:
Target Christians in particular. The abuses of Pakistan's blasphemy laws are some of the starkest examples of persecution in Pakistan. They have been devastating for minorities, including Christians, who must always act with caution in case an allegation of blasphemy is raised to settle a personal score. This year, a blasphemy case was brought against a boy for simply responding to a cartoon about Islam on social media.
Kelsey Zorzi of ADF International, which promotes religious freedom, said:
Blasphemy laws criminalise the exercise of fundamental human rights, including freedom of speech and freedom of religion. Blasphemy laws directly violate international law. All people have the right to freely choose, and live out, their faith. We, therefore, urge all governments to uphold this right by ceasing enforcement and initiating repeal of their blasphemy laws.
Neville Kyrke-Smith of Aid to the Church in Need added:
Today is like the dawn of new hope for oppressed minorities.
He saluted the courage of the judges in acquitting Bibi, saying:
It is important that justice is not just seen to be done but is done.