The Pope and a bunch bishops have been blasted for wearing a 'rainbow' crosses at World Youth Day 2019.
Among those who expressed outrage was "Archbishop Cranmer", a conservative Anglican blog authored by Adrian Hilton, who posted a picture of the cross on Twitter, along with the words:
Is @Pontifex affirming 'Rainbow Church'? How will the world read this symbolism?
And he left a link to a post he wrote entitled "Rainbow Church, LGBT Eucharist and intolerable utterances."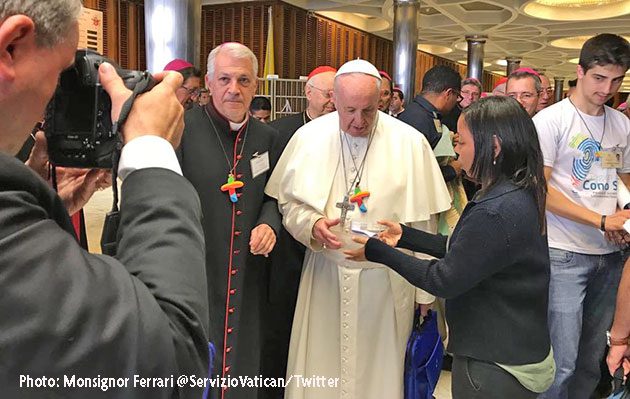 But the cross, according to LifeSiteNews, was not intended to suggest Francis's support of LGBT+ communities – although many, like Cranmer, are seeing it that way.
LifeSiteNews said:
There exists an explanation for a non-LGBT origin of the rainbow cross, and its colors don't precisely resemble those of the gay 'pride' rainbows used by the LGBT movement.
Young people from Panama and some Latin American Synod fathers presented the multi-colored cross for World Youth Day 2019 to Francis, according to a tweet in Italian from the Holy See's Vatican News service. Other bishops in the photos with Francis are wearing the rainbow cross as well.
"The Holy Father greeted them with joy and blessed them," the tweet stated.
However, the bloggers at Creative Minority Report (CMR) weren't having any of it, and said it doesn't matter whether the Pope wearing the rainbow cross was an intentional pro-gay message, because it would be taken as such either way. They tweeted:
If they meant it as a gay symbol, they are unfit for office and should resign. If they didn't mean it, they are too stupid for words, unfit for office and should resign.
Heretics, blasphemers, idolaters and unbelievers.
In a separate rant, "Archbishop Cranmer" expressed outrage over the fact that a Muslim – Monawar Hussain, who was awarded an MBE in the Queen's birthday honours last year for services to interfaith relations and the community – had been invited to deliver a sermon today (Sunday) at Oxford's University Church of St Mary the Virgin.
He acknowledged Hussain's:
Manifestly sterling work in the promotion of religious and racial harmony, and good relations between persons of different faiths and racial groups.
But:
Imam Monawar Hussain, being a Muslim of orthodox belief, does not believe in the divinity of Jesus: Isa, as the Lord is called in the Qur'an, is not the Son of God, nor was he crucified at Calvary. But Isa is not the Lord, for the Jesus of the Qur'an did not die on a cross, and neither was he resurrected …

Preaching the University Sermon on Sunday, Imam Monawar Hussain will deny by his presence in the pulpit the very body and blood of Christ commemorated by the Eucharist; he will refute by his mere being: "God from God, Light from Light, of one very substance with the Father …
He suggested the C of E was now:
Open to people of all faiths and none, and that we can look forward to a series of heretics, blasphemers, idolaters and unbelievers.
Hat tip: AgentCormac (Monawar Hussain report)