While Muslims are complaining that the four prayer rooms allotted to them at the university are inadequate, Hindus are griping that they don't have one at all.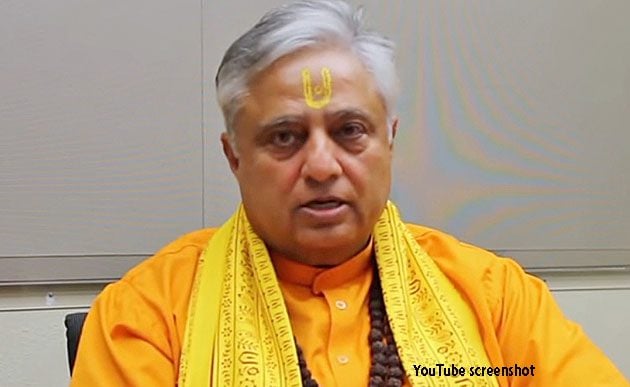 Spearheading a demand for a "permanent and dedicated" prayer room at the Anglican institution, Rajan Zed,above, President of the Universal Society of Hinduism, said that such a space would be a step a positive direction given the of presence of a substantial number of Hindu students at Columbia.
It was, he said, important to meet the spiritual needs of these students and that some other universities and colleges in USA now offered Hindu prayer rooms.
Zed suggested that the Hindu Prayer Room preferably should have an altar containing murtis (statues) of popular Hindu deities like Shiva, Vishnu, Rama, Krishna, Durga, Venkateshwara, Ganesha, Murugan, Saraswati, Hanuman, Lakshmi, Kali, etc. It should also contain, among other things, a ghanta (big metallic bell hanging from the ceiling) and a  dholak (a two-headed hand-drum).
So what's with the Muslim prayer rooms?
Currently, there are four available to Muslim students: a room in the basement of Earl Hall; a room in the 600 West 113th Street residence hall, also known as Nussbaum; a room in Milbank Hall at Barnard; and an open hallway that doubles as a yoga meditation space on the fourth floor of the Milstein Center.
But these, according to this Columbia Spectator report, do not adequately meet the current needs of Muslim students. Some aspects of the prayer spaces have discouraged them from being used for prayer and have made students feel humiliated due to the lack of respect shown to holy spaces.
Lack of respect. Well, yeah. One room  – the prayer space in Milbank  – is shared with the office and storage space for Barnard Bartending and contains two shopping carts filled with alcoholic beverages, along with bartending paraphernalia.
In Islam, consumption of alcohol is forbidden. According to Zawareen Zakaria, the location of the bartending offices and stockroom within the Muslim prayer space was "extremely offensive" to many students, who  said that  if they had been made aware that the prayer space was so close to such a large quantity of alcohol, they wouldn't have felt comfortable praying there at all.
There's also a problem with the most recently added prayer space located on the fourth floor of the Milstein Center, which was opened in September. The space, located behind the staircase, has two new Islamic magic carpets as well as new yoga mats.
According to one student, the fact that the Milstein space is also set aside as a space to practice yoga speaks to a lack of support for Muslim students on campus.
Yoga isn't praying, and praying isn't yoga. Yoga is an exercise; you sweat. There are very different uses for both of these mats. To put them in the same space ties back into how you can't have a Muslim prayer space connected to a bartending office with wine bottles.

When creating the space, you need to think about what you're equating. Bartending and prayer, yoga and prayer. Although the intention was not to equate them, you're making a statement.