People who refer to members of  the Church of Jesus Christ of Latter-day Saints Mormons are doing the work of the Devil – and guilty ones include right-wing news site WND, which today carried this headline:

The WND report linked to a piece which said that the President of the Mormon church, Russell M Nelson, 94, reiterated on Sunday that he wants members, the media and others to use the faith's full name, saying nicknames are "a major victory for Satan".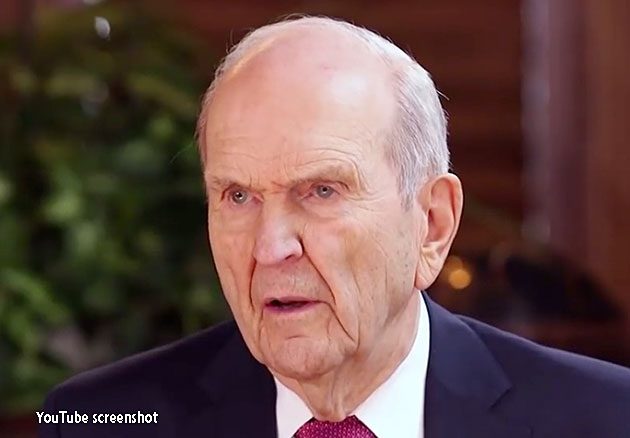 Addressing The Church of Jesus Christ of Latter-day Saints' twice-yearly conference in Salt Lake City, Nelson said the church's name "is not negotiable."
When the Savior clearly states what the name of his church should be, and even precedes his declaration with, 'Thus shall my church be called,' he is serious. And if we allow nicknames to be used and adopt or even sponsor those nicknames ourselves, he is offended.
His so-called "correction" came just days after the Mormons announced that the world-famous Mormon Tabernacle Choir will now be called the Tabernacle Choir at Temple Square.
The Devil also came in for a kicking from the Pope, who – according to Reuters – blames the Father of Lies for the Catholic Church's never-ending abuse scandal.
In fact, the pope is so convinced that Satan is to blame for the sexual abuse crisis and deep divisions plaguing the Church that he has asked Catholics around the world to recite a special prayer every day in October to try to beat him back.
In a message at the end of September, the Pope said:
[The Church must be] saved from the attacks of the malign one, the great accuser … We should not think of the devil as a myth, a representation, a symbol, a figure of speech or an idea. This mistake would lead us to let down our guard, to grow careless and end up more vulnerable.
Francis really, really believes the Devil is real. In a document in April on holiness in the modern world, Francis mentioned the Devil more than a dozen times.
The Reuters report added:
Francis is so convinced that Satan is ultimately to blame for both the sexual abuse scandals and the divisions within the Church that he has enlisted the aid of spiritual big gun – St. Michael the Archangel. Michael is mentioned several times in the Bible as the leader of the angels who ousted Lucifer, the fallen angel, from paradise.
Catholics are being asked to recite the rosary daily in October and conclude it with a prayer to St. Michael that was said after Mass until 1964 but then fell into disuse.
The prayer reads:
"St. Michael the Archangel, defend us in battle. Be our defense against the wickedness and snares of the devil. May God rebuke him, we humbly pray, and do thou, O Prince of heavenly hosts, by the power of God, thrust into hell Satan, and all evil spirits, who prowl about the world seeking the ruin of souls."