Just the thing to put in the Christmas stockings of American imbeciles who idolise Donald Trump: a new book that chronicles the 'Judeo-Christian values' imposed on America by the POTUS.
Trump Aftershock, due out on November 6, follows on from God and Donald Trump.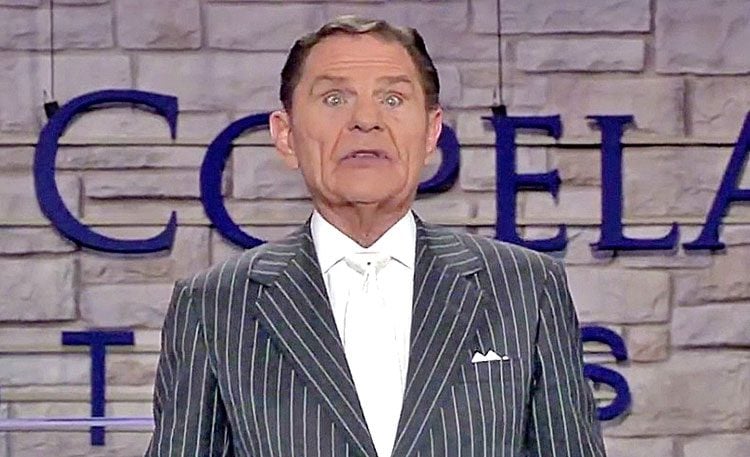 Jet-setting televangelist Kenneth Copeland, above, is quoted in this report as saying:
Although I don't sugarcoat the truth about Trump's past – and present – flaws and mistakes, I don't ignore how God has used him throughout his presidency. My goal in this book is to present the story of Trump's presidency from a Christian, journalistic perspective – a perspective I believe the leftist media largely overlook.
Copeland was one of a clot of Christian conservative who last month attended a Trump-hosted dinner named "Celebration of Evangelical Leadership".
Said Copeland:
At the dinner … Trump promised the pastors and ministry leaders present that the government's attacks on faith communities are over. The huckster said he could sense the Spirit of God in that place.

I'm telling you, the anointing was there. It was like being in a really anointed church service. Just the flow of the Spirit of God was just all over that.
He went onto say the most significant thing about Trump's presidency is that he's doing things led by the Spirit of God.
When someone in the room asked Trump what he wanted to be remembered for, Copeland said, the President responded:
I wanted to be remembered as the president who prayed more than any other.
Now there's something distinctly fishy about this Hello Christian report written by a "Dick".
When I checked the authorship of God and Donald Trump and Trump Aftershock, Amazon and other sites attribute them to evangelical publishing tycoon Stephen E Strang, who was apparently a "Bush favourite". (Here's a brilliantly scathing review of God and DT).
Below is a video of Christian lunatic "Dr Chaps" Gordon James Klingenschmitt plugging Strang's hagiography on YouTube.