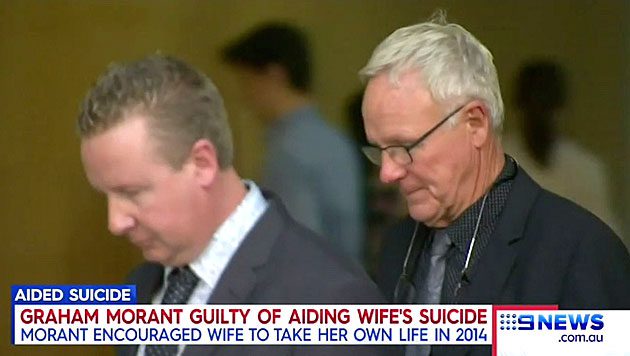 Devout Christian Graham Robert Morant, 69, is to be sentenced in Queensland later this month for pressuring his wife to commit suicide so that he could use her life insurance policies to establish a religious commune.
A Brisbane Supreme Court jury found Morant guilty of aiding and counselling his wife Jennifer to kill herself on the Gold Coast in November 2014.
Morant told his wife that the end of the world was imminent, and that her insurance policies, worth $1.4-million would fund a commune that would provide a haven from the biblical rapture, where he would be pastor.
He told police she wanted to die but two witnesses close to her testified she did not want to kill herself and was scared by his pressure on her to do so.
Morant told police in an interview.
I had such a zest and zeal to live. She had such a zest and zeal to die.
Morant told his wife her suicide would not be a sin in God's eyes because of the financial benefit to their church, her sister, Lynette Anne Lucas, told the jury. He said she would be too weak to survive the rapture, Lucas testified.
Morant was denied bail ahead of his sentencing on 19 October, despite Justice Peter Davis accepting he was a low risk to the public and had never breached his bail conditions.
Davis said:
Consistent with the directions I gave the jury, the jury has concluded but for the counselling Ms Morant would not have ended her life. The offences are serious.
He said a jail sentence was "inevitable" but indicated he might wholly or partially suspend the sentence based on the strength of submissions.
Hat tip: BarrieJohn