A row has broken out over the choice of rabbi to speak at a Republican rally in Michigan led by VP Mike Pence.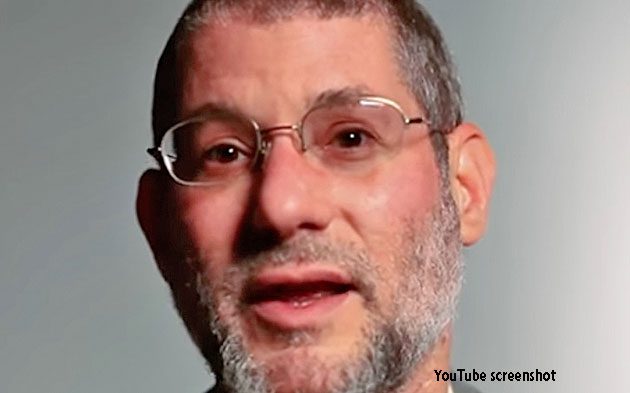 The Jewish Telegraphic Agency reports that Rabbi Loren Jacobs, above, a member of the Messianic Jews movement which is shunned by mainstream Judaism, appeared at the campaign event two days after a gunman who said all Jews should be killed shot dead 11 worshippers at a Pittsburgh synagogue. It was the worst attack on Jews in US history.
In opening his prayer Jacobs said:
God of Abraham, God of Isaac, God of Jacob, God and Father of my Lord and Savior Yeshua, Jesus the Messiah.
Lena Epstein, a Jewish Republican nominee for Congress in Michigan, was responsible for inviting Jacobs. She defended the her action by saying in a Twitter statement:
I invited the prayer because we must unite as a nation – while embracing our religious differences – in the aftermath of Pennsylvania.

Any media or political competitor who is attacking me or the vice president is guilty of nothing short of religious intolerance and should be ashamed.
Rabbi Jason Miller, a Detroit-area rabbi, said on Twitter:
There are over 60 rabbis in Michigan & yet the only rabbi the Michigan [Republican Party] could find to offer a prayer for the 11 Jewish victims in Pittsburgh at the Mike Pence rally was a local Jews for Jesus rabbi? That's pathetic!
A spokesman for Pence was quick to point out that Pence did not invite Jacobs.
He was invited by Lena Epstein to offer a prayer at the event, which he did early in the program. The VP invited him back on stage to deliver a message of unity. He was not invited by the VP's office to speak on behalf of the Jewish community.
The BBC reports that, separately, more than 75,000 people signed a petition from Pittsburgh-based Jewish leaders saying that President Donald Trump was "not welcome" in the city unless he "fully denounces white nationalism".
Trump is due to visit Pennsylvania tomorrow.
The petition says:
President Trump, your words, your policies, and your Party have emboldened a growing white nationalist movement. The violence against Jews in Pittsburgh is the direct culmination of your influence.
It adds:
The massacre of 11 Jews in a Pittsburgh synagogue comes at a time when the Trump administration, the Republican Party and their enablers — at all levels — have fomented hate, fear, and white nationalism in our country.

They have targeted the Muslim community, immigrants and refugees, people of color, and LGBTQ people, and in recent weeks we have seen a marked escalation in their use of antisemitic images, rhetoric and conspiracy theories.

The Trump administration, the Republican Party and their enablers have provoked violence against our communities. Our blood is on their hands.

It is time to rise up together to demand our safety. We refuse to be divided. We refuse to be isolated from each other. We will outlive their hatred.
The White House has rejected any blame over the attack, with Press Secretary Sarah Sanders saying it is "outrageous" to suggest a link between the administration and an anti-Semitic attack.
Pittsburgh's mayor, William Peduto, is also opposed the timing of Trump's visit which, he said, would distract attention from the first funerals for victims of the shooting.